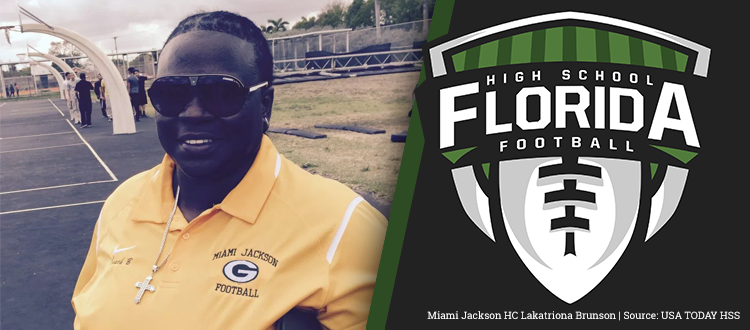 FloridaHSFootball.com is a partner of USA TODAY High School Sports
Lakatriona Brunson, the first female head varsity football coach in Florida history, now has her first win.
It came Saturday in dramatic fashion as Miami Jackson stunned nationally ranked No. 2, by USA TODAY High School Sports, Booker T. Washington, 12-9.
Terrance Craig threw a 31-yard touchdown pass to Gabriel Dunn with 2:10 remaining for the winning points. The Jackson defense then held and took over on downs with 1:18 remaining and went into victory formation to end the game.
Brunson, a physical education teacher for the last 16 years who played for the Miami Fury of the Independent Women's Football League, was named the team's coach in the spring. She also is noted for appearing in the reality show "South Beach Tow."
It was Jackson's second consecutive surprise victory in two seasons against BTW after a 38-35 victory last September, one of Jackson's three victories on the year.
Ms. Brunson 1st female Head Coach in high school football, huge win takes down #3 Booker T Washington 12-9 final pic.twitter.com/QgB3SKU5Lv

— Footballville Nation (@FOOTBALLVILLETV) September 11, 2016
RELATED: For more high school sports news and scores, visit USA TODAY High School Sports
After Booker T. Washington committed five first-half turnovers, Tornadoes quarterback Daniel Richardson threw a 20-yard touchdown to Ty Thornton with 7:16 remaining to give BTW the lead for the first time.
The Tornadoes were held scoreless until a safety with 1:33 remaining in the third quarter when Jackson's quarterback ran out of the end zone rather than having the team punt from the 2-yard line. The safety came after BTW was stymied at the 1-yard line with 2:40 remaining in the third quarter.
Jackson took a 6-0 lead at halftime on a five-yard run by J-Terrance Craig with 3:41 remaining in the first quarter.
Among the onlookers from the BTW sideline was Florida Sen. Marco Rubio, a Booker T. Washington graduate.
BTW travels to Southridge next Friday before a Sept. 24 showdown with Super 25 No. 25 Miami Central.
Follow USA TODAY High School Sports on Twitter at @USATODAYhss