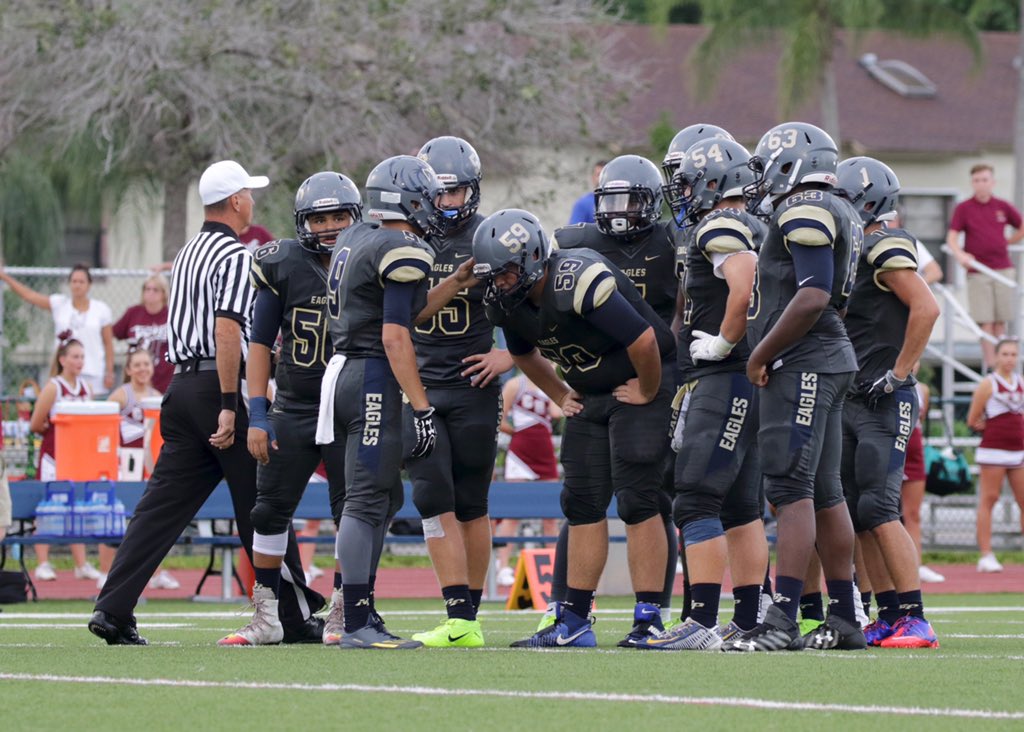 Archbishop McCarthy (4-1, 4-0) at North Broward Prep (6-0, 6-0)
When: Friday, October 14, 7:00 P.M.
Where: North Broward Preparatory School
It will be a clash of Gold Coast Conference titans on Friday when Archbishop McCarthy and North Broward Prep face off. South Florida High School Sports' Larry Bluestein called this "a marquee matchup" on the WQAM radio show Monday night, and it's sure setting up to be one. Friday's winner will claim first place in the conference and could be set up for home field throughout the playoffs.
Archbishop McCarthy has defeated North Broward in the two games the teams have faced off in since joining the conference, including a 56-18 bashing on the Eagles' home field last season.
Archbishop McCarthy
WHAT TO KNOW: Some could say Archbishop McCarthy did last season what North Broward Prep is trying to do this season. The Mavericks are coming off of an 11-0 season, including a Gold Coast Conference championship. Led by Byron Walker, Archbishop McCarthy is an extremely well coached, defensive minded team. Walker is 31-23 since re-taking over the Mavericks in 2011, but has had stints as the McCarthy coach since 1977, with a record of 292-146. Walker has also coached at American Heritage- Plantation, where he led the Patriots to a state title game.
The Mavericks are undefeated in conference play, with their only loss of the season coming to Barron Collier in a 22-19 road loss back on August 26th.
OFFENSE: Although this isn't where the Mavericks beat you, they have a very strong running game. After losing senior running back Anthony Rey and Willie Davis – who transferred to start at Miami Central – Archbishop McCarthy was able to bring in sophomore Jacob Baptiste from Dr. Krop, who has had a phenomenal year as the workhouse. He's rushed for 756 yards and 10 touchdowns on 99 carries this season so far. Archbishop McCarthy averages just 75 yards per game through the air this season, led by junior receiver Logan Giordano. Junior quarterback Quinn Dempsey is out Friday with an injury, and sophomore Jesse Rivera is expected to start. Rivera is 10-for-20 this season for 195 yards and four touchdowns. The Mavericks are averaging 36.6 points per contest entering Friday.
DEFENSE: The strong suit of Archbishop McCarthy; always has been. The Mavericks are in the midst of another dominant defensive year, allowing just 14 points per game on the season, and 12.5 per game in conference play. A strong defensive line, coupled with a tough secondary which includes junior cornerback Logan Giordano, who has offers from Miami (OH) and Ohio. The Mavericks' defense has omitted just 24 points in their last two road games and held Coral Springs Charter to 67 passing yards in their last game. Opponent passing games have been flustered, but running games have been at least ambling to find space against Archbishop McCarthy, as the Panthers rushed for 130 yards and a touchdown.
GAME OUTLOOK: Archbishop McCarthy's game plan in this game will be to play their game, run the ball effectively and play tough defense. However, it won't be easy against a North Broward Prep defense that held a prolific Key West running game to under 100 yards, and a North Broward Prep offense that features four-star receiver Kevin Austin and star senior running back Dymitri McKenzie, who's insane 98-yard touchdown run last Saturday was featured in the USA Today, and Max Preps. The Mavericks will need to limit North Broward – no matter what, the Eagles will have their share of points – stack the box against the run and rush the passer often to prevent deep throws to Austin. If the Mavericks are able to run the ball effectively, control the clock, and keep the Eagles' stellar offense off the field as much as they can, Archbishop McCarthy could have success.
North Broward Prep
WHAT TO KNOW: The Eagles enter this game in the midst of their first 6-0 start since back in 2008, when current Dolphin Brandon Doughty was the starting quarterback. It's the best start to a season in the tenure of head coach Rex Nottage, who has done phenomenal job continuing building this high academic school's football program into an excellent one. The Eagles have dominated every game this season, with their shortest margin of victory being 15, which was last week against Westminster Academy.
The Eagles have established themselves as a second half team. North Broward was up 12-0 on Coral Springs Charter in the first half before winning 33-0, up 14-7 on Key West before winning 49-14, and up 14-13 on Westminster Academy at the half last week before running away to a 43-28 win.
OFFENSE: North Broward has been – as expected – stellar offensively. The Eagles are averaging 49.5 points per game, led electric athletes Kevin Austin, Dymitri McKenzie, 6'4" tight end Kenny Henningsen, versatile Anthony Gomez, and of course, junior quarterback Logan Shooster, who has been everything and more than the Eagles have hoped out of him. North Broward is hard to stop because they come at you in both ways. On the ground, McKenzie has become one of the most underrated running backs in South Florida, with 568 yards on just 45 carries, and 12 rushing scores. Big back Dorian Cole also bulldozes defensive in short yardage situations. But stopping the pass is just as hard because of the athleticism and size of the Eagles' receivers. To go along with the 6'3" Austin – who also has blazing speed – Henningsen and receiver Bradley Cooper are big targets, and McKenzie and Gomez are great pass catchers out of the backfield. North Broward's offense – which lowest point total is 33 – should give Archbishop McCarthy its hands full Friday.
DEFENSE: Powered by excellent coaching from defensive coordinator Akeem Cedeño, the Eagles' defensive unit has been tough to beat this season, especially on the ground. However, the last two weeks they have stumbled a bit. A couple of big plays led to North Broward Prep omitted 28 points for the second straight game last week against Westminster Academy, after only letting up 32 in the previous four games. The loss of Anthony Gomez this week will force sophomore Justin Dolles to make his first career start at cornerback, which could hurt the Eagles' secondary. But the unit should shape up well in defending Archbishop McCarthy's running game. Key West's stellar rushing attack went for just 89 yards against the North Broward defense, and teams have scarcely been successful rushing against them all season long, with a strong defensive front led by Henningsen, Kallen Jennings, Ivan Bronnikov, and others. Westminster Academy was successful at times in the passing game last week, but Archbishop McCarthy has just 65 passing attempts on the season.
GAME OUTLOOK: North Broward's game plan in this game offensively should be simple: Play their game. They are more talented skill wise and should feed Dymitri McKenzie often against a defensive front from McCarthy that is solid, but not as good as last season, and get the ball to their best playmaker, Austin as often as possible. Defensively, the Eagles need to formulate a plan to at least limit Jacob Baptiste and the running game just like they stopped the Key West running game. Forcing the Mavericks into third and longs could be crucial, being that the offense doesn't throw much as is and is starting backup sophomore quarterback Jesse Rivera due to Dempsey's injury. Letting McCarthy beat them by forcing Rivera to make tough throws on third and long – which he'll have to prove he can make – would be easier to swallow than Baptiste burning the Eagles on the ground and force McCarthy to play a game they're not comfortable playing. And Coach Nottage and company can't overlook the special teams, specifically a kickoff unit that has been horrendous for North Broward. Enabling the Mavericks to get big returns on kickoffs and punts to have great field position could prove costly in this close matched game.
PREDICTION: North Broward Prep 21, Archbishop McCarthy 17.