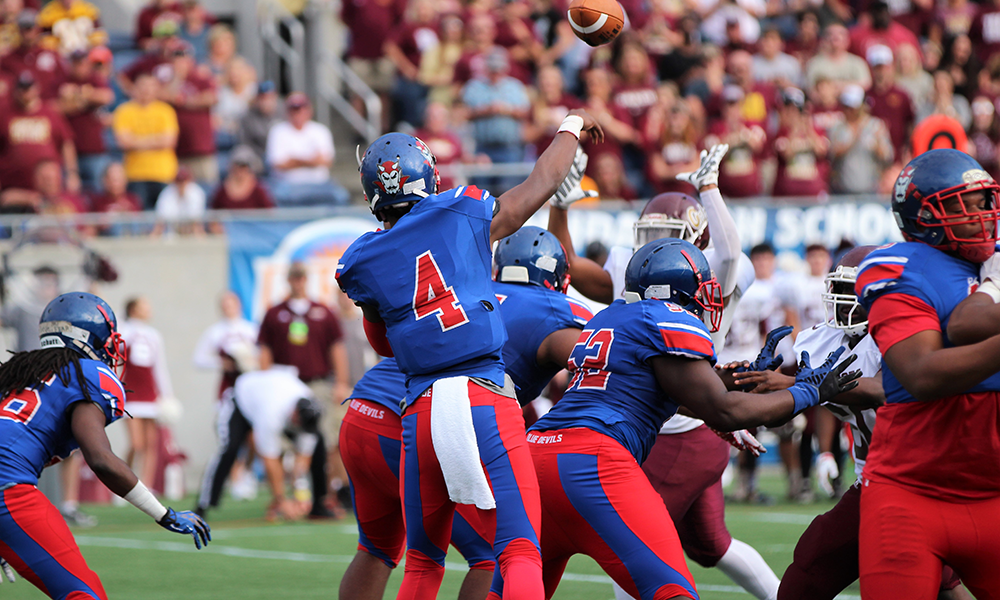 After weeks of research and compiling information, we are getting closer to releasing the FloridaHSFootball.com All-State teams for the 2016-17 season. However, first things first, we have our nominees ready for all eight classes as to who will be named to the following awards:
Most Valuable Player
Offensive MVP
Defensive MVP
Coach of the Year
The MVP will be selected from one of the 10 finalists for Offensive and Defensive MVP from each classification.
As an added bonus, you can vote until 8:00 PM EST / 7:00 PM CST Thursday, February 2 for the Fan's Choice on each of these awards which will be revealed when the teams are released to the public, most likely sometime next week.
Make sure to tell your friends and family about the voting as well which can easily be shared to Facebook and Twitter through the social sharing buttons on top or bottom of the article.
CLASS 1A OFFENSIVE PLAYER OF THE YEAR NOMINEES
QB Dentarrius Yon, Jr., West Gadsden (Greensboro)
180 of 292, 3,075 yards, 38 TDs; 582 yards rushing, 8 TDs
UTL/RB Javontai Hall, Sr., Cottondale
209 carries, 2,360 yards, 29 TDs, 15-2 point conversions; 9 rec, 157 yards, 1 TD; 1 passing TD; 30 tackles, 2 TFL, 4 FF, 4 FR (1 returned for TD), 4 INTs (1 returned for TD); 1 kick return for TD
WR Sammy Carter, Sr., West Gadsden (Greensboro)
68 rec, 1,414 yards, 19 TDs
QB Tyrone Smith, Sr., Pahokee
2,598 yards passing, 26 TDs

RB Teryon Henderson, Jr., Madison County (Madison)
245 carries, 1,693 yards, 18 TDs; 2 receiving TDs
CLASS 1A DEFENSIVE PLAYER OF THE YEAR NOMINEES

DL Kelvin Kegler, Sr., Madison County (Madison)
88 tackles, 29 TFL, 9 sacks, 3 FF
DL Torri Singletary, Sr., Baldwin
62 tackles, 21 TFL, 17 sacks, 1 FF, 1 FR
DL Corey Durden, Sr., Newberry
46 tackles, 18 TFL, 5 sacks, 3 FR, 1 defensive TD; Also spent time at TE and along the offensive line.
LB TJ Pitts, Sr., Williston
138 tackles, 12 TFL, 3.5 sacks, 4 FF, 1 receiving TD
DB Travis Jay, So., Madison County
45 tackles, 8 INTs, 12 PBUs
CLASS 1A COACH OF THE YEAR NOMINEES
Matt Brunson, Baker
Brunson led his alma mater back to the state championship game for the first time since 1993, leading the team to undefeated regular season record and a 13-1 overall record.
Mike Coe, Madison County
Coe always has his teams prepared for the toughest schedule he puts together and it showed once again why they were able to make a run to the state semifinals in early December. Madison County finished with an overall record of 11-1.
Joey Striplin, West Gadsden
It was one of the best seasons that West Gadsden has ever seen with Coach Stripplin guiding the way to a 10-2 overall record, winning the District 1A-4 championship and then knocking off 1A power Port St. Joe in the first round of the playoffs.
Richard Vester, Newberry
In his first year at Newberry, Vester guided a big turnaround for the Panthers leading them to within 2-points of a district championship and the team's first playoff berth since 2012. Newberry finished with an overall record of 8-2.
Bill Wiles, Trenton
Back for his second stint in Trenton, Wiles was able to keep the winning ways going for the Tigers despite not being able to defend the school's Class 1A state championship. Trenton finished the season as the District 1A-7 champions with an overall record of 9-2.