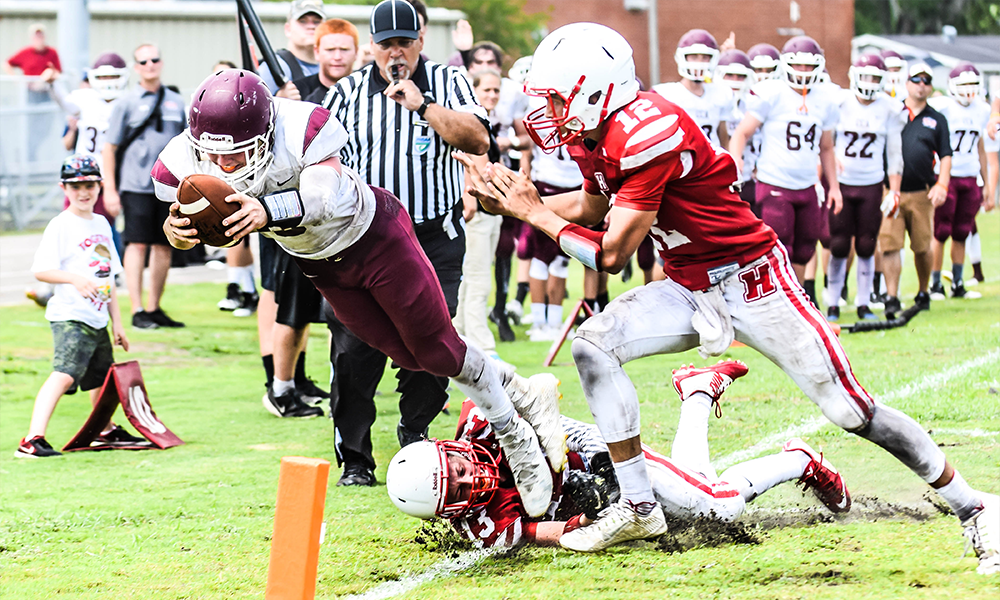 Help support the No. 1 Independent high school sports website in the State of Florida by becoming a FRIEND of FloridaHSFootball.com for as little as $3.00 per month by clicking here.
JACKSONVILLE, Fla. — When Jim Stomps took over the Christ's Church Academy football program in early 2015, the Eagles were coming off a 0-9 2014 season where the average margin of defeat was 45 points a game.
The team was in dire need of a change, and Stomps was the perfect man for the job.
"That year's senior class set the building blocks," said Stomps. "They bought in."
In Stomp's first year, Christ's Church went 5-5 and in 2016 the Eagles improved to 8-2, losing a heartbreaker in the second round of the Sunshine State Athletic Conference (SSAC) playoffs to Seven Rivers Christian.
Now after back-to-back playoff appearances in 2015 and 2016, Christ's Church is looking to win their first SSAC title.
"We want to build off the success of the last two seasons and we want to compete for a division, conference and state championship," Stomps said.
With a number of key playmakers returning on both sides of the ball, expectations are high for the Eagles.  
While many small schools across the state have had trouble getting enough players to field a two-deep depth chart, the Eagles have been largely able to avoid this problem. Christ's Church listed 47 players on their roster in 2016, and this season Stomps expects to have almost 40 players suiting up.
"We have 38 guys on the team, which is pretty good for a school with only 400 kids".
Despite not having to deal with numbers issue, the Eagles still have to deal with a lot of inexperience on the team due to a number of underclassmen on the roster, but Stomps says that they are able to make their weaknesses their strengths. The Eagles have certainly made a number of young guys a positive.
Many players for Christ's Church has been able to play at the varsity level for multiple years, resulting in guys getting three or four years of experience, which undoubtedly helps when replacing guys who graduate. As such, Christ's Church has been able to overcome their challenges, and when asked the secret, Stomps replied: "We try to make things fun and get the kids to enjoy football."
With a very impressive 2016 season, where the team put up big numbers on both offense and defense, it has set the standard for what the Eagles want to be in 2017.
According to Stomps, the Eagles always want to go up-tempo on offense and attacking the defense.
On offense, last season Christ's Church averaged 200 yards per game on the ground last year and in total ran for 21 touchdowns as a team. Although Christ's Church is much more of a run-first team, they still put up around 85 yards-a-game passing last year and are led by returning quarterback Jared Carwile.
Carwile steps in for graduating QB Zach Baldwin and threw for 316 yards and 2 touchdowns while Baldwin was injured last season.
"When our starting quarterback went down last year, Jared Carwile stepped in and went 3-1 as our starter," said Stomps. "So we are confident with him at quarterback."
Defensively, the Eagles attack showed last season when they finished with 54.0 sacks, good for 5th overall, regardless of classification, in the state of Florida while giving up only 9.3 points-per-game last season, which included 3 shutouts.
One of the key players for the Eagles on defense was junior Jacob Reeves, led the team with 9 sacks and added 43 tackles.
"Jacob is a key player for us, and has been starting since he was a freshman," said Stomps.
The Eagles' have many other key players returning as well in their senior class, who according to Stomps, have seen what it takes and have a good chance to repeat as division champions.
"The seniors have done a lot to turn this program around. They locked arms and went to work," said Stomps.
Although Christ's Church is without former All-State lineman Louis Nammour (52 tackles, 8 sacks, 2 fumble recoveries), the Eagles still return plenty of talent on both sides of the ball.  In the trenches, one of these key seniors is All-State defensive lineman Walker Ade, who Stomps says is a long, explosive kid and a key cog in the Eagle defense. During the 2016 season, Ade had four sacks, 27 tackles and was also an important part of the Eagles offensive line as well.
Lineman Matthew Stone also returns for his senior season, after racking up eight sacks and 34 tackles during the 2016 season while providing depth on the offensive line.
Flipping to the skill positions, Josh Dennie is another important senior to watch for. Dennie was named to the Independent All-State team last year at cornerback, where he had four interceptions, 38 pass breakups, and 20 tackles. Dennie was also a force on the offensive side of the ball, where he finished third on the team in 442 total yards with and led the team in receiving yards.
The star-studded senior class also includes running back DJ Lampp, who in 2016 ran for 1,138 yards and 12 touchdowns, which was good enough for 7th in the entire SSAC. Lampp also led the team in total yards and will be another key player for the Eagles this fall.
Overall, the seniors at Christ's Church will have a very important impact on the success of the team, but according to Stomps, the strength is not in a few players but is in the team as a whole.
"It isn't about one person," said Stomps, "It's about the team. Our greatest strength is our team."
And although the 2016 season didn't end with the way the Eagles wanted it to, there is a lot of positives that Stomps said they will use as a building point for momentum.
"We're gonna use last year's loss as a building point," said Stomps, who also mentioned that it will definitely be "motivation" for the upcoming season.
And that motivation so far seems to be working as the Eagles picked up a win over Hilliard in their spring game.
"We will use our win over Hilliard as a strong spot," said Stomps.
Even with the momentum building and very high expectations for the 2017 season, Christ's Church is not looking past their first opponent, Episcopal School of Jacksonville.
"Our focus right now is solely on Episcopal. Whether we win or lose, it will be a huge boost to our football program," Stomps said.
Only time will tell if Christ's Church will be able to accomplish all of their goals in their upcoming season, but Stomps believes this year's team, especially this with his senior class, has the ability to do it.
"This senior class locked arms and went to work," said Stomps. "We are going to make it big-time."
EDITED: This story was updated on June 23, 2017 for corrected stats.