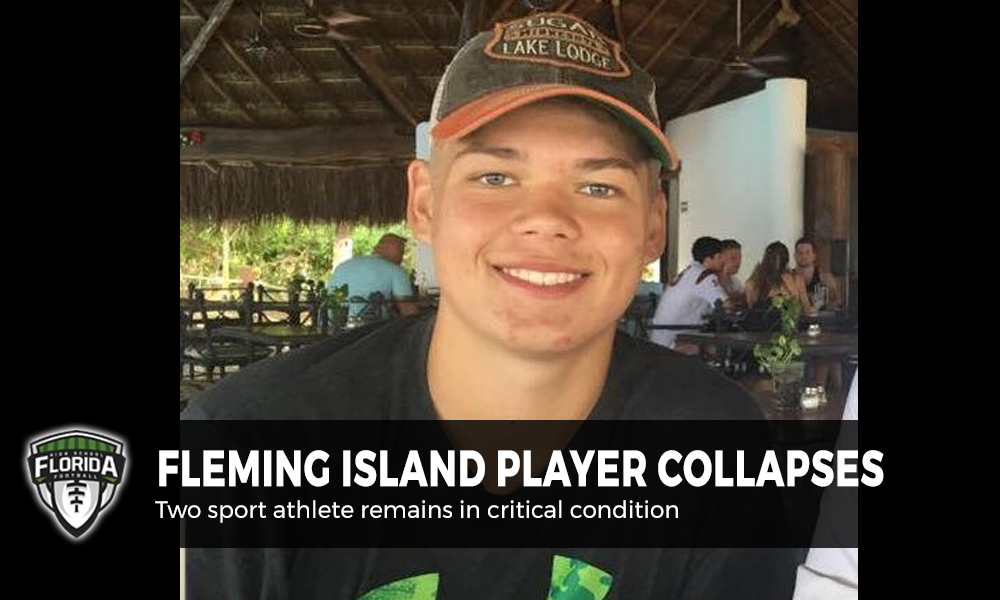 Help support the No. 1 Independent high school sports website in the State of Florida by becoming a FRIEND of FloridaHSFootball.com for as little as $3.00 per month by clicking here.
THURSDAY UPDATE
It is with a heavy heart to update this story that Ben Johnson passed away earlier this afternoon at Wolfson's Children's Hospital in Jacksonville. We send our thoughts and prayers to those in the Fleming Island High School community in this period of mourning
Sad news: Wolfson Children's Hospital confirms death of Fleming Island athlete Ben Johnson. He went in Tuesday after collapsing at school.

— Justin Barney (@JustinBarneyTU) September 21, 2017
Not the news everyone was expecting at all. Hearts and thoughts go out to @FIEagleSports in this time of mourning. #flhsfb https://t.co/fpug5iTX7C

— Florida HS Football (@FlaHSFootball) September 21, 2017
The #FHSAA family mourns the loss of @FIEagleSports student-athlete Ben Johnson. Please keep his family in your thoughts.

Wear blue Friday! pic.twitter.com/pDVoMHulqB

— FHSAA (@FHSAA) September 21, 2017
https://twitter.com/Clay_Crazies/status/910462315568525312
Original story
FLEMING ISLAND, Fla. — Friends and family are currently praying for a Fleming Island High School sophomore football player who collapsed Tuesday afternoon in the school's weight room.
According to the Florida Times-Union in Jacksonville, the Clay County School District released a statement regarding the incident but cited privacy concerns for not releasing the name of the football player involved.
"A Fleming Island High School student passed out today while he was working out in the weight room during school hours. EMS was called immediately and he was transported to a nearby hospital. He was transferred to Wolfson Children's Hospital where he is in critical condition. We are not releasing the student's name at this time, but he is a sophomore who plays football and baseball."
Clay County School District
However, by early Wednesday afternoon, it was revealed that the student, Ben Johnson, was the one who the Clay County community was showing support for after his family released a statement via WJAX-TV in Jacksonville.
"The Johnson family is humbled by all of the prayers, love and support from the Fleming Island Community. Ben remains in critical condition, and continued prayer is requested for Ben and our family."
WJAX-TV Jacksonville
Justin Barney of the Florida Times-Union reported that this Friday's upcoming game between Fleming Island (4-0, 1-0 District 7A-3) at Ridgeview (4-0, 1-0 District 5A-5) would include an honor for Johnson.
1) Ridgeview AD John Sgromolo says school will honor Fleming Island's Ben Johnson before Friday game, paint his No. 77 on field.

— Justin Barney (@JustinBarneyTU) September 20, 2017
2) School wants to honor Johnson, who collapsed at school Tuesday & remains hospitalized, & acknowledge pain Fleming student body going thru

— Justin Barney (@JustinBarneyTU) September 20, 2017
According to the Florida Times-Union report, practices for all of the football teams were canceled for the day after Johnson collapsed, while players and the community showed outgoing support.
Our thoughts and prayers go out to Ben Johnson, his family, and the entire Fleming Island community.

— Clay High Athletics (@Clay_Athletics) September 19, 2017
https://twitter.com/rawerecruits/status/910521590173114368
RIP Ben Johnson… we lost a part of family today and for that you always be in my prayers. God has you now #77

— Jackson Bull (@JacksonBull3) September 19, 2017
Our hearts go out to the @FIEagleSports Community during this tough time. Godspeed to all of you! #flhsfb https://t.co/3B8XVVt6Av

— Florida HS Football (@FlaHSFootball) September 20, 2017