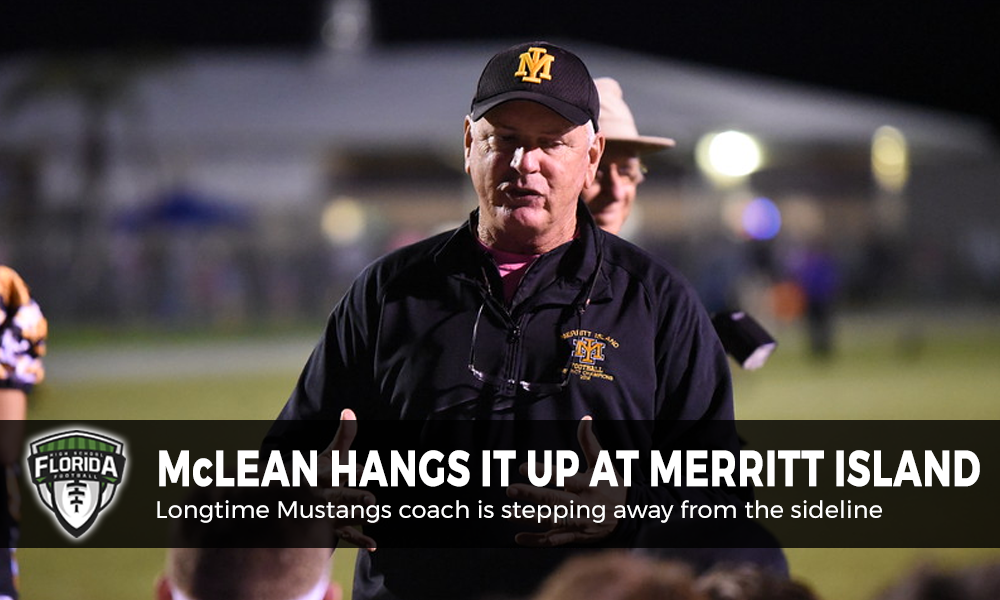 Help support the No. 1 Independent high school sports website in the State of Florida by becoming a FRIEND of FloridaHSFootball.com for as little as $3.00 per month by clicking here.
Jeff McLean is hanging the whistle up after 34 years as a coach at Merritt Island, Florida Today reported earlier today.
McLean, who has been the head coach since 2007, told Florida Today, "It's been a fun, rewarding 11 years. This is a great place with great kids, great parents, a great community and great school. I've been blessed by all those things, but I just figured it's time."
He steps down with an 89-38 overall record with seven district championships since becoming head coach the Mustangs' head coach in 2007.
However, McLean won't be totally stepping away from things at Merritt Island as he will still remain as the athletic director, a position he has held since 1994.
He was inducted into the FACA Hall of Fame back in 2016 for his contributions as a coach in Florida.
The school plans to hire a new coach as quickly as possible.
"I'll sit down with the principal and come up with a game plan," McLean told Florida Today. "We're coming up on spring practice, so we want to get it done as quickly as possible."
Spring football in Florida starts April 23.