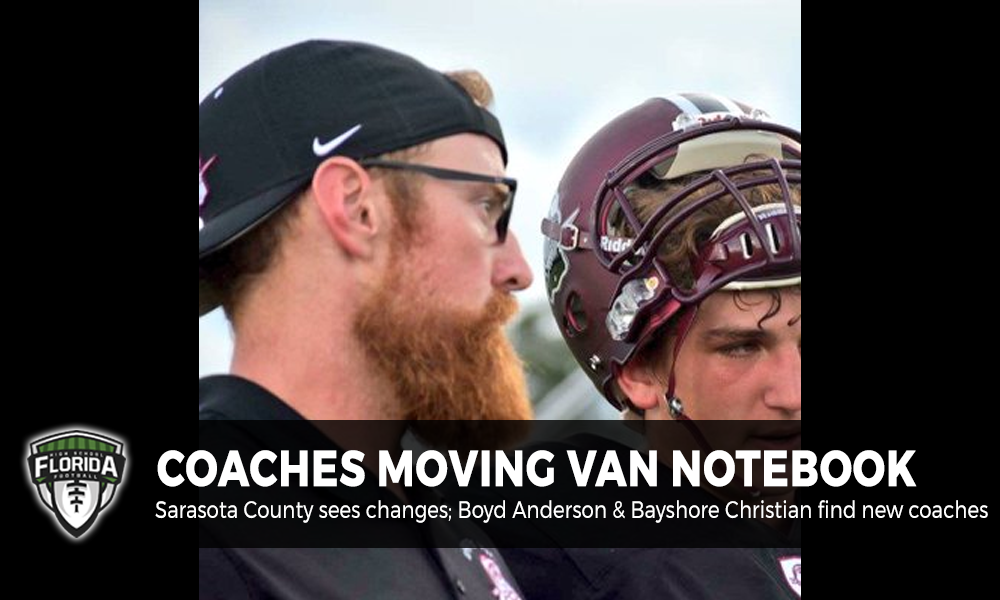 Two coaching shuffles in Sarasota County
Sarasota has found their new head coach while Cardinal Mooney (Sarasota) is on the hunt for a new head coach.
On Friday, Sarasota High announced the hiring of Spencer Hodges, a Manatee (Bradenton) alum and Braden River (Bradenton) assistant to lead the Sailors starting this fall.
Hodges, who is 29, has been assistant under Curt Bradley the last several years also coaching the freshman team and varsity tight ends as well running the weight training program, according to the Sarasota Herald-Tribune. He replaces Brian Ryals who stepped down after four seasons at Sarasota.
Sarasota finished the 2017 season with a 5-5 overall record.
Meanwhile, over at Cardinal Mooney is on the search for a new head coach after Drew Lascari stepped down after three seasons to take a quality control coach position with Rutgers University in New Jersey, according to Dennis Maffezzoli at the Sarasota Herald-Tribune.
BREAKING: Drew Lascari steps down as head football coach at Cardinal Mooney @CMHSCougarFB to take a job on the staff at Rutgers University @RFootball @htpreps

— Dennis Maffezzoli (@maffsports) February 2, 2018
Lascari led Cardinal Mooney to an 8-3 record in 2016, his second season with the school and to a Class 3A playoff berth, losing in the regional semifinals.
The Cougars finished 4-5 after forfeiting several games due to an ineligible player, missing the playoffs.
Cardinal Mooney has not announced how long it will take to find Lascari's replacement.
McLaughlin back on the sidelines
After being away from the sidelines for two seasons after being dismissed from Carrollwood Day (Tampa) prior to the 2016 season, Lane McLaughlin will have a team to coach again in 2018.
Per Bob Putnam at the Tampa Bay Times, McLaughlin has been hired to take over Bayshore Christian's (Tampa) young 11-man program that has only been in existence for a couple of years. He replaces Jeremy Burnett who only coaches the team for one season.
Former Carrollwood Day coach Lane McLaughlin said he has been hired as the coach at Bayshore Christian.

— Bob Putnam (@BobbyHomeTeam) February 2, 2018
Boyd Anderson hires Darian Gray to lead the Cobras
On Friday, Darian Gray was officially tapped to take over as head coach at Boyd Anderson (Lauderdale Lakes). He replaces Quincy Woods who stepped down after two seasons of leading the Cobras, according to the South Florida Sun-Sentinel.
Gray's hiring marks the fourth head coach for the Cobras program in the last five years.
For Gray, this is first official high school head coaching job but has been known to many in Broward County and South Florida as a coach in the South Florida Youth Football League with the Fort Lauderdale Hurricanes.
He told the Sun-Sentinel that he plans to keep the coaching staff intact from last season, but also has added assistant Antwan Foulkes who comes over from Dillard (Fort Lauderdale), while looking for ways to make sure athletes don't leave Boyd Anderson.
"I want to get it to where kids don't leave Boyd Anderson," Gray told the Sun-Sentinel. "Most of our best kids usually transfer out. I'm trying to build a program where kids stay all four years."
The Cobras finished 4-5 in 2017, missing one game due to Hurricane Irma and has missed the playoffs the past two season after winning the District 6A-15 championships in 2015 under former head coach Eddie Brown.