The following press release was sent by Andrea Kravitz of Intersport. Intersport manages the operations for the Under Armour All-America Game in conjunction with ESPN.
Orange County Dignitaries to Take Part in Dedication Ceremony at 2:30 p.m. ET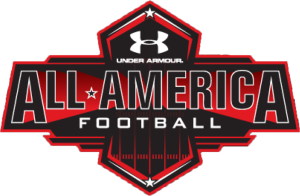 Orlando, Fla. – Once again, the participants in the 2013 Under Armour All-America High School Football Game presented by American Family Insurance will forego a few hours of game preparation to assist local Orange County youth.  Ninety of the country's top high school football players will help renovate the Barnett Park football field (4801 West Colonial Drive, Orlando, Fla., 32808, 407-836-6203) at 1:30 p.m. ET Jan. 3, followed by a dedication ceremony by Orange County District 6 Commissioner Tiffany Moore Russell at approximately 2:30 p.m. ET.
The Barnett Park community event is part of the Under Armour All-America Game activities, which include practices at the ESPN Wide World of Sports, coaching by NFL Legends Herm Edwards and Steve Mariucci and additional team-building events.  The sixth annual Under Armour All-America Game is set for 5 p.m. ET Jan. 4 at Tropicana Field in St. Petersburg, Fla., and will be televised live on ESPN.
Joining the players will be four local youth football organizations, who will be utilizing the space as their home field in the future.  The Orange County Parks and Recreation Division has been revitalizing the fields and now, with the assistance of the Under Armour All-Americans and several companies who donated time and services, the field will have new a drainage system, sprinkler system, fence line and grass.
After the Under Armour All-America football players aid in the restoration, the field will be dedicated in a ribbon-cutting ceremony attended by Orange County Commissioner Tiffany Moore Russell, Orange County Sheriff Jerry Demings and other local dignitaries.  The public is invited to attend the sod laying and ceremony.
Among the players in attendance will be central Florida standouts Marcell Harris of Dr. Phillips High School in Orlando, Tarean Folston of Cocoa High School, Leon McQuay III and Alvin Bailey of Armwood High School in Seffner, Sean Covington of St. Petersburg High School, Ryan Green of St. Petersburg Catholic High School, and the No. 1 rated high school football player in the country Robert Nkemdiche of Grayson High School in Loganville, Ga.  Local dignitaries and players will be available for media interviews immediately following the ceremony.
For more information, please contact Andrew Williams at 863-221-9190 or alwsport@yahoo.com.