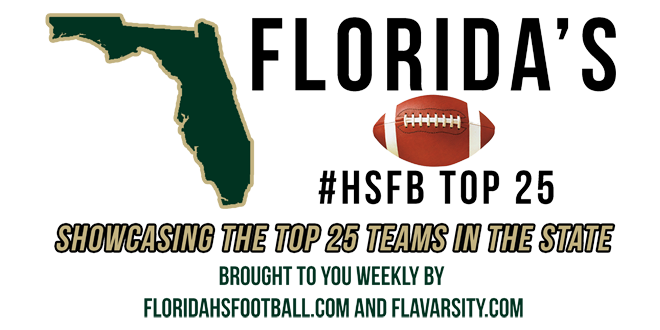 GAINESVILLE, Fla. – The Booker T. Washington Tornadoes continue their dominant ways as they continue to keep the number one spot again on Florida's HSFB Top 25 for the fifth consecutive week – going back all the way back to the preseason.
The Tornadoes (5-0) smacked Miami Jackson 55-7 last week as they claimed all 20 first place votes, making it the second week in a row the Tornadoes have been a unanimous No. 1 team.
Miami Central (4-1) keeps a hold of the No. 2 spot after blowing out previously ranked Columbus (3-1), 42-14. Rockets held the Explorers scoreless until late in the final quarter of the game.
Mainland which continues to dominate opponents keeps the No. 3 spot and now carries a 4-0 record. The Buccaneers will face off against a Top 5 showdown against No. 5 American Heritage – Plantation (2-1) at Daytona Beach Municipal Stadium on Friday night. The Patriots defeated 3A Chaminade-Madonna easily on Friday night to get their second win of the season.
St. Thomas Aquinas (2-1) keeps the No. 4 spot after a comeback win at Miramar on Saturday night. The Raiders which had several players out on suspension and a quarterback not at the game due to injury-related issues, worked hard to defeat now-No. 14 Miramar, 20-12.
Flanagan (4-0) and Niceville (4-1) both enter the Top 10 after loss by Miramar and Cocoa caused both of those teams slip down the rankings after losses this weekend.
Bolles which was ranked No. 14 last week dropped out of the Top 25 this week after suffering a 34-33 loss to the hands of a now 2-2 Raines Vikings team that was just beaten the previous week 62-7 by No. 8 First Coast.
Miramar and Cocoa were the two teams that took the biggest drops in the poll in regards to teams still ranked. Miramar (2-2) feel from No. 8 to No. 14. While Cocoa (2-1) fell from No. 10 to No. 15 this week. Cocoa lost by 3 points to Trinity, KY after the Tigers missed several extra points and bad kickoffs due to the loss of their kicker in the game.
Two new teams check in for the first time this week with South Sumter Raiders (4-0) entering after winning big at Zephyrhills on Friday night, while Miami Killian Cougars (4-0) has been on a hot streak of winning that includes a shut out win of district rival Coral Reef on Friday night. South Sumter checks in at No. 23, while Miami Killian checks in at No. 25.
Florida's HSFB Top 25 is voted on weekly by sportswriters and sportscasters from around the state. Florida's HSFB Top 25 is the only all-classification poll voted on through out the state during the season by members of the media.
Florida's #HSFB Top 25 – Week 4
Rank, Team, First Place Votes in parenthesis, record, points, previous
1. Booker T. Washington (20) (4A), 5-0, 500, 1
2. Miami Central (6A), 4-1, 475, 2
3. Mainland (6A), 4-0, 454, 3
4. St. Thomas Aquinas (7A), 2-1, 431, 4
5. American Heritage – Plantation (5A), 2-1, 404, 5
6. Armwood (6A), 4-0, 369, 6
7. Dr. Phillips (8A), 4-0, 365, 9
8. First Coast (8A), 3-0, 354, 7
9. Flanagan (8A), 4-0, 321, 11
10. Niceville (7A), 4-1, 268, 12
11. Trinity Christian – Jacksonviile (3A), 2-1, 246, 13
12. Apopka (8A), 3-1, 241, 15
13. East Lake (7A), 4-0, 235, 16
14. Miramar (8A), 2-2, 210, 8
15. Cocoa (4A), 2-1, 197, 10
16. Plant (8A), 3-1, 165, 17
17. Osceola – Kissimmee (7A), 3-1, 159, 18
18. Lakeland (7A), 4-0, 156, 19
19. Lake Mary (8A), 3-0, 137, 20
20. Boynton Beach (6A), 4-0, 100, 24
21. Clay (5A), 4-0, 96, 22
22. Manatee (8A), 3-1, 69, 25
23. South Sumter (5A), 4-0, 51, NR
24. St. Augustine (6A), 4-0, 49, 23
25. Miami Killian (8A), 4-0, 46, NR
Dropped Out: No. 14 Bolles (4A, 3-1), No. 21 (Columbus, 8A, 3-1)
Others Receiving Votes: Naples (6A, 3-1) – 36; Venice (6A, 4-0) – 35; American Heritage-Delray (3A, 2-1) – 33; Bolles (4A, 3-1) – 29; West Orange (8A, 4-0) – 29; Columbus (8A, 3-1) – 25; Dwyer (7A, 3-1) – 21; South Dade (8A, 3-1) – 17; Oviedo (8A, 4-0) – 16; Coral Gables (8A, 2-1) – 15; Hallandale (6A, 4-0) – 15; Clearwater Central Catholic (3A, 3-0) – 13; Monarch (8A, 3-0) – 13; Suwannee (5A, 4-0) – 13; Dixie County (1A, 4-0) – 11; Lake Gibson (3-0) – 9; Royal Palm Beach (7A, 3-0) – 9, Viera (7A, 3-0) – 6; University-Orange City (8A, 4-0) – 6; Pahokee (3A, 2-1) – 5; Westminster Christian (3A, 3-1) – 4; Clewiston (4A, 4-0) – 4; Oak Ridge (7A, 3-1) – 4; Raines (4A, 2-2) – 2; Cardinal Gibbons (5A, 4-0) – 1