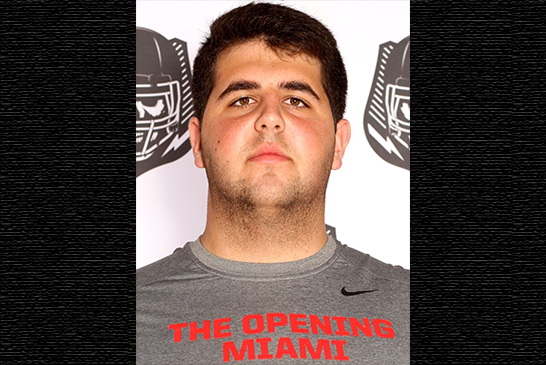 PROSPECT INFORMATION
Name: Louie Berkowitz
School: St. Thomas Aquinas
Year: 2016
Position: Offensive Center
Height: 6-2
Weight: 285
QUESTION & ANSWER
Q: When did you receive your first offer and from who?
A: Haven't gotten first offer yet, but multiple ivy's are going to soon.
Q: What is on your pre game playlist?
A: A mix between EDM and Rap.
Q: Who is the best player you've played against?
A: [STA class of 2015 and Duke Blue Devil] Brandon Boyce.
Q: Who do you model you style of play after?
A: Hroniss Grasu from Oregon.
Q: What is your favorite Quote?
A: No weapon formed against me shall prosper.
Q: Chipotle or Moe's?
A: Moe's any day.
Q: Gatorade or Powerade?
A: Gatorade without a doubt.
Q:. What do you plan on studying in college?
A: Law or business, or maybe law concentrated on business.
Q: What is your favorite movie?
A: The first Anchorman.
Q: What college football team were you a fan of growing up?
A: The University of Miami Hurricanes.
HIGHLIGHT VIDEO
If you are a prospect and want to be considered for a future Prospect Q&A, please email football@floridahsfootball.com and include "Prospect Q&A" in the subject line. In the body of your email please include your name, year, school and best contact information as well.