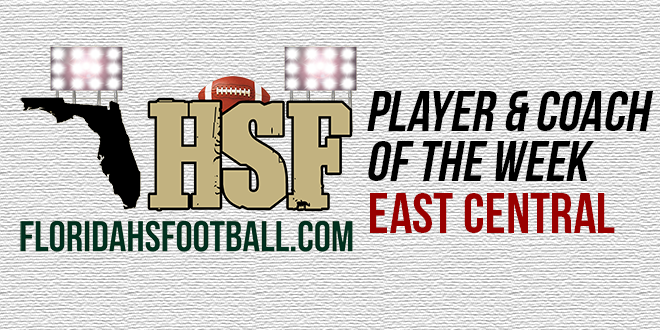 Here is FloridaHSFootball.com's East Central Florida Region Player and Coach of the Week for Week 2, including other Player of the Week Nominations.
EAST CENTRAL PLAYER OF THE WEEK
QB Josh Spencer, Father Lopez – 23 of 27 passing for 389 yards and four touchdowns in a 45-21 rout of Warner Christian.
EAST CENTRAL COACH OF THE WEEK
Scott Wilson, Mainland – We might be speaking what most already know, but Wilson has Mainland already off to a hot 2-0 start on the season and appears to have a team could be unstoppable.
OTHER PLAYER OF THE WEEK NOMINATIONS
RB Trace Christian, Lake Brantley – Rushed for 109 yards and two touchdowns in 40-14 win over Titusville.
QB Marquies Lane, Deltona – Threw for three touchdowns and ran for one more in Deltona's 49-17 rout of Trinity Prep.
RB Lorenzo Lingard, Orange City University – Rushed for 106 yards and two touchdowns in a 30-7 win over New Smyrna Beach.
QB Charles Peterson, Lake Mary – Threw for 331 yards and one touchdown, but had two interceptions in a 27-17 loss to Dr. Phillips.
QB Quinn Dawson, DeLand – Threw for 315 yards for two touchdowns and had 37 yards rushing and three touchdowns in a 44-17 rout of Seabreeze.
WR Stephon Bruten, DeLand – Had 6 catches for 166 yards and one touchdown in a 44-17 win over Seabreeze.
RB Jordan Wilson, DeLand – Had 21 carries for 160 yards rushing and one touchdown.
QB Denzel Houston, Mainland – 15 of 19 passing for 240 yards and three touchdowns in a 56-24 blowout of Bartram Trail.
RB Danny Dilliard, Matanzas – Rushed for 155 yards and three touchdowns in a 41-2 rout of Port Orange Atlantic.