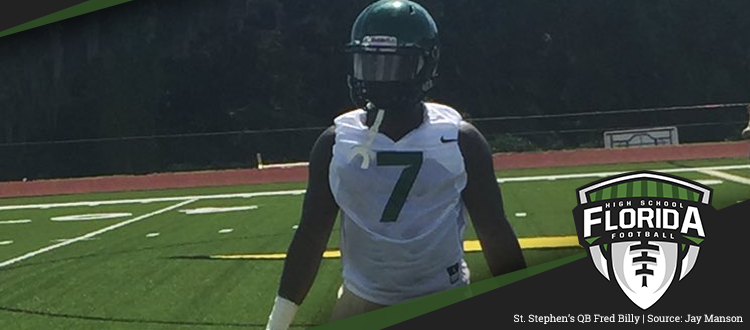 BRADENTON, Fla. – At the independent level, many players struggle to receive the recognition they deserve.
Saint Stephens Episcopal School QB Fred Billy is a prime example of a player not receiving the recognition he should.
Billy who is, a 5-11, 185 lb. junior has amassed nearly 4,200 all-purpose yards along with 54 total touchdowns in just two seasons.
And he leads the Falcons in overall career touchdown passes with 25.
He has made a consistent improvement in both of his two years at the helm of the Falcons offense.
As a freshman, he accounted for 21 touchdowns and 1,600 all-purpose yards, and had just 12 turnovers. In his sophomore season, under the tutelage of his quarterback coach, former Bradenton Manatee star Brion Carnes, he exploded for a monster season, accounting for 2,000 yards and 33 touchdowns of the Falcons' offense.
Those statistics led him to being named as a second team athlete on FloridaHSFootball.com's Independents All-State Elite for the 2015 season.
In fact, he has 34 more touchdowns than his mentor Carnes, a former Nebraska and University of Northern Iowa quarterback, had at the same point in their respective careers.
"I see a lot of myself in Fred. It kind of scares me a little. I just would want him to be better than I was though. He really took in everything I was teaching him and working on with him. He's kind of a sponge, he soaks in everything." Carnes said.
However, with these remarkable statistics Billy has yet to receive a scholarship offer.
"Not having an offer just fuels the fire man. Just another reason why I have to work even harder at being a better football player. I can't control whether I get offered or not, but I can control how hard I work and when it's all said and done [I] will have colleges coaches wish they didn't pass up on me," Billy said.
USF, Vanderbilt, West Virginia and NC State are among the schools that have expressed interest in Billy so far, but haven't stepped forth with a full scholarship offer.
Falcons Head Coach Tod Creneti sees a lot in Fred.
"Fred has [a] tremendous heart and a desire to contribute to something bigger than himself. He is prepared to play anywhere a program needs him and tremendous effort will be his legacy. Fred has developed into a quarterback with a strong understanding of what we do and why we do it. He has focused on his role as a leader in the locker room and shown strides in maturity on and off of the field," Creneti said.
With two years left of high school and with the continued steady growth he has shown along with his willingness to be the hardest worker it is likely that Billy could follow in the steps of the numerous dynamic quarterbacks to come out of Manatee County and the state of Florida as a whole.
Billy may have no offers now, but with his statistics and desire to be the best, when it is all said and done he will be a major target for numerous schools all across the country.
HIGHLIGHTS