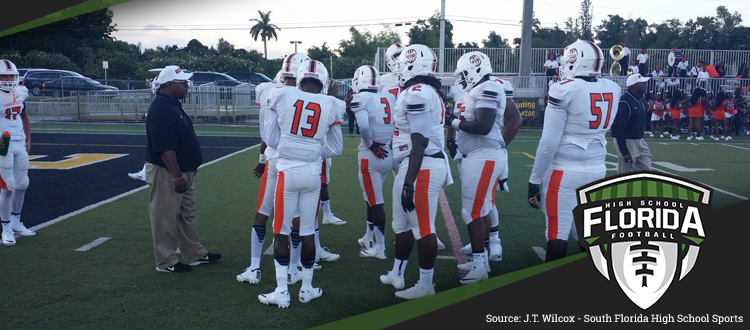 FloridaHSFootball.com is a partner of USA TODAY High School Sports
Booker T. Washington warm ups. Bout to get real down in Florida pic.twitter.com/QDENZQYjn7

— UTR Scouting (@UTRScouting) August 19, 2016
The new coach at USA TODAY Super 25 No. 8 Booker T. Washington (Miami) is the same as the old coach and the new Tornadoes looked a lot like the group that has won four consecutive state titles Friday night.
After two years at the University of Miami, Tim "Ice" Harris was back for his third stint as Booker T. Washington's coach and BTW's defense completely throttled USA TODAY Super 25 No. 6 American Heritage (Plantation) in a 27-7 preseason kickoff victory.
Sophomore BTW quarterback Daniel Richardson had a strong game, throwing for 258 yards and two touchdowns, concluding with a 34-yard touchdown pass to DeAndre Williams in the fourth quarter.
MORE: Ice Harris is back and BTW has eyes on national title
It didn't take long for the Tornadoes' defense to assert itself. Early in the second quarter, and one play after the Patriots' Tyson Campbell stopped a Tornadoes drive with a fumble recovery, Rishard Dames scored on a 25-yard interception return for BTW.  The point-after put the Tornadoes up 7-0.
Leading 7-0 to start the second half, Richardson marched BTW down the field. The Tornadoes made it 10-0 on a 5-yard plunge by Craig Nelson.
Booker T. Washington coach Tim "Ice" Harris imploring his team to show up for the last 24 minutes pic.twitter.com/tIUwyeGVsn

— Miami Herald HS (@HeraldSportsHS) August 20, 2016
After BTW's defense forced a punt, Richardson found Marcus Barthell for an 8-yard touchdown pass to put the team up 20-0. While the Patriots blocked the extra point, they could not mount a comeback.
MORE: American Heritage has elite players in the secondary
American Heritage's only score came with 5:27 left when Jason Brown threw an 8-yard touchdown pass to Dontavius Butler. That came just after a 50-yard punt return for a touchdown by Patrick Surtain Jr. was called back for an American Heritage penalty.
As it is a preseason game, the result will not count toward the teams' records. Booker T. opens Thursday against No. 1 St. Thomas Aquinas (Fort Lauderdale) and American Heritage faces Colquitt County (Moultrie, Ga.).
RELATED: For more high school sports news and scores, visit USA TODAY High School Sports
Follow USA TODAY High School Sports on Twitter at @USATODAYhss