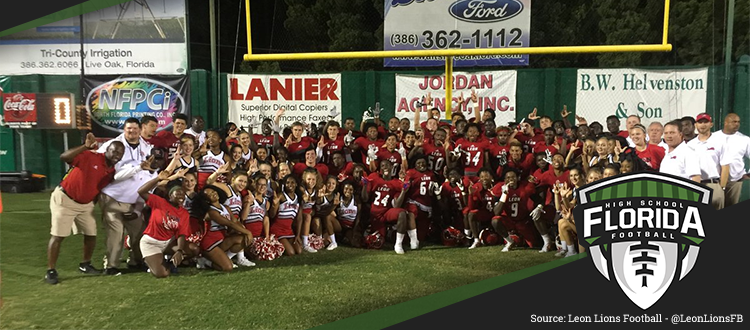 Win No. 600 is in the books for one of the Florida's oldest high school football programs.
Tallahassee Leon, which was sitting at 599 wins coming into the season opener, found win No. 600 at ease with a 31-0 shutout road victory at Live Oak Suwannee.
Shut out over Suwannee. GO BIG RED! @LeonLionsFB pic.twitter.com/0Xv8M7A55t

— Lisa Louise Carey (@LLouiseCarey) August 27, 2016
Leon which is entering their 101st year of high school football this season after going 5-5 last year on the centennial anniversary last year, joins an elite group of teams that are known to have at least won 600 games in Florida.
Epic. Win #600 for the Leon Lions with a shut out on the road, defeating Suwannee 31-0. Go Big Red! pic.twitter.com/07HpeySKL7

— Leon Lions Football (@LeonLionsFB) August 27, 2016
According to a list that has been compiled by Fort Myers High School's football team indicates that Lakeland lead the state with 690 wins entering the 2016 season with Manatee just behind them at 670, while Lake City Columbia at 656 wins and Fort Myers at 646 wins.
However, sources from Lake City Columbia have indicated the win total was actually 662 coming into the season and not 656.
Lakeland won their season opener against Ed White in a 49-0 shutout at home which would move them to 691 wins with a chance to win 700 games come Week 10. Columbia has moved to 657 or 663 wins, depending on the numbers used, as they won 17-12 over Gainesville in their season opener on Thursday night.
Manatee and Fort Myers dropped their season openers to Hewitt-Trussville, Alabama, and Palmetto respectively on Friday night.
However, this might not be all the teams in Florida known to have completed 600 wins as older records have either been destroyed or lost over the years leaving incomplete records for some teams.
In the end, though, winning 600 games as a program is no easy feat and something that should be relished by the team for a few moments before getting on with the rest of the season.
NOTE: If there is any team we might have missed that should be on the list, please feel free to email it to football@floridahsfootball.com