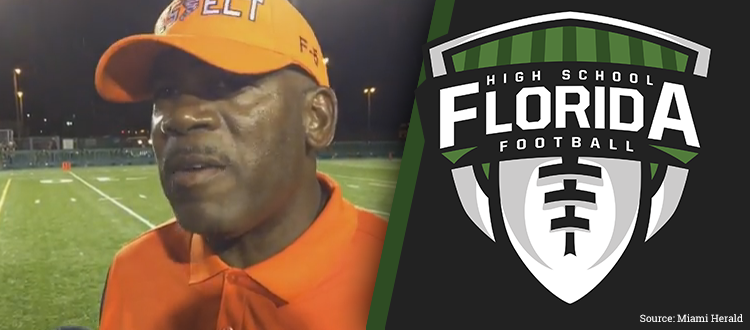 FloridaHSFootball.com is a partner of USA TODAY High School Sports
MIAMI – Booker T. Washington arrived at Traz Powell Stadium on two "Heavenly Charter" buses and exited as if touched by an angel.
Two massive officiating calls – one that gave BTW a touchdown and one that took an apparent score away from St. Thomas Aquinas – swung the game in the Tornadoes' favor.
The Aquinas Raiders, who entered the game No. 1 in the USA TODAY Super 25 national rankings, came up short despite having a first-and-goal at the BTW 1 in the final 30 seconds.
As a result, the Tornadoes – ranked sixth nationally but almost certain to rise – sprinted out of Traz with a stunning 27-23 win in the regular season opener for these South Florida rivals.
"We were doubted, but we played hard," said BTW safety Dedrick Mackey.
Mackey made a game-saving interception in the end zone with 23.9 seconds left. "I played a horrible game in the first half, but my teammates kept me up, and it showed in the end."
RELATED: Booker T. Washington upends national No. 1 St. Thomas Aquinas
This was an epic game between two proud programs. BTW, a public school based in Miami, avenged a 35-3 loss suffered last year to Aquinas, a private school in Fort Lauderdale.
Both teams have impressive pedigrees. Since 1992, the teams have combined to win 14 state titles, including nine by the Raiders. Aquinas is the reigning champion in Class 7A. BTW has won four consecutive Class 4A titles.
BTW, however, is the one that figures to rise in the polls after its second straight impressive performance.  Last week, the Tornadoes routed American Heritage (Plantation, Fla.) 27-7 in a preseason game. Heritage had been ranked No. 6 at the time.
On Friday, Aquinas quarterback Jake Allen, a Florida recruit, completed 15 of 33 passes for 253 yards. But he was intercepted twice, and both were crucial.
The first interception occurred with 3:35 remaining in the game and Aquinas leading 23-21. Allen, trying to complete a third-down pass to keep the ball away from the Tornadoes, was picked by cornerback Richard Dames, a Florida International recruit.
Helped by the short field, sophomore quarterback Daniel Richardson fired his fourth touchdown pass of the night, an 18-yarder into the left corner of the end zone to Sharod Johnson with 2:26 left in the game.
Johnson, a Syracuse recruit, appeared to get his left foot in bounds. But one referee close to the play called him out of bounds before he was overruled.
Immediately after Johnson's score, play was delayed for 38 minutes due to lightning.
"I thought that was a good advantage for us to regroup," Aquinas coach Roger Harriott said of the delay. "We had just been scored on. We went in (to the locker room), and I think our kids responded well."
Indeed, the Raiders mounted an impressive drive.
Allen hit Ohio State wide receiver recruit Trevon Grimes for an 11-yard slant. Mike Epstein, who rushed 16 times for 151 yards and a touchdown, broke off a 24-yard run, and the Raiders were rolling.
But a 15-yard face-mask penalty against Aquinas and a sack by BTW's Jaquan Beaver left the Raiders with a third-and-26. Grimes got 21 yards back on a screen, and Allen drew the BTW defensive line offsides for a first down.
Momentum had shifted back to Aquinas, and the Raiders appeared to have won the game when Grimes, lined up on the right side, caught a slant pass over the middle. The play gained 22 yards, Aquinas thought it was 23 and a touchdown. The celebration began.
"I'm not going to speculate," Allen said when asked if he thought Grimes had crossed the goal line. "Either he is in or not – it doesn't matter. It's over. We lost."
Grimes, in tears and highly upset, declined to talk to the media after the game. He finished with nine catches for 161 yards.
Harriott was diplomatic.
"I don't know," Harriott said about the Grimes call. "I think the referees for the most part called the best game they could. It's tough to say what could've or should've happened."
But despite the officials' call that Grimes did not get in, the Raiders still had victory well within reach.
They had a first-and-goal at the one, but they were out of timeouts.
Raiders coaches wanted Allen to spike the ball to kill the clock before changing their minds.
"We were going to spike it, but then the coaches gave us '109' signal," Allen said. "The 109 is a go, vertical, and I guess (the receivers) didn't see it."
Spiking the ball and then throwing as many as three passes for the potential win would likely have been the most prudent coaching decision. But in the confusion, signals got crossed, the Tornadoes ran a corner blitz, pressuring Allen, who threw the ball up for grabs.
Mackey made the grab, and the Raiders were doomed.
"There was a little bit of confusion as to whether we were going to spike the ball or throw a fade," Harriott admitted. "We were out of timeouts, and we got caught in confusion."
Ohio State WR commit Trevon Grimes. TD or no TD? pic.twitter.com/juOodT8fIp

— Luke Stampini (@LukeStampini) August 27, 2016
Follow USA TODAY High School Sports on Twitter at @USATODAYhss