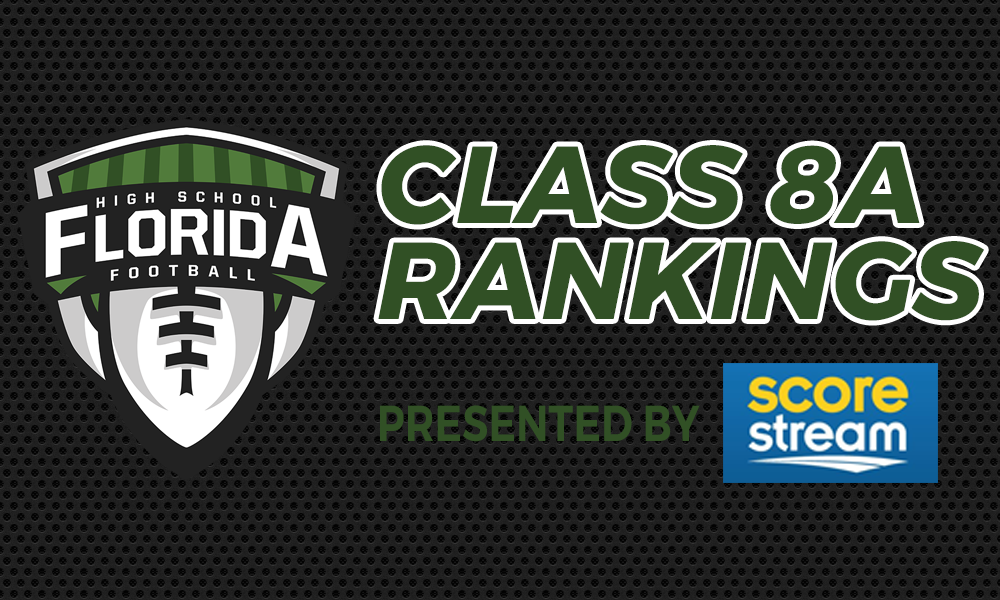 With opening week almost here, it is time to dive into the Preseason rankings here at FloridaHSFootball.com. Class 8A is usually considered a wide open classification, but things could be a little different this year if Miami Southridge has their way with a possible repeat. However, there is a host of other teams out there that want to make a repeat not possible for the Spartans. Without further ado here are our preseason Class 8A rankings for the 2017 season, Presented by ScoreStream!
WATCH: Watch the video above for our discussion on the Class 8A preseason rankings.
2017 CLASS 8A PRESEASON RANKINGS
1. MIAMI SOUTHRIDGE
2016 RECORD: 12-2
QUICK HIT: The Spartans may have graduated quite a bit, but the talent level is not dropping off. Not under Billy Rolle's watch. The Spartans look to go back-to-back this season with another deep playoff run very possible.
2. DR. PHILLIPS
2016 RECORD: 12-3
QUICK HIT: No talent drop off here either with Dr. Phillips, but they will still have to face the likes of some quality teams to get back to playing just a few miles down the street for a state championship this season. Still, a deep playoff run will not be surprising.
3. DEERFIELD BEACH
2016 RECORD: 10-3
QUICK HIT: A big time favorite for a lot of people to possibly make a run to their first state championship game since 2005, the Bucks are ready and loaded with quite a bit of talent despite the loss of several key players from last season's squad that graduated.
4. CORAL GABLES
2016 RECORD: 10-2
QUICK HIT: Tim Neal might be the new head coach at Coral Gables, but there is no expectation of a drop off given the fact several of Neal's players at Southwest Miami transferred in boost the Cavaliers roster. Will battle with Columbus for District 8A-14, but could have a shot at a deep playoff run here this season.
5. VERO BEACH
2016 RECORD: 11-1
QUICK HIT: The Indians always reload year after year and this year will be no different. With a recent best of reaching the Regional Finals last year, Vero Beach knows playing even a slightly tougher schedule will make a difference in terms of being ready for a possible rematch with Dr. Phillips in the playoffs this season.
6. APOPKA
2016 RECORD: 9-1
QUICK HIT: Last year's quick exit from the playoffs should be marked down as a fluke. Go ahead and mark it down, because this team will bounce back and be very dangerous to contend with. Not only on top of that the schedule is much tougher this season and will only likely to yield results come November and possibly in early December.
7. SEMINOLE (SANFORD)
2016 RECORD: 12-1
QUICK HIT: The Fighting Seminoles had their best season in since 2010 when they had a run to the state semifinals that year. However, several key players have graduated, but there is still talent for another potential deep playoff run on the roster.
8. OSCEOLA (KISSIMMEE)
2016 RECORD: 10-1
QUICK HIT: The Kowboys took it hard last season when they got shown the door in the first round of the playoffs at home by Treasure Coast. However, Osceola should be able to bounce back and reload for the season as they are once again favored to win their district.
9. ATLANTIC (DELRAY)
2016 RECORD: 9-4
QUICK HIT: This year's Atlantic team might be even better than the team that reached the Regional Finals before falling to Deerfield Beach. However, Deerfield Beach might be the team that stands in their way in their goals and dreams of reaching Orlando to play for a state championship this season.
10. PARK VISTA
2016 RECORD: 10-1
QUICK HIT: The Cobras should be reloaded and ready to go despite falling out of the playoffs in the first round last season. They will have to contend with district rival Atlantic for the District 8A-10 championship this season.
FIVE ON THE BUBBLE
2016 record shown
University (Orange City), 8-2
Columbus, 7-4
Wekiva, 7-4
Winter Park, 9-4
Western, 8-3
REGIONAL RANKINGS
2016 record shown
REGION 1
1. Apopka, 9-1
2. Seminole (Sanford), 12-1
3. University (Orange City), 8-2
4. Wekiva, 7-4
5. Winter Park, 9-4
REGION 2
1. Dr. Phillips, 12-3
2. Vero Beach, 11-1
3. Osceola (Kissimmee), 10-1
4. Riverview (Sarasota), 9-2
5. Manatee, 7-4
REGION 3
1. Deerfield Beach, 10-3
2. Atlantic (Delray), 9-4
3. Park Vista, 10-1
4. Western, 8-3
5. Miramar, 7-3
REGION 4
1. Miami Southridge, 12-2
2. Coral Gables, 10-2
3. Columbus, 7-4
4. Dr. Krop, 5-5
5. Miami Palmetto, 9-2