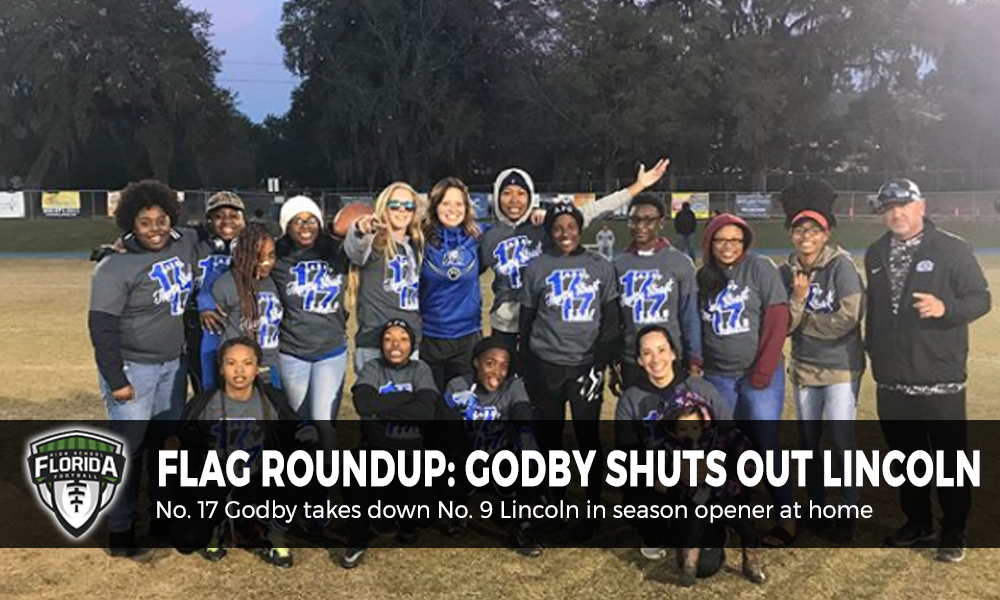 As Week 1 of the 2018 Girls Flag Football season continues, three more teams have pulled off Top 25 upsets that will shake the rankings up going into Week 2 next week. Here is a combined recap of Wednesday & Thursday's results:
No. 17 Godby shuts out No. 9 Lincoln in home opener while honoring the 2016 state semifinalist team
There was much talk about the early season matchup between No. 17 Godby and No. 9 Lincoln which played out Thursday night at home for the host Cougars.
In the end, it was a one-sided affair favoring the Cougars, 20-0 while honoring the 2016 Class 1A State Semifinalist team.
https://www.instagram.com/p/BgFl1BqBbDx/
Quarterback Kaylene Colburn threw for three touchdowns while intercepting two passes on defense. Yarnesia Derico was on the receiving end of two of Colburn's touchdowns while Kiara Byrd was on the receiving end of the other. Armarni Williams led Godby in receiving.
Gisele Jones and Ajah Dawson also had an interception each on defense.
Godby (1-0) and Lincoln (1-1) will be off next week for spring break in Leon County before returning to host Crossroad Academy and Rickards respectively on Wednesday, March 21.
No. 13 Martin County and No. 18 Bloomingdale fall in Thursday night action
Two All-Classification Top 25 teams in No. 13 Martin County (Stuart) and No. 18 Bloomingdale (Valrico) lost to teams ranked in the lower half of the Top 25 Class 2A rankings, but just sitting outside the Top 25 currently.
Martin County (1-1) dropped a big game against a rising Jupiter team on the road 18-0. Jupiter moves to 2-0 on the season looking to raise their profile for a possible Top 25 spot in the All-Classification rankings. Martin County will have next week off with spring break in effect while Jupiter will travel to Dwyer next Wednesday for a District 2A-9 contest.
Sharks win 20-13 in OT! Huge win to start the season! JV had a 13-0 shut out! First time both varsity and jv start the season 1-0! #WhNotUs

— Sharks Flag Football (@RVSharksFlag) March 9, 2018
No. 18 Bloomingdale fell to Riverview (Riverview) on the road 20-13 in overtime after just squeaking by against Newsome on Monday to open the season. The win for Riverview gives them a season opener win and an edge now in District 2A-6. Both Bloomingdale and Riverview are off next week due to Hillsborough County's scheduled spring break.
Before I sleep can I just say, one of the best moments of tonight was the combined singing of the national anthem with us and @BdaleFLAG after p.a. system malfunction…what a great country we live in! #Merica

— Sharks Flag Football (@RVSharksFlag) March 9, 2018
Mandarin pulls off Double OT win to open season
Mandarin (Jacksonville) pulled off a 6-0 double-overtime win over Englewood (Jacksonville) to open their season Wednesday night against Mandarin. QB Lexi Erb was responsible for the only points put up the Mustangs in the second overtime period with the Mustang defense intercepting a Rams pass on 3rd down to seal the victory. Mandarin is 1-0 and will host Fletcher (Neptune Beach) next week in a crossover District 2A-1 contest while Englewood, 0-1 will prepare to host Andrew Jackson (Jacksonville) next Tuesday night.
A hard fought defensive battle against a very talented and well coached @englewoodflag taken into 2 overtimes before your Mustangs prevailed 6-0. Games like this get you ready for the post-season. G.A.T.A.

— Mustang Flag FB (@mandarinflag) March 8, 2018
Wednesday Scoreboard
Top 25 Scoreboard Powered by ScoreStream
No. 2 Plant 13, Steinbrenner 0
No. 9 Lincoln 60, Wakulla 0
No. 22 Piper 26, McArthur 6
No. 23 Chiles 13, Leon 6
Other Flag Football Scores
Hollywood Hills 12, Coral Glades 0
Suncoast 38, Coral Springs Charter 0
Mandarin 6, Englewood 0 (2OT)
Orange Park 27, Florida School for the Deaf and Blind 7
North Miami 18, Hialeah 13
Mater Academy 25, Reagan 0
Braddock 7, Miami Coral Park 0
Oxbridge Academy 24, Olympic Heights 0
Stanton 19, Atlantic Coast 0
Somerset Canyons 20, Village Academy 0
Wellington 12, Spanish River 6
Timber Creek 25, Windermere 0
Olympia 12, Winter Park 6
Fletcher forfeit win over Fleming Island (no show)
Did Not Report
American at Hialeah Gardens
Baldwin at Ridgeview
Boone at Evans
Boynton Beach at Inlet Grove
Miami Beach at Dr. Krop
Miramar at Douglas
South Miami at Southwest Miami
St. Petersburg at Northeast (St. Petersburg)
West Orange at University (Orlando)
Postponed
Rickards at Crossroad Academy
Thursday Scoreboard
Top 25 Scoreboard Powered by ScoreStream
No. 4 Alonso 40, Sickles 0
No. 7 Choctawhatchee 47, Crestview 7
No. 8 Jensen Beach 33, Okeechobee 0
No. 12 Park Vista 13, West Boca Raton 7
No. 15 Apopka 19, DeLand 7
No. 17 Godby 20, No. 9 Lincoln 0
No. 21 Dwyer 13, Palm Beach Central 6
No. 24 Terry Parker 14, Paxon 0
Jupiter 16, No. 13 Martin County 0
Riverview (Riverview) 20, No. 18 Bloomingdale 13 (OT)
Other Flag Football Scores
Boone 14, Colonial 0
Braden River 40, Palmetto 20
Brandon 38, Blake 0
Chamberlain 58, Hillsborough 0
Clay 35, Ed White 6
Coral Gables 26, Miami High 0
Newsome 20, Durant 6
Pine Forest 13, Escambia 0
Florida High 35, FAMU DRS 0
Ferguson 7, Miami Southridge 6
Wekiva 46, Flagler Palm Coast 0
Fort Pierce Westwood 10, Treasure Coast 6
Gadsden County 36, Jefferson County 6
Lecanto 26, Lake Weir 6
Poinciana 30, Gateway (Kissimmee) 7
Glades Central 7, Royal Palm Beach 0
Miami Norland 14, Goleman 0
Miami Killian 14, Homestead 12
Keys Gate 20, Mater Lakes 7
Pahokee 7, Lake Placid 0
Tarpon Springs 25, Largo 0
Brooks-DeBartolo 12, Leto 0
Seabreeze 29, Matanazs 0
Miami Carol City 13, Hialeah Educational 0
Miami Jackson 25, Booker T. Washington (Miami) 0
Wharton 38, Middleton 0
iMater Prep 19, Mourning 7
Mainland 30, New Smyrna Beach 6
Niceville 40, Fort Walton Beach 0
Orange Park 25, Middleburg 0
Osceola (Seminole) 34, Dixie Hollins 0
Keystone Heights 20, Palatka 13
Washington (Pensacola) 24, Pensacola 12
Pine Ridge 13, Atlantic (Port Orange) 0
Stanton 20, Ribault 6
Oakleaf 12, Sandalwood 6
Somerset Academy (Pembroke Pines) 8, Pompano Beach 0
Dillard 45, Somerset Central Miramar 0
Vero Beach 25, South Fork 6
Stranahan 9, Hallandale 0
Suncoast 20, Palm Beach Gardens 12
Madison County 34, Wakulla 7
Deltona 13, Warner Christian 0
Northeast (Oakland Park) forfeit win over Somerset Silver Palms (no show)
Boyd Anderon forfeit win over Chaminade-Madonna (no show)
Did Not Report
Andrew Jackson at Wolfson
Atlantic (Delray Beach) at Forest Hill
Boca Ciega at Gibbs
Celebration at Liberty (Kissimmee)
Clearwater at Northeast (St. Petersburg)
Coconut Creek at Archbishop McCarthy
Coral Reef at Miami Sunset
Crystal River at Dunnellon
Cypress Bay at West Broward
Deerfield Beach at Nova
Dunedin at Lakewood
East Lake at Seminole (Seminole)
Lakewood Ranch at Bayshore
Manatee at Southeast
Monarch at Coral Springs
North Marion at Forest
Oak Ridge at Freedom (Orlando)
Palm Glades Prep at TERRA Institute
Plantation at Blanche Ely
Ridgeview at Westside
Santaluces at Lake Worth
Sebring at Port St. Lucie
Spoto at Strawberry Crest
Spruce Creek at Ocoee
Taravella at South Plantation
Postponed
Trinity Catholic at Belleview