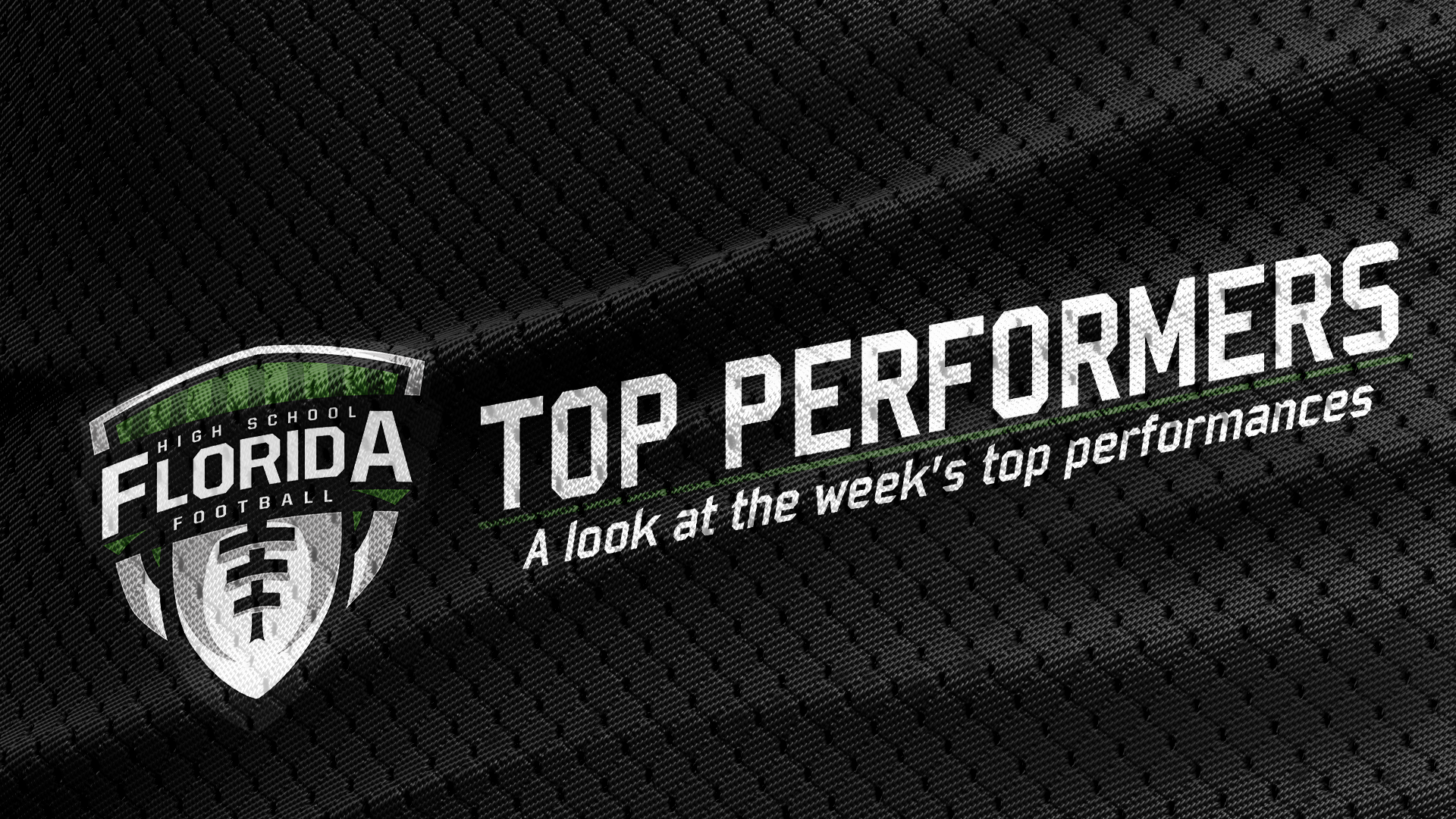 Each week during the season FloridaHSFootball.com will recognize the Top Five performances by athletes in each classification including ones for Independents & Sunshine State Athletic Conference teams (excluding the North Florida League which are considered for Class 1A).
To send in a nomination, please either send an email directly to Joshua Wilson at joshua.wilson@floridahsfootball.com after you have game stats compiled or send us a direct message on Twitter @FlaHSFootball. Please include the name of athlete, stats, school, and game the nomination is for. NOTE: Also helps if you upload your stats weekly to MaxPreps for us to find as well.
Without further ado, here are Week 1's top performers for the 2019 season:
CLASS 8A
RB Henry Parrish Jr., Columbus – Had 17 carries for 324 yards rushing and three touchdowns for the No. 12 Explorers 41-7 season-opening win over Belen Jesuit.
QB Walter "Tre" Simmons III, Oakleaf – The junior quarterback threw for over 300 yards and scored three total touchdowns in a 42-21 over rival Orange Park.
DB Kaylan Walters, Osceola (Kissimmee) – The defensive back returned two interceptions for touchdowns in Osceola's 45-0 shutout victory over Harmony.
RB Marvin Scott, Spruce Creek – Rushed for 174 yards and four touchdowns for the Hawks in a 63-8 victory over Seabreeze.
ATH Manny Stokes, Lake Nona – Did it all for the Lions in a 26-7 win over Hagerty by intercepting two passes, catching two touchdown passes and returned an 80-yard kick for a touchdown.
CLASS 7A
QB Marlon Courtney, Navarre – 10-of-15 passing for 152 yards and two touchdowns and rushed for 50 yards and two touchdowns, accounting for all four of Navarre's scores in their 28-21 win over rival Gulf Breeze.
DE/LB Dylan Ridolph, Wiregrass Ranch – The defensive playmaker at defensive end and linebacker collected up 14 tackles (six for loss) and three sacks in the Bulls' 43-13 win over Zephyrhills.
WR Mario Williams, Plant City – Had just four receptions, but totaled 169 yards and three touchdowns in a 37-29 win over Jesuit.
QB Tyriq Starks, George Jenkins – Completed 9 of 11 passes for 312 yards and five touchdowns in a 46-7 win over Lake Region.
QB Makenzie Kennedy, Plant City – In his first start, Kennedy threw for 257 yards and four touchdowns in a 37-29 win over Jesuit.
CLASS 6A
QB Jordan Smith, Columbia – Passed for 213 yards and two touchdowns for the No. 10 Tigers, plus rushed for 96 yards and a touchdown in a 38-7 win over No. 4 Trinity Christian (Jacksonville).
QB AV Smith, Escambia – 12 of 22 for 217 yards passing, throwing three touchdowns and rushing for one more in the Gators' 34-13 win over West Florida.
DE Matthew Nieves, Clearwater – The defensive end had six tackles (five for loss) and three sacks for the Tornadoes in their 28-18 win over Heritage (Palm Bay).
DE James Gardner Jr., Fort Pierce Westwood – The defensive end had seven tackles (four for loss) and three sacks in a 25-7 loss to Centennial.
RB Thaliland Carey, East Lee County – Rushed for more than 200 yards and five touchdowns in a 40-13 win over Bonita Springs.
CLASS 5A
RB Avarius Sparrow, Jones – Rushed for 204 yards on 12 carries, scoring three times in a 40-15 win over No. 15 Raines.
QB Eric Williams, Lake Wales – 13-of-15 passing for 389 yards and five touchdowns, longest of them coming from 92-yards out in 57-7 win over Kathleen.
CB Desmond Dailey, Vanguard – The cornerback had two interceptions in a 33-15 win over Gainesville.
SAF/RB Ladarius Tennison, Rockledge – The strong safety and running back had nine tackles, one interception and rushed for 88 yards and a touchdown, plus returned a kickoff for 98 yards in the No. 22 Raiders' 19-7 win over Ware County, Ga.
RB Contae Cason, Central (Brooksville) – Had 392 all-purpose yards and scored four rushing touchdowns in the Bears' 52-34 win over Umatilla.
CLASS 4A
QB Nick Vattiato, NSU University School – Threw for 232 yards and four touchdowns in a 44-7 win over Pahokee.
QB Mac Harris, The Villages – Scored four total touchdowns (three rushing, one passing) to go along with 183 yards of offense (121 passing, 62 rushing).
RB Erric Smith, Bradford – Had 135 yards rushing on 31 carries, scoring two touchdowns in the Tornadoes' 27-24 win over Baker County.
RB Montell Bouie, Rutherford – Rushed for 135 yards and scored two touchdowns on just 10 carries in a 34-21 win over North Bay Haven.
QB Quwesmael Sholtz, Lake Placid – 9-of-12 passing for 184 yards and three touchdowns plus rushed for 31 yards and a touchdown in the Green Dragons' 47-20 win over Zephyrhills Christian.
CLASS 3A
ATH Jamarian Samuel, Trinity Catholic – Had 280 all-purpose yards (126 kick return, 82 rushing, 72 receiving), scoring three total touchdowns (one rushing, one receiving, one kickoff return) in the Celtics 31-20 win over Leon.
QB Jay Allen, John Carroll – 18 of 23 for 213 yards passing and three touchdowns in a 35-6 win over Okeechobee.
RB Xavier Townsend, Berkeley Prep – Had 95 yards rushing on 20 carries and a touchdown plus had eight catches for 137 yards and touchdown in the Buccaneers' 21-14 win over Clearwater Central Catholic.
DE Kenyatta Jackson, Chaminade-Madonna – The defensive end had five tackles (two for loss) and collected two sacks in the Lions' 21-12 win over McArthur.
QB Andrew Acebal, Father Lopez – Threw for over 250 yards and four scores in a 34-7 drubbing of Andrew Jackson.
CLASS 2A
QB Ryle Aguila, Champagnat Catholic – 15 of 19 passing for 372 yards, tossing five touchdowns in the Lions' 41-0 win over New Smyrna Beach.
QB Will Carn, St. Joseph – 13 of 18 passing for 207 yards, tossing four touchdowns in the Flashes' 45-0 win over Eagle's View.
WR Gavin Martinez, Cambridge Christian – Had 132 yards receiving on just four catches, scoring two touchdowns, plus collecting seven tackles in the Lancers' 26-21 win over Foundation Academy.
WR Jalen Wilson, Trinity Christian (Deltona) – Had 173 yards receiving and scored four times in the Eagles' 33-6 win over Bishop Snyder.
QB Cole Gonzales, Oak Hall – 243 yards passing and two touchdowns, plus recorded two tackles and an interception on defense in the Eagles' 21-18 win over Hilliard.
CLASS 1A
RB Treven Smith, Blountstown  – Had 273 all-purpose yards (103 rush, 121 kickoff return, 32 receiving, 17 punt return) and scored 3 total touchdowns for the Tigers in their 43-10 win over Arnold.
RB Joe Brunson, Baker – Had 140 yards rushing and three touchdown runs in a 52-7 win over Rocky Bayou Christian.
RB Brandon Siples, Freeport – Rushed for 183 yards and two touchdowns, only handling the ball 16 times in a 42-36 OT victory against Maclay.
RB/SAF K'wan Powell, Vernon – 112 yards rushing with three touchdowns on 14 carries, plus had a two-point conversion on offense. Also had had 10 tackles (four solo tackles) from the safety position in a 53-20 loss to Crestview.
RB Hosea Robinson, Union County – Had 118 yards rushing and two touchdowns on 19 carries, plus collected two tackles (one for loss) and a sack for the Tigers in their 19-7 win over Lanier County, Ga.
SSAC & Independents
QB Ben Anderson, Christ's Church Academy – Went a perfect 13-for-13 for 222 yards, throwing four touchdown passes and rushed for one more in torching Bishop McLaughlin, 56-7.
RB Davious Haywood, Dunedin – Rushed for 239 yards and three touchdowns on 22 carries in the Falcons' 44-23 win over Keswick Christian.
RB Darrise Bridgett, Village Academy – Rushed for 166 yards and a touchdown for the Tigers, helping snap a 20-game losing streak dating back to 2016 with a 19-0 win over Marathon.