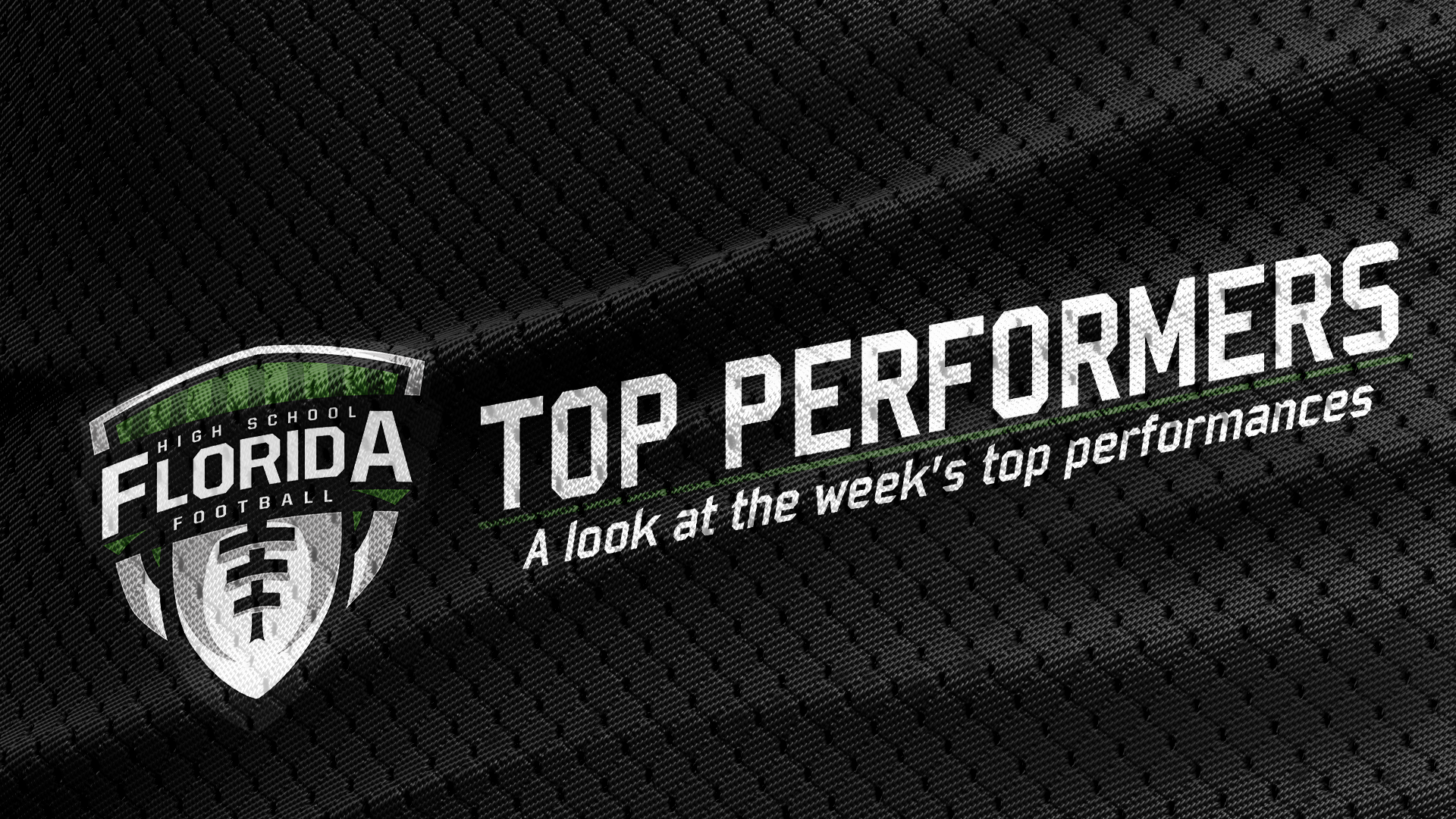 Each week during the season FloridaHSFootball.com will recognize the Top Five performances by athletes in each classification including ones for Independents & Sunshine State Athletic Conference teams (excluding the North Florida League which are considered for Class 1A).
To send in a nomination, please either send an email directly to Joshua Wilson at joshua.wilson@floridahsfootball.com after you have game stats compiled or send us a direct message on Twitter @FlaHSFootball. Please include the name of athlete, stats, school, and game the nomination is for. NOTE: Also helps if you upload your stats weekly to MaxPreps for us to find as well.
Without further ado, here are Week 2's top performers for the 2019 season:
CLASS 8A
QB Anarjahe Douriet, Palm Beach Central – Went 13 of 19 passing for 308 yards and tossing three touchdown passes in 47-18 blowout win over Dwyer.
QB Joe Nieves, Nease – Had 452 yards passing and six touchdowns, plus one more rushing touchdown in a 58-51 heartbreaking loss to Creekside.
DB Uriel Richardson, Mandarin – The defensive back had two pick-sixes for the Mustangs in their 32-13 win over Ribault.
QB Pete Zamora, Monarch – Went 14 of 20 for 255 yards and three touchdowns in the Knights' 35-0 victory over Piper.
RB Henry Parrish Jr., Columbus – Had 252 yards rushing and two touchdowns in the Explorers' 21-17 victory over Osceola (Kissimmee).
CLASS 7A
QB Quinn Sieger, Creekside – Threw for 316 yards passing, completing 20 of 33 passes, throwing for six touchdowns in a 58-51 comeback win over Nease.
DE Le'Vontae Camiel, Columbia – The defensive end has 10 tackles, half a sack, forced a fumble and came up huge in stopping a two-point conversion in the Tigers' 21-19 win over Oakleaf.
RB Antonio Wright, Melbourne – Had 306 yards rushing and scored four touchdowns in the Bulldogs' 37-19 win over Space Coast.
WR Jack Goodrich, Creekside – Hauled in three touchdown passes and had 154 yards receiving in thrilling 58-51 comeback win over Nease.
QB Will Koch, Niceville – Had over 220 yards of offense (114 rushing, 108 passing) and had three total touchdowns (two passing, one rushing) in the Eagles' 41-0 shutout of Choctawhatchee.
CLASS 6A
WR Keedrik Murray, Clearwater – Set a school record for receiving yards in a single game with 238 yards and scored three touchdowns in the Tornadoes 44-12 win over East Lake.
QB Cale Zarah, Robert E. Lee – 14 of 23 passing for 316 yards and threw three touchdowns in a 33-14 win over West Nassau.
WR Michael Olkiewicz, Ponte Vedra – The wide receiver had 203 yards receiving and three touchdowns in a 40-7 blowout win over Zephyrhills.
QB Logan Rogers, Port Charlotte – Accounted for all three of the Pirates' touchdowns (two passing, one rushing) while having over 230 yards of offense (174 passing, 60 rushing) in a 21-14 win over Hardee.
QB Tony Bartolo, Gaither – Threw for 197 yards and four touchdowns in the Cowboys' 35-28 upset of Plant.
CLASS 5A
RB Johnny Richardson, Lake Wales – Broke the Polk County rushing record for a single game rushing 413 yards on 17 carries scoring six touchdowns in a 62-0 rout of Ridge Community.
RB Alex Collier, Orange Park – Had 337 all-purpose yards, plus one touchdown for the Raiders in a 29-21 win over Middleburg.
RB Dwayne McBride, Vanguard – Had 16 carries for 205 yards rushing and scored two touchdowns in the Knights, 41-12 win over Buchholz.
QB DeMarcus McEachern, Coconut Creek – Scored five total touchdowns for the Cougars in their 41-14 win over South Plantation. McEachern had three passing touchdowns and two rushing touchdowns.
RB Ladarius Tennison, Rockledge – Scored three rushing touchdowns for the Raiders in their 34-20 win over Lincoln.
CLASS 4A
DE Tramel Logan Jr., Booker T. Washington – The defensive end had a huge game in a 32-29 loss to Miami Central, collecting 10 tackles (six for loss) and a sack.
RB Cam Gant, North Bay Haven – Rushed for 281 yards on 25 carries, scoring four touchdowns in the Buccaneers' first win since 2017, a 35-0 shutout over Franklin County.
RET DJ Taylor, Tampa Catholic – Had two kick returns (one punt return for 75 yards and a kickoff return for 95 yards) for touchdowns in the Crusaders' 55-14 win over Cardinal Mooney.
WR Troy Stellato, Cardinal Gibbons – Had six catches for 125 yards and a touchdown in the Chiefs' 23-21 win over Miami Palmetto.
QB Carson Haggard, Gulliver Prep – 16 of 20 passing for 262 yards and four touchdowns in the Raiders' 45-16 win over Belen Jesuit.
CLASS 3A
RB Kyjuan Herndon, Trinity Christian (Jacksonville) – Had 233 rushing yards and scored five touchdowns in the Conquerors' 45-42 overtime win against Godby.
WR Anthony Ballard, Discovery – Had 176 yards receiving on six catches and scored three touchdowns in the Spartans' 34-30 come from behind victory over The First Academy (Orlando).
QB Willie Taggart Jr., Florida High – Threw for 239 yards and three touchdowns while rushing for one touchdown in a 52-12 win over Taylor County.
QB Jay Allen, John Carroll – 11 of 19 for 154 yards and accounted for four total touchdowns (two passing, two rushing) in the Rams' 42-7 win over IMG Academy White (Varsity).
RB Anson Rodriguez, Taylor (Pierson) – The running back rushed for 238 yards and three touchdowns in a huge win Bronson.
CLASS 2A
QB RJ Rosales, Evangelical Christian – 16 of 22 passing for 378 yards, throwing six touchdown passes in the Sentinels' 54-14 win over LaBelle.
RB Aaron Roberson, St. Joseph – Rushed for 160 yards on 12 carries and scored three touchdowns in the Flashes 41-0 shutout of Cocoa Beach.
QB Rich Mellien, First Baptist (Naples) – The freshman quarterback went 7 of 10 passing for 159 yards and two touchdowns, plus carried the ball seven times for 126 yards and three touchdowns in the Lions' 47-14 win over Hudson.
QB Titan Williams, Cambridge Christian – 236 yards passing and two touchdowns in the Lancers' 42-0 thrashing of Saint Stephen's Episcopal.
RB Tyler Davis, Zephyrhills Christian – 24 carries for 158 yards rushing, scoring two touchdowns in for the Warriors in a 20-8 win over West Oaks Academy.
CLASS 1A
QB Visonta Allen, Madison County – Returned a punt for a 90-yard touchdown, went 5 of 7 passing for 93 yards and three touchdowns and had 11 carries for 81 yards and a touchdown in the Cowboys' 55-0 win over Jefferson County.
LB Trevor Holtzendorf, Union County – The linebacker collected 14 tackles, two sacks and forced a fumble in the Tigers' come from behind 15-12 win over Williston.
QB Jaxson Beach, Lafayette – 28 of 39 passing for 317 yards, plus rushing for 65 more yards and scoring four total touchdowns (two passing, two rushing) in the Hornet's 38-0 shutout of Brookwood School, Ga.
RB Brandon Siples, Freeport – 201 yards rushing on 22 carries to go along with three touchdowns in the Bulldogs' 19-7 win over Holmes County.
RB Calvin Stringer, Sneads –Had  11 carries for 209 yards rushing and three touchdowns in the Pirates' 44-9 win over Liberty County.
SSAC & INDEPENDENTS
QB Jayden Hernandez, Gateway Charter – 20 of 32 passing for 291 yards and tossed four touchdowns in the Griffins' 46-13 win over Jupiter Christian.
Jordan Christian Prep Defense – Forced six fumbles on Avon Park, recovering three of them in a game won by a safety, a 2-0 shutout.
RB Cadence Lampp, Christ's Church Academy – Rushed for 132 yards on 21 carries, scoring three touchdowns in the Eagles' 42-6 win over Cedar Creek Christian.
QB Dylan Oester, Dunedin – Went 10 of 13 passing for 204 yards and threw three touchdowns in the Falcons' 26-6 win over Osceola (Seminole)
QB Logan Wright, Santa Fe Catholic – Had 175 yards passing and three touchdowns in a 56-29 loss to Lake Region.