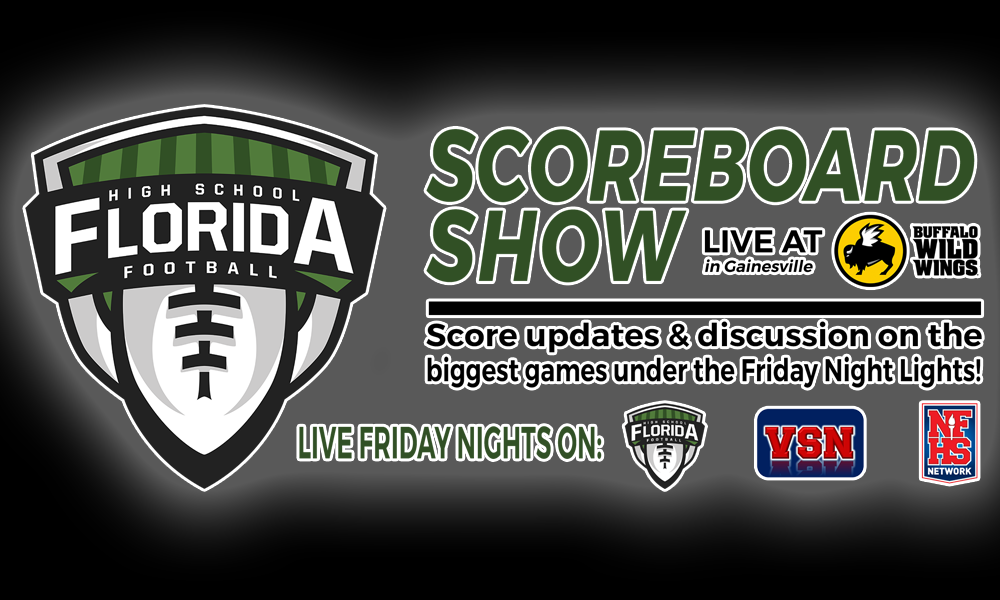 Help support the No. 1 Independent high school sports website in the State of Florida by becoming a FRIEND of FloridaHSFootball.com for as little as $3.00 per month by clicking here.
GAINESVILLE, Fla. — It has been a while since the state of Florida has had a dedicated statewide Scoreboard Show dedicated to the games under the Friday Night Lights.
However, that is about to change.
FloridaHSFootball.com, along with NFHS Network-affiliate, Varsity Sports Network, is happy to announce the launch of the FloridaHSFootball.com Scoreboard Show starting Friday, August 25th from 10:00 PM to Midnight Eastern. The FloridaHSFootball.com Scoreboard Show is expected to run the entire length of the season including playoffs with the conclusion of the FHSAA State Championships in Orlando at Camping World Stadium on December 7-9.
The show will be hosted by FloridaHSFootball.com Owner & Publisher, Joshua Wilson.
The show will originate LIVE each week from the Buffalo Wild Wings in Gainesville at the Oaks Mall for the first season and will be carried LIVE FloridaHSFootball.com via NFHSNetwork.com, on Varsity Sports Network Channel WVUP-TV 45 in Tallahassee in additional possible radio stations around the state.
The show will feature LIVE score updates using scores powered from scoreboard partner ScoreStream and will take calls from members of the media from around the state to talk about the state's BIGGEST games under the Friday Night Lights!
All shows will be archived online at FloridaHSFootball.com and NFHSNetwork.com for video and audio, while audio-only versions of the FloridaHSFootball.com Scoreboard Show will be made available on iTunes, Google Play, Stitcher, and TuneIn within 2-3 hours after the show ends.
A limited amount of spaces for sponsors or advertisers is still available from BIG to SMALL. Call Joshua Wilson at (904) 712-4735 or Bobby Latmore at (229) 421-4617.
For radio stations that are interested in carrying the stream of the FloridaHSFootball.com Scoreboard Show on their radio station should contact Bobby Latmore at (229) 421-4617 for more details.
To watch the first show on August 25th, click here. An NFHSNetwork.com Subscription is not required to view the show.