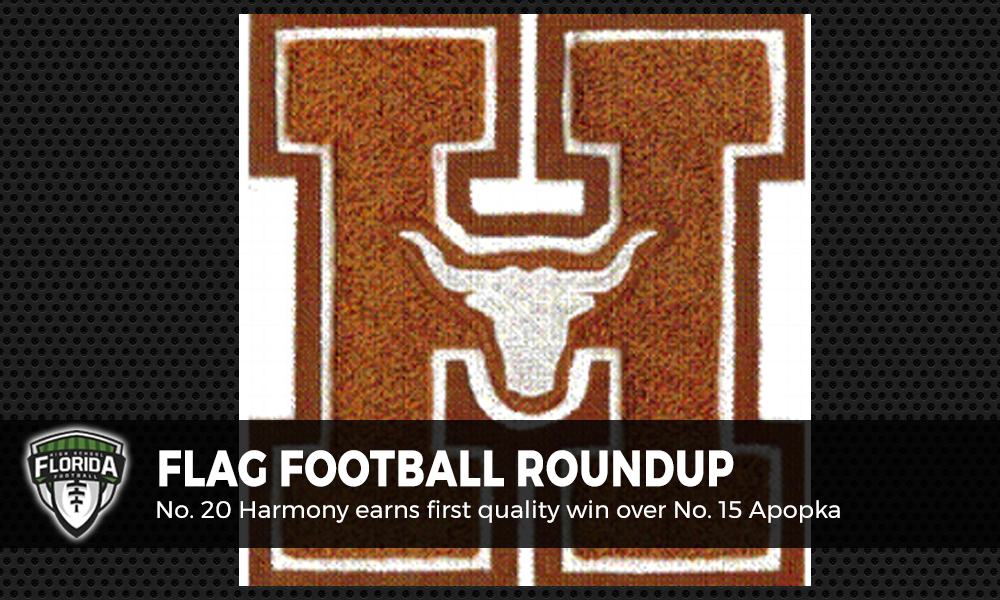 Help support the No. 1 Independent high school sports website in the State of Florida by becoming a FRIEND of FloridaHSFootball.com for as little as $3.00 per month by clicking here.
No. 20 Harmony earns first quality win of the season over No. 15 Apopka
No 20 Harmony (1-0) scored two touchdowns to shutout No. 15 Apopka (0-1) at home to open the 2018 season. The win gives the Longhorns a strong chance to move up in the rankings next week in both Class 1A and the overall Top 25 All-Classification rankings. Harmony will travel to Celebration (0-0) for a non-district contest on Friday, while Apopka will host Flagler Palm Coast (1-0) on Tuesday night to open up District 2A-2 play.
Top 25 Scoreboard, Powered by ScoreStream
No. 1 Robinson 28, Tampa Bay Tech 0
No. 3 Dr. Phillips 12, Boone 8
No. 4 Alonso 53, Brandon 0
No. 10 Cooper City 26, Nova 0
No. 11 East Bay 6, Armwood 0
No. 18 Bloomingdale 13, Newsome 12
No. 20 Harmony 12, No. 15 Apopka 0
No. 21 Dwyer 26, Spanish River 6
No. 22 Piper 58, Deerfield Beach 0
Other Monday Flag Football Scores
Blake 25, Hillsborough 0
Leto 13, Freedom (Tampa) 7
Steinbrenner 15, Gaither 0
Jefferson 27, King 0
North Miami 30, Miami Beach 0
Flagler Palm Coast 27, Pine Ridge 7
Hialeah 7, Reagan 6
Keys Gate 14, Somerset South Homestead 8
Tarpon Springs 27, Countryside 0
Western 18, Taravella 12
Wharton 27, Chamberlain 0
Boynton Beach 33, Oxbridge Academy 12
Olympic Heights 19, Inlet Grove 6
Evans 21, Winter Park 0
Spruce Creek 40, New Smyrna Beach 6
Did Not Report
Coral Springs at Everglades
Coral Springs Charter at Somerset Canyons
Cypress Bay at Douglas
Dr. Krop at American
Hebrew Academy at Mater Academy
Plantation at Monarch
South Broward at South Plantation
Spoto at Strawberry Crest
West Broward at Coral Glades
Westside at Ribault