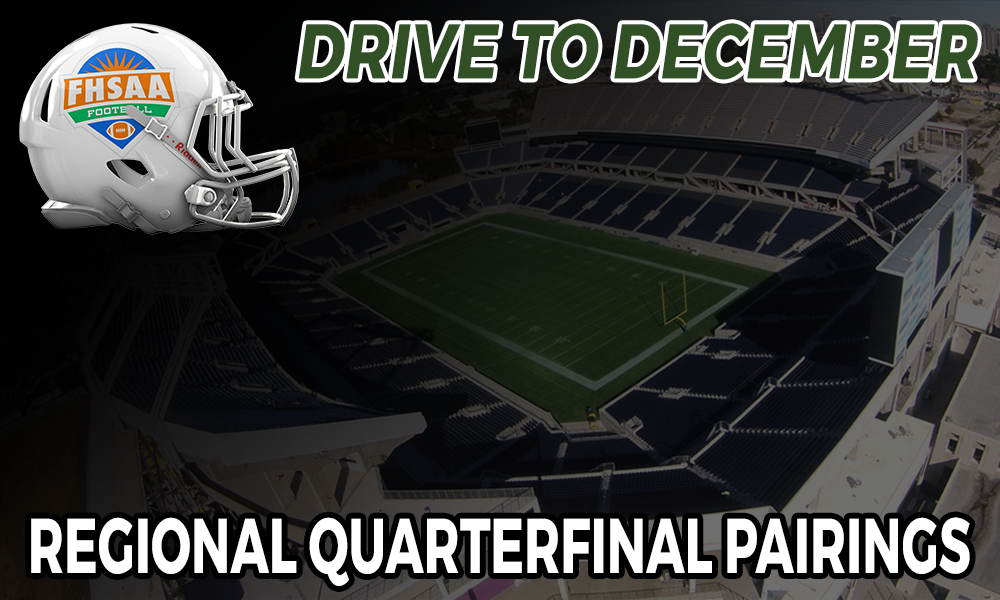 Help support the No. 1 Independent high school sports website in the State of Florida by becoming a FRIEND of FloridaHSFootball.com for as little as $3.00 per month by clicking here.
Here is the list of first-round regional quarterfinal playoff pairings for all eight classifications.
All games are scheduled for Friday, November 9, 7:30 p.m. Eastern unless noted.
CLASS 8A
Region 1
#8 West Orange (7-3) at #1 Wekiva (9-1)
#5 Apopka (7-3) at #4 Oviedo (8-2)
#6 DeLand (8-2) at #3 Mandarin (6-4)
#7 Flagler Palm Coast (7-3) at #2 Winter Park (9-1)
Region 2 
#8 Gateway (5-5) at #1 Vero Beach (10-0)
#5 Centennial (7-2) at #4 Dr. Phillips (5-5)
#6 Treasure Coast (7-3) at #3 Sarasota Riverview (7-3)
#7 Manatee (6-4) at #2 Kissimmee Osceola (9-1)
Region 3
#8 Miramar (6-4) at #1 Deerfield Beach (9-1)
#5 Piper (6-4) at #4 Plantation (9-1)
#6 Wellington (6-4) at #3 Palm Beach Central (9-1)
#7 Western (8-2) at #2 Delray Atlantic (10-0)
Region 4
#8 Coral Gables (6-4) at #1 Columbus (10-0) at Tropical Park
#5 Miami Palmetto (9-1) at #4 Belen Jesuit (8-2) at Tropical Park, Thursday, 7 p.m. ET
#6 South Dade (8-2) at #3 Hialeah (9-1) at Milander
#7 North Miami (6-4) at #2 Miami Southridge (8-2) at Southridge Stadium
CLASS 7A
Region 1
#8 Fletcher (7-3) at #1 Columbia (9-1)
#5 Robert E. Lee (8-1) at #4 Hagerty (6-4)
#6 Oakleaf (5-5) at #3 Lincoln (6-4)
#7 Edgewater (9-1) at #2 Buchholz (7-3)
Region 2 
#8 Wiregrass Ranch (7-3) at #1 Lakeland (10-0)
#5 Kathleen (5-4) at #4 Harmony (9-1)
#6 Gaither (7-3) at #3 Plant (9-1)
#7 Sickles (7-3) at #2 Viera (7-3)
Region 3
#8 Tampa Bay Tech (7-3) at #1 Venice (9-1)
#5 Braden River (8-2) at #4 Plant City (9-1)
#6 Bloomingdale (9-1) at #3 Riverdale (10-0)
#7 Palmetto (7-3) at #2 Pinellas Park (10-0)
Region 4
#8 South Miami (8-2) at #1 St. Thomas Aquinas (9-1)
#5 Fort Lauderdale (8-2) at #4 Doral Academy (8-2)
#6 Palm Beach Lakes (7-3) at #3 McArthur (9-1)
#7 West Broward (7-3) at #2 Dwyer (9-1)
CLASS 6A
Region 1
#8 Pace (7-3) at #1 Navarre (9-1), 7:30 CT
#5 Escambia (8-2) at #4 St. Augustine (5-5)
#6 Niceville (7-3) at #3 Crestview (7-2), 7:30 CT
#7 Gulf Breeze (8-2) at #2 Pine Forest (8-2), 7:30 CT
Region 2 
#8 Sebring (7-2) at #1 Vanguard (10-0)
#5 Gainesville (7-3) at #4 Lake Wales (9-1)
#6 Lake Weir (7-3) at #3 Mitchell (8-2)
#7 South Lake (6-4) at #2 Armwood (9-1)
Region 3
#8 Lehigh (6-3) at #1 Naples (9-1)
#5 Barron Collier (7-3) at #4 Fort Myers (8-2)
#6 North Fort Myers (7-3) at #3 Largo (7-3)
#7 Clearwater (6-4) at #2 Charlotte (8-2)
Region 4
#8 Miami Norland (4-6) at #1 Miami Carol City (8-2) at Traz Powell
#5 Miami Central (8-2) at #4 Dillard (8-2)
#6 Miami Northwestern (5-5) at #3 Mainland (7-3)
#7 Eau Gallie (7-3) at #2 Palm Bay Heritage (8-2)
CLASS 5A
Region 1
#8 Suwannee (6-4) at #1 Jacksonville Trinity Christian (10-0)
#5 Wakulla (8-2) at #4 Ribault (5-5)
#6 Bolles (6-4) at #3 West Florida (6-2), 7:30 CT
#7 Ponte Vedra (8-2) at #2 Godby (10-0)
Region 2
#8 Eastside (7-3) at #1 Nature Coast (9-1)
#5 Hernando (7-3) at #4 Baker County (6-4)
#6 Menendez (8-2) at #3 North Marion (8-2)
#7 Crystal River (8-2) at #2 Zephyrhills (10-0)
Region 3 
#8 Jefferson (5-5) at #1 Hardee (10-0)
#5 Booker (6-4) at #4 Lakewood (5-5)
#6 Immokalee (5-5) at #3 Dunbar (6-4)
#7 DeSoto County (7-3) at #2 Jesuit (9-1)
Region 4
#8 Coconut Creek (6-4) at #1 Rockledge (9-1)
#5 Plantation American Heritage (8-1) at #4 Fort Pierce Westwood (7-3)
#6 Bishop Moore (6-4) at #3 Jones (9-1)
#7 Merritt Island (5-5) at #2 Cardinal Gibbons (8-2)
CLASS 4A
Region 1
#5 Rutherford (2-6) at #4 Marianna (4-5), 7:30 CT
#6 Gadsden County (0-9) at #3 South Walton (5-4), 7:30 CT
Region 2
#5 Bradford (5-5) at #4 P.K. Yonge (9-1)
#6 South Sumter (5-5) at #3 Dunnellon (5-5)
Region 3
#5 Avon Park (5-5) at #4 Astronaut (9-1)
#6 Lake Placid (6-4) at #3 LaBelle (7-3)
Region 4
#5 Gulliver Prep (7-3) at #4 Monsignor Pace (5-5)
#6 Coral Springs Charter (7-1) at #3 Glades Central (7-3)
CLASS 3A
Region 1
#5 Pensacola Catholic (5-5) at #4 Fort White (8-2)
#6 Taylor County (5-5) at #3 Baldwin (9-1)
Region 2
#5 Holy Trinity (5-4) at #4 Cardinal Newman (8-2)
#6 Melbourne Central Catholic (6-4) at #3 Father Lopez (8-2)
Region 3
#5 Lakeland Christian (6-4) at #4 Tampa Catholic (7-3)
#6 Clearwater Calvary Christian (5-5) at #3 Cardinal Mooney (8-2)
Region 4
#5 Palmer Trinity (8-2) at #4 Westminster Christian (9-1)
#6 Fort Lauderdale Calvary Christian (5-5) at #3 Delray American Heritage (7-3)
CLASS 2A
Region 1
#5 FAMU DRS (4-4) at #4 Aucilla Christian (8-1)
#6 Rocky Bayou Christian (3-6) at #3 University Christian (6-4)
Region 2
#5 Deltona Trinity Christian (6-4) at #4 Oak Hall (7-3)
#6 St. Francis Catholic (4-5) at #3 Zephyrhills Christian (7-3)
Region 3
#5 Cambridge Christian (3-7) at #4 Evangelical Christian (6-4)
#6 Southwest Florida Christian (2-8) at #3 Carrollwood Day (5-5)
Region 4
#5 Champagnat (4-5) at #4 Miami Christian (7-1)
#6 Naples First Baptist (3-5) at #3 Glades Day (6-4)
CLASS 1A
Region 1
#8 Freeport (3-6) at #1 Baker (9-0), 7:30 CT
#5 Graceville (3-6) at #4 Northview (6-4), 7:30 CT
#6 Bozeman (2-6) at #3 Jay (5-4), 7:30 CT
#7 Chipley (4-4) at #2 Vernon (6-2), 7:30 CT
Region 2
#8 Liberty County (2-7) at #1 Port St. Joe (8-0)
#5 Cottondale (4-2) at #4 Blountstown (7-2), 7:30 CT
#6 Wewahitchka (5-4) at #3 Jefferson County (5-4)
#7 Franklin County (4-5) at #2 Sneads (7-1), 7:30 CT
Region 3
#5 Union County (5-5) at #4 Lafayette (7-3)
#6 Branford (6-4) at #3 Dixie County (7-3)
Region 4
#5 Fort Meade (4-6) at #4 Crescent City (8-2)
#6 Wildwood (5-5) at #3 Frostproof (6-4)