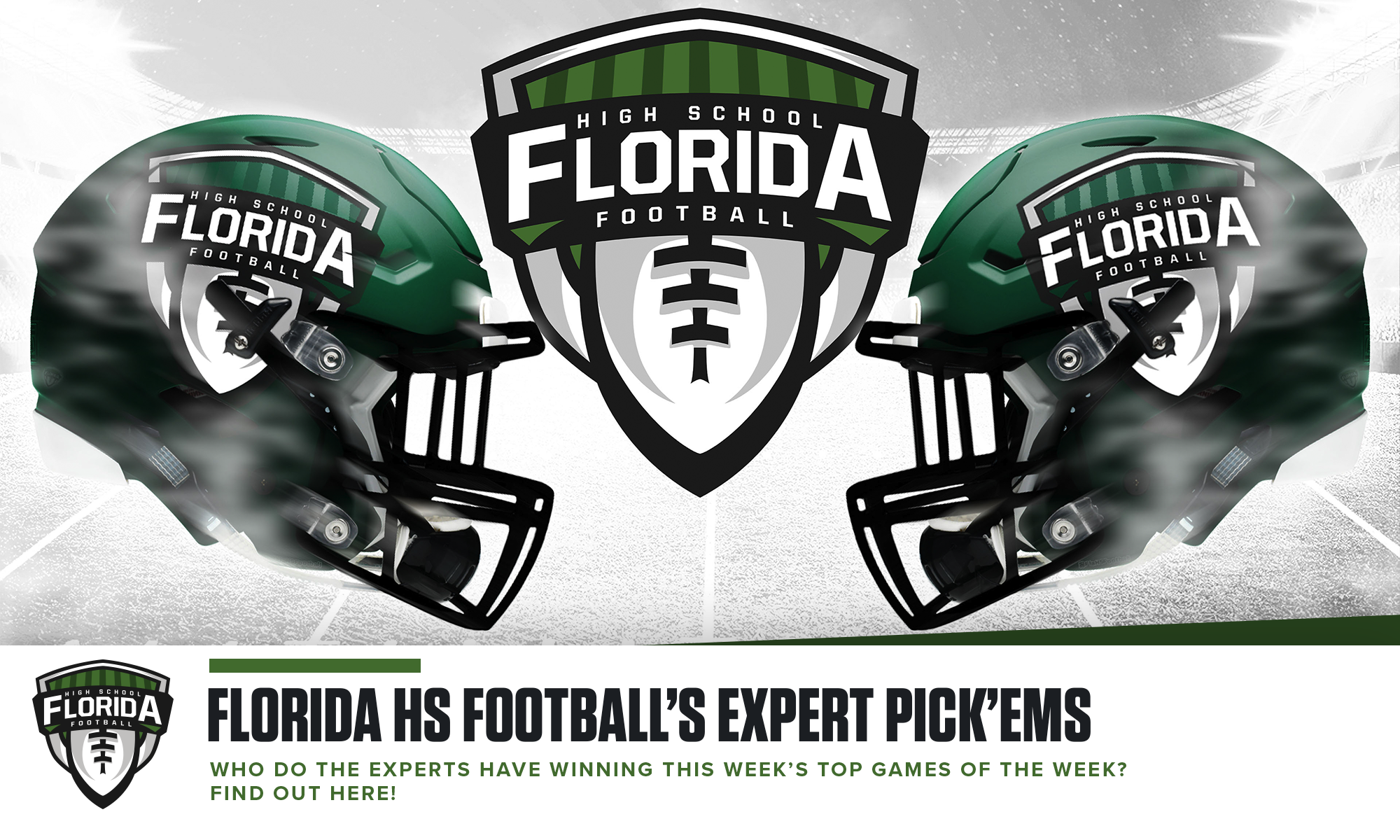 Week 2 is here and FloridaHSFootball.com once again brings you its expert pick'ems for the 2020 season.
We have a great group of eight pickers (including yours truly) who will pick the winners from our Top Games of the Week we have previewed and talked about all week here which will be a total of 10 games.
However, before we get to the picks this week, this how everyone did last week (and are the current standings so far just one week in):
T1. Joshua Wilson – 9-1
T1. Corey Davis – 9-1
T1. Joel Hillsman – 9-1
T4. Doug Pugh – 8-2
T4. Bill Hammel – 8-2
T6. Marty Pallman – 7-3
T6. Jeff Fisher – 7-3
T8. Mike Ridaught – 6-4
T8. Joe Pinkos – 6-4
For some weeks this season, we will publish two picks columns due to scheduling arrangments with games.
If you got a bone to pick with our pickers, leave a comment below in the comment box.
Pickers:
Joshua Wilson – FloridaHSFootball.com
Mike Ridaught – ThePrepZone.com
Doug Pugh – NFHS Network/GT Sports Network
Corey Davis – Gainesville Sun Correspondent
Marty Pallman – ThePrepZone.com/Bishop Kenny Football
Bill Hammel – Irish Bill's Twist on Sports/Navarre Raiders Football
Jeff Fisher – High School Football America
Joel Hillsman – Total Sports Coverage Network
Joe Pinkos – Joe Pinkos' Power Ratings – See full Week 2 Forecast here
| | |
| --- | --- |
| Joshua Wilson | PICK |
| Bolles at Trinity Christian (Jacksonville) | |
| Champagnat Catholic at Chaminade-Madonna | |
| Clearwater at Jesuit | |
| Clearwater Central Catholic at Tampa Catholic | |
| Gaither at Chamberlain | |
| Pinellas Park at Largo | |
| Raines at Venice | |
| South Sumter at Madison County | |
| Tampa Bay Tech at Steinbrenner | |
| Terry Parker at Fletcher | |
| | |
| --- | --- |
| Mike Ridaught | PICK |
| Bolles at Trinity Christian (Jacksonville) | |
| Champagnat Catholic at Chaminade-Madonna | |
| Clearwater at Jesuit | |
| Clearwater Central Catholic at Tampa Catholic | |
| Gaither at Chamberlain | |
| Pinellas Park at Largo | |
| Raines at Venice | |
| South Sumter at Madison County | |
| Tampa Bay Tech at Steinbrenner | |
| Terry Parker at Fletcher | |
| | |
| --- | --- |
| Doug Pugh | PICK |
| Bolles at Trinity Christian (Jacksonville) | |
| Champagnat Catholic at Chaminade-Madonna | |
| Clearwater at Jesuit | |
| Clearwater Central Catholic at Tampa Catholic | |
| Gaither at Chamberlain | |
| Pinellas Park at Largo | |
| Raines at Venice | |
| South Sumter at Madison County | |
| Tampa Bay Tech at Steinbrenner | |
| Terry Parker at Fletcher | |
| | |
| --- | --- |
| Corey Davis | PICK |
| Bolles at Trinity Christian (Jacksonville) | |
| Champagnat Catholic at Chaminade-Madonna | |
| Clearwater at Jesuit | |
| Clearwater Central Catholic at Tampa Catholic | |
| Gaither at Chamberlain | |
| Pinellas Park at Largo | |
| Raines at Venice | |
| South Sumter at Madison County | |
| Tampa Bay Tech at Steinbrenner | |
| Terry Parker at Fletcher | |
| | |
| --- | --- |
| Marty Pallman | PICK |
| Bolles at Trinity Christian (Jacksonville) | |
| Champagnat Catholic at Chaminade-Madonna | |
| Clearwater at Jesuit | |
| Clearwater Central Catholic at Tampa Catholic | |
| Gaither at Chamberlain | |
| Pinellas Park at Largo | |
| Raines at Venice | |
| South Sumter at Madison County | |
| Tampa Bay Tech at Steinbrenner | |
| Terry Parker at Fletcher | |
| | |
| --- | --- |
| Bill Hammel | PICK |
| Bolles at Trinity Christian (Jacksonville) | |
| Champagnat Catholic at Chaminade-Madonna | |
| Clearwater at Jesuit | |
| Clearwater Central Catholic at Tampa Catholic | |
| Gaither at Chamberlain | |
| Pinellas Park at Largo | |
| Raines at Venice | |
| South Sumter at Madison County | |
| Tampa Bay Tech at Steinbrenner | |
| Terry Parker at Fletcher | |
| | |
| --- | --- |
| Jeff Fisher | PICK |
| Bolles at Trinity Christian (Jacksonville) | |
| Champagnat Catholic at Chaminade-Madonna | |
| Clearwater at Jesuit | |
| Clearwater Central Catholic at Tampa Catholic | |
| Gaither at Chamberlain | |
| Pinellas Park at Largo | |
| Raines at Venice | |
| South Sumter at Madison County | |
| Tampa Bay Tech at Steinbrenner | |
| Terry Parker at Fletcher | |
| | |
| --- | --- |
| Joel Hillsman | PICK |
| Bolles at Trinity Christian (Jacksonville) | |
| Champagnat Catholic at Chaminade-Madonna | |
| Clearwater at Jesuit | |
| Clearwater Central Catholic at Tampa Catholic | |
| Gaither at Chamberlain | |
| Pinellas Park at Largo | |
| Raines at Venice | |
| South Sumter at Madison County | |
| Tampa Bay Tech at Steinbrenner | |
| Terry Parker at Fletcher | |
| | |
| --- | --- |
| Joe Pinkos | PICK |
| Bolles at Trinity Christian (Jacksonville) | |
| Champagnat Catholic at Chaminade-Madonna | |
| Clearwater at Jesuit | |
| Clearwater Central Catholic at Tampa Catholic | |
| Gaither at Chamberlain | |
| Pinellas Park at Largo | |
| Raines at Venice | |
| South Sumter at Madison County | |
| Tampa Bay Tech at Steinbrenner | |
| Terry Parker at Fletcher | |