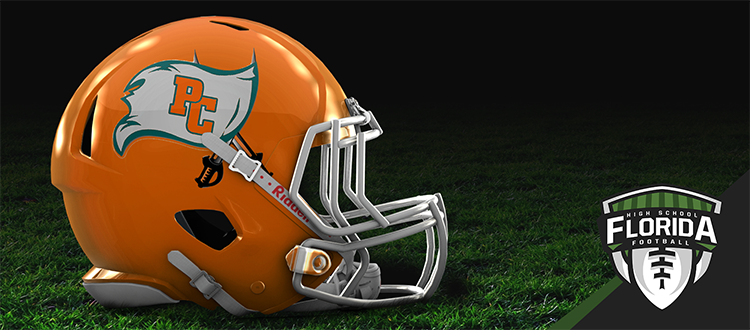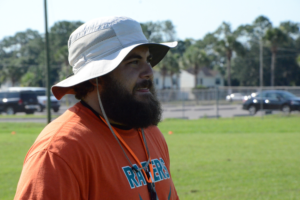 PLANT CITY RAIDERS
Head Coach: Robert Paxia
District: 7A-9
2015 Record: 11-2
Offensive Formation: Power Spread
Defensive Formation: 4-2-5
RETURNING ATHLETES
Name, Height, Weight, Year, Info & 2015 Stats in parenthesis
• QB Corey King, 6-2, 185, Sr. (1,708 yds, 16 TDs, 7 INTs; 67 carries, 388 yds, 7 TDs; HM FHSF Class 7A All-State Elite Team)
• WR/DB Antoine Thompson, 6-1, 180, Sr. (32 rec, 745 yds, 6 TDs)
• RB/WR/KR Tydre Ward, 5-5, 160, Sr. (32 carries, 168 yds, 1 TD; 7 rec, 116 yds, 4 return TDs)
• LB Steven Ogletree, 6-0, 235, Sr. (138 tackles, 10 TFL, 9 sacks; 1st team FHSF Class 7A All-State Elite Team)
• OLB/SS Cody Cribbs, 6-0, 235, Jr. (43 tackles, 9 sacks)
• OLB/SS James Gordon IV, 6-1, 210, So. (51 tackles, 2 sacks)
• FS/CB Tammarion Faison, 5-9, 170, Sr. (57 tackles, 6 INTs, 2 TFL, 13 breakups, 1 FF; 1st team FHSF Class 7A All-State Elite Team)
• DL Corey St. John, 6-1, 285, Sr. (25 tackles, 1 sack)
NEWCOMERS ON THE FIELD
Name, Height, Weight, Year, Additional Info in parenthesis
• RB Treshaun Ward, 5-10, 175, So. (19 carries, 87 yds, 1 TD)
• FS/CB Tyreke Harrison, 6-0, 160, So.
• MLB Ashton Mincey, 5-10, 225, So. (21 tackles)
• DE/TE Austin Eldridge, 6-3, 220, Jr. (Transfer from Strawberry Crest)
2016 SCHEDULE
* – denotes district game
• Aug. 26 vs. Armwood, 7:30
• Sept. 2 at Jefferson, 7:30
• Sept. 9 vs. Brandon, 7:30
• Sept. 16 at Strawberry Crest, 7:30*
• Sept. 23 vs. East Bay, 7:30*
• Sept. 30 at Tampa Bay Tech, 7:30*
• Oct. 7 vs. Bloomingdale, 7:30*
• Oct. 14 vs. Durant, 7:30*
• Oct. 21 BYE WEEK
• Oct. 28 at Lennard, 7:30*
• Nov. 4 at Freedom (Tampa), 7:30
STORYLINES TO FOLLOW
New coach, but same tune: Following the most successful season in school history, Greg Meyer stepped down due to health concerns and in steps in Robert Paxia who served as the offensive coordinator under Meyer this past season. But will anything change in how Plant City keeps on building off the success? The indicators all point to no and it shouldn't as there were no staff changes made when Paxia was promoted, according to the Plant City Observer.
Strong Defense: With 7 of 11 starters returning to the field on this season, there should be no doubt that Plant City can get things done again week-in and week-out defensively. The defense, which has been a big thing for the Raiders, will have four linebackers returning that will keep that going, especially with Steven Ogletree who is expected to lead that group. However, will the loses of TJ Chase and Peyton Collins in the secondary hurt? It shouldn't with Antoine Thompson and Tammarion Faison returning.
Big Shoes To Fill: With the lost of Markese Hargrove, Hillsborough County's Guy Toph Award winner last season, there will be some big shoes to fill in when it comes to carrying the rock for the Raiders. Coach Paxia tells us that several guys who fought for carries will pick up the slack. However, who is going to emerge from that group to shine for the Raiders? That question might not be answered until we are a few weeks into the season, which could mean that the Raiders will have to rely on QB Corey King to deliver a little bit more through the air and should have the help of Antoine Thompson and Tydre Ward to make those plays happen.
KEY NON-DISTRICT GAME TO WATCH
• Aug. 26 vs. Armwood – This is a game that the Raiders have had circle on the calendar for nearly a year. This is the game the want to win and to make a statement against the 2015 Class 6A state runner-up. Why so important? It was the only game that Plant City loss before going on 11-game winning streak that carried them to the District 7A-9 championship and to the Class 7A Regional Finals.
KEY DISTRICT GAME TO WATCH
• Oct 14. vs. Durant – This is a battle to show who dominates Plant City as the Raiders host crosstown rival Durant. Not only with this being a rivalry game, this will be an important district game as in most recent years, Durant has been in the mix for a playoff spot like Plant City has been as of recent as well. The rivalry which is known as the Battle for the James L. Redman Cup, has a unique story behind it as it is names as the principals of both Plant City and Durant are sisters with the Cup being named after their father. Most recent scores: 2015 – Plant City, 21-16; 2014 – Durant, 9-7; 2013 – Plant City, 14-13.
THE OUTLOOK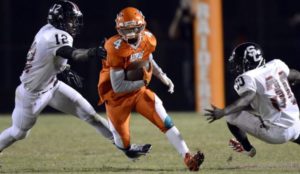 Last year was the best season in the history of the Plant City Raiders football program and they couldn't be more proud to take that pride going into this season.
The Raiders took the field during the spring and played a half at home (Hillsborough County public schools play half of a jamboree involving four programs at select sites each spring) against nearby district rival, Strawberry Crest, besting the Chargers 20-2. According to the Tampa Bay Times, both Tydre Ward and Corey King had a solid showing for the one half and appeared they were in control of what they were suppose to be doing on the field.
Given the establishment of the tone set in the spring and with a quick and easy transition to a new head coach, that should bode well for the Raiders coming into the season. Given the fact there are 12 of 22 starters returning to the field, with a lot of those players having had significant playing time already, there should not be much of a learning curve for the Raiders to go through.
With that said, expect Plant City to easily contend with teams like Tampa Bay Tech, Durant, Lennard and East Bay for both playoff spots, and – gasp – a potential to see a district tiebreaker shootout to help resolve things in District 7A-9 this season.