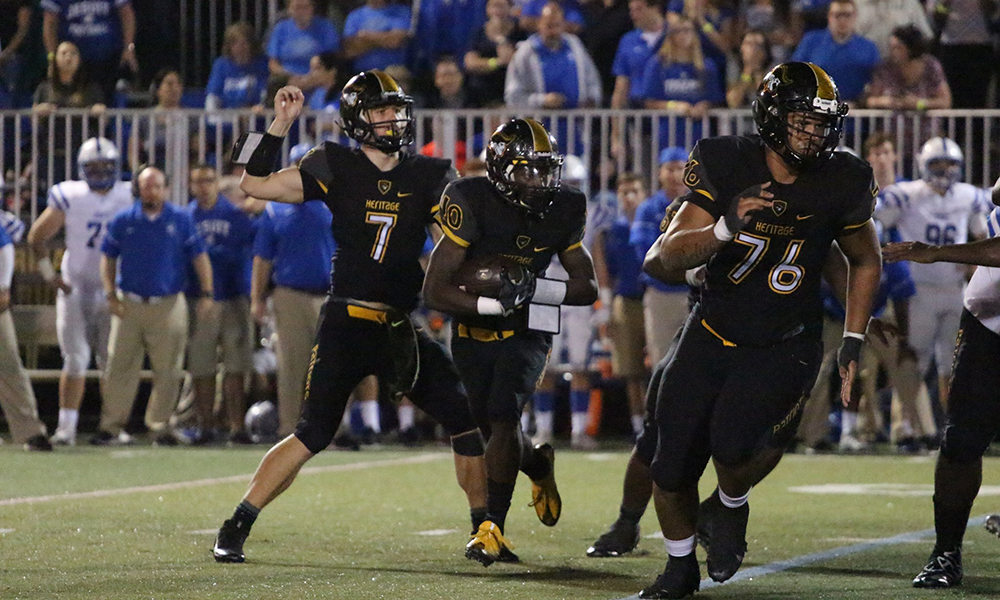 PLANTATION, Fla. – One more win.
That's what American Heritage-Plantation will need to be crowned 5A state champions as the Patriots held off Tampa Jesuit, 21-14, in the state semifinals on Friday night to clinch a berth in the 5A state championship game next Friday against Ponte Vedra at Camping World Stadium.
"Like championship teams do, we found a way to win," American Heritage head coach Patrick Surtain said after the game. "It's unbelievable. I told these guys this was going to be the toughest game they were going to play, and they fought."
Patriots' junior running back Miles Jones accumulated over 200 yards of total offense and two touchdowns in the win. Jones' two touchdowns were of 68 and 70 yards – one a reception on a screen pass, the other a rushing score – the first putting American Heritage (13-0) up 6-0, and the second stretching the lead to 21-0 later in the game.
"Coaches put the ball in my hands," Jones said. "I just picked up the right blocks, read the blocks, and took it to the house."
Although American Heritage took that 21-point lead with 10:07 left in the third, Jesuit (12-1) did not quit.
The Tigers conducted a nine-play drive which was led by senior running back Malik Davis and capped by a quarterback sneak by Daniel Boon for a touchdown to cut the lead to 14.
After Abraham Alce fumbled just as American Heritage was going in for a score, Jesuit took over from their own five and drove 95 yards down the field to cut the lead to just a touchdown after Boon again rushed in for the one-yard score.
Davis – a Florida commit – rushed for 141 yards on 26 totes.
"My hats off to Jesuit," Surtain said. "They kept fighting."
American Heritage will seek its third state championship in the past four years, and Surtain's first as head coach.
"It's a good feeling," Surtain said. "I'm not just a coach. I'm here to mentor these guys and teach them life lessons. Football is part of it, but they respect me as a man, they respect me as a mentor, and it's good to get these boys to the state game."
Patriots' senior quarterback Jason Brown, who is committed to Harvard, threw for 166 yards and two touchdowns, one which was a 23-yard pass to Laress Nelson to put American Heritage up 13-0 with 3:32 left in the first half, and the other the screen pass to Jones.
Jesuit got the ball back with 32 seconds left after blocking American Heritage's 28-yard field goal attempt, which would've stretched the lead to 10. However, the Patriots' defense – ferocious all night – forced three incomplete passes, ending Jesuit's hopes of a state championship.
"It was good," Surtain said of his team's defensive effort. "We knew we had one of the best defenses. We knew we were going to have a test against this Jesuit team – they run the ball extremely well – but we rose to the challenge."
Entering Friday, Jesuit had not beaten a team by less than 21.
American Heritage used its experience against the toughest opponents this season to its advantage. The Patriots faced nationally ranked Don Bosco Prep, district champion Miami Northwestern, and other top opponents in what was a tough regular season schedule to get them ready for the playoffs.
Although the Patriots will enjoy the win, their main goal is on the task at hand next Friday.
"Finish," Surtain said his message to his team is now. "It seemed like a state championship but we're not happy with just getting there."