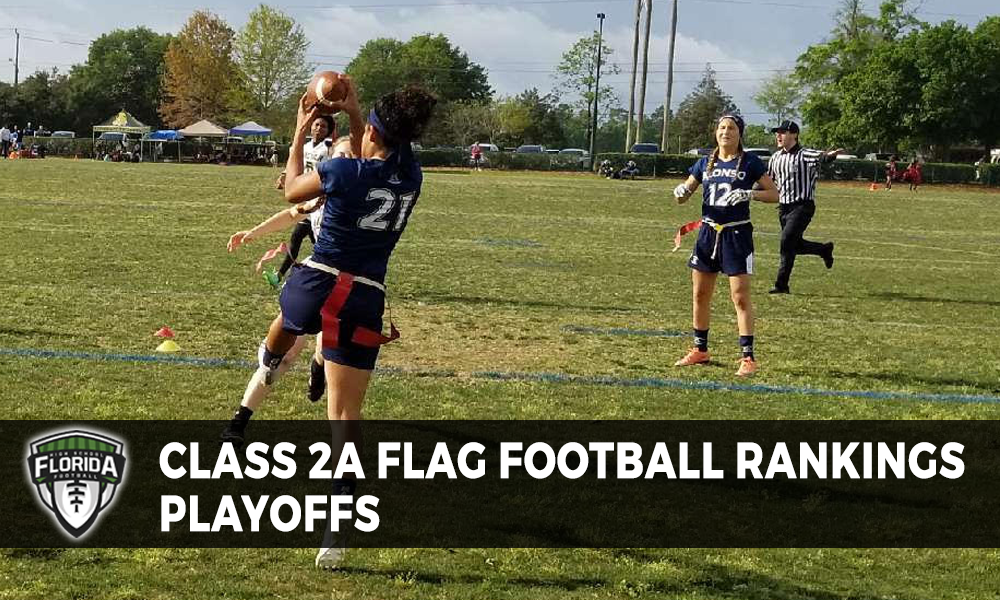 Help support the No. 1 Independent high school sports website in the State of Florida by becoming a FRIEND of FloridaHSFootball.com for as little as $3.00 per month by clicking here.
Each week during the season we update the Top 25 rankings in Class 2A providing our Top 10 teams as well as provide The Next 15 teams that we have ranked to complete the Top 25 rankings. Information used to determine the rankings include record, quality wins, defeating ranked opponents and strength of schedule. It is important that teams update their information with scores with us on a regular basis each week by emailing us score reports at flag@floridahsfootball.com, sending us a direct message on Twitter @FlaHSFootball or updating scores in the ScoreStream app.  Lack of information (scores) reported by the teams will only hurt their chances of being ranked, especially if they are having a solid season.
NOTE: Previews will be included in a separate playoff preview feature on Wednesday.
CLASS 2A FLAG FOOTBALL RANKINGS – PLAYOFFS
Rank, School (City), Record, Previous Ranking
1. Alonso (Tampa), 13-0, 1
2. Seminole Ridge (Loxahatchee), 11-1, 2
3. Cooper City, 13-1, 4
4. Dr. Phillips (Orlando), 12-1, 5
5. Wekiva (Apopka), 13-0, 10
6. Plant (Tampa), 11-3, 3
7. Dr. Krop (Miami), 9-1, 10
8. Bloomingdale (Valrico), 11-3, 14
9. Western (Davie), 11-2, 15
10. Blanche Ely (Pompano Beach), 11-0, 16
11. Fort Pierce Central, 9-2, 21
12. Riverview (Riverview), 11-3, 11
13. Jupiter, 11-2, 12
14. Lake Nona (Orlando), 10-1, NR
15. St. Cloud, 12-2, 6
16. West Boca Raton, 11-2, NR
17. Piper (Sunrise), 11-1, 8
18. Sandalwood (Jacksonville), 9-3, 20
19. Park Vista (Lake Worth), 12-2, 7
20. Miami High, 8-3, NR
21. Miami Killian, 8-2, NR
22. Lakewood Ranch (Bradenton), 10-3, NR
23. Ferguson (Miami), 11-2, 13
24. Mater Academy (Hialeah Gardens), 9-3, 18
25. Vero Beach, 8-3, NR