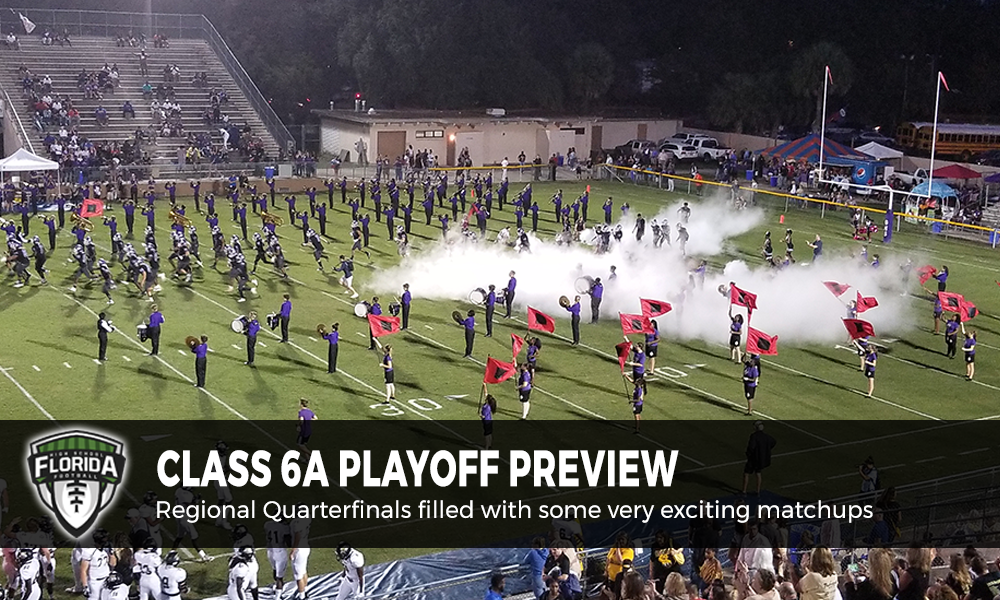 Help support the No. 1 Independent high school sports website in the State of Florida by becoming a FRIEND of FloridaHSFootball.com for as little as $3.00 per month by clicking here.
Class 6A is regarded as the best classification for high school football in Florida and with a look at the matchups, there are some exciting ones for the first round. Here are our previews and predictions for the Class 6A Regional Quarterfinals.
THREE BEST
REGION 1
NO. 7 GULF BREEZE AT NO. 2 CRESTVIEW
When: Friday, 7:30 p.m. CST
Where: Jack Foster Stadium, Crestview
Records: Gulf Breeze, 7-2; Crestview, 8-0
Rankings: Gulf Breeze unranked in final AP Poll, unranked in Joe Pinkos' Power Rankings; Crestview unranked in final AP Poll, ranked No. 7 in Joe Pinkos' Power Rankings
Last Playoff Appearance: Gulf Breeze: 2016; Crestview: 2016
Quick Hits: This is a matchup that could have the Panhandle talking as both teams have been on fire this season … The visiting Dolphins will look to use a balanced attack against the host Bulldogs with junior running back Tyler Dittmer leading the way. Dittmer has 1,922 yards rushing in nine games this season and has scored 19 touchdowns. They will balance things out with junior quarterback Dylon Kelley who has thrown for just over 1,000 yards and 14 touchdowns this season while scoring six more on the ground … For Crestview keep an eye on senior quarterback Rod Bouchard to lead the way junior running back Jay Stanton likely to get most of the carries on the ground.
Joe Pinkos' Forecast: Crestview by 17
FloridaHSFootball.com Prediction: Crestview 35, Gulf Breeze 28
PLAYOFF CENTRAL: For all things playoffs, including scores and brackets, checkout PLAYOFF CENTRAL!
PREDICT THE WINNER

Class 6A-Region 1 Quarterfinal

No. 2 @crestview_fb (8-0)
No. 7 @GB_Dolphins (7-2)#flhsfb

— Florida HS Football (@FlaHSFootball) November 8, 2017
REGION 2
NO. 6 GAINESVILLE AT NO. 3 VANGUARD
When: Friday, 7:30 p.m.
Where: Booster Stadium, Ocala
Records: Gainesville, 8-2; Vanguard, 9-0
Rankings: Gainesville received votes in final AP Poll, unranked in Joe Pinkos' Power Rankings; Vanguard ranked No. 5 in final AP Poll, ranked No. 6 in Joe Pinkos' Power Rankings
Last Playoff Appearance: Gainesville: 2015; Vanguard: 2016
Quick Hits: The visiting Hurricanes are the only team that has been able to score in the double digits on the host Knights this season … Keep an eye out for junior quarterback Luke Matthews who has thrown for over 2,200 yards and 24 touchdowns so far this season for Gainesville. He will also rely on Willie McKnight to help provide a balanced approach to the Knights … For Vanguard watch out for senior quarterback Marquez Glover who has thrown for over 2,100 yards and 29 touchdowns this season as well as scoring five touchdowns on the ground. Glover will rely on a trio of running backs to keep things balanced for the Knights.
Joe Pinkos' Forecast: Vanguard by 7
FloridaHSFootball.com Prediction: Vanguard 35, Gainesville 28
PREDICT THE WINNER

Class 6A-Region 2 Quarterfinal

No. 3 @vanguard_high (9-0)
No. 6 @Canesville1900 (8-2)#flhsfb

— Florida HS Football (@FlaHSFootball) November 8, 2017
REGION 4
NO. 7 MIAMI NORLAND AT NO. 2 MAINLAND
When: Friday, 7:30 p.m.
Where: Daytona Beach Municipal Stadium, Daytona Beach
Records: Miami Norland, 6-3; Mainland, 6-3
Rankings: Miami Norland ranked No. 6 in final AP Poll, unranked in Joe Pinkos' Power Rankings; Mainland ranked No. 9 in final AP Poll, ranked No. 9 in Joe Pinkos' Power Rankings
Last Playoff Appearance: Miami Norland: 2012; Mainland: 2016
Quick Hits: The visiting Vikings are back in the playoffs for the first time in five-years thanks to the new playoff format, despite finishing at the fourth place team in District 6A-16 … However, bad news for the host Buccaneers as they didn't want to draw a Miami team in the first round, which has been a consistent issue for the last few seasons … on paper this matchup is one that could give fans everything they wanted in a playoff game … For Miami Norland keep an eye on quarterback Alec Carr who has been responsible for Norland's resurgent season including the team's win against Miami Northwestern a few weeks ago … senior quarterback Richard Kamara will be leading the way for the Mainland offense, but the defense will be the key to getting Mainland a first-round win.
Joe Pinkos' Forecast: Mainland by 3
FloridaHSFootball.com Prediction: Mainland 27, Miami Norland 24
PREDICT THE WINNER

Class 6A-Region 4 Quarterfinal

No. 2 @MAINLANDBUCS (6-3)
No. 7 #MiamiNorland (6-3)#flhsfb

— Florida HS Football (@FlaHSFootball) November 8, 2017
OTHER CLASS 6A PLAYOFF GAMES
Region 1
No. 8 Tate (6-3) at No. 1 St. Augustine (9-0), Friday, 7:30 p.m. at Foots Brumley Stadium, St. Augustine —St. Augustine has been a dominant force this year against all the teams they have played and with Tate making the long bus trip over from Pensacola to start the playoffs, things are favoring the host Yellow Jackets over the visiting Aggies.
Joe Pinkos' Forecast: St. Augustine by 31
FloridaHSFootball.com Prediction: St. Augustine 42, Tate 14
PREDICT THE WINNER

Class 6A-Region 1 Quarterfinal

No. 1 @SAHSJackets (9-0)
No. 8 @TateFootball (6-3)#flhsfb

— Florida HS Football (@FlaHSFootball) November 8, 2017
No. 5 Niceville (6-3) at No. 4 Navarre (8-1), Friday, 7:30 p.m. CST at Bennett C. Russell Stadium, Navarre — These two foes meet again for the second week in a row and the host Raiders handled the visiting Eagles easily last week. Will Niceville have revenge on its mind or will Navarre be looking to make a trip likely to St. Augustine next week?
Joe Pinkos' Forecast: Navarre by 13
FloridaHSFootball.com Prediction: Navarre 35, Niceville 20
PREDICT THE WINNER

Class 6A-Region 1 Quarterfinal

No. 4 @TheNHSRaiders (8-1)
No. 5 @Niceville_FB (6-3)#flhsfb

— Florida HS Football (@FlaHSFootball) November 8, 2017
No. 6 Pine Forest (4-5) at No. 3 Escambia (7-2), Friday, 7:30 p.m. CST at Emmett Smith Field, Pensacola — A district rematch from this season, the visiting Eagles will be looking to extract revenge on the host Gators after losing 33-21 back on September 29. However, things seem to be on the side of Escambia here once again.
Joe Pinkos' Forecast: Escambia by 15
FloridaHSFootball.com Prediction: Escambia 34, Pine Forest 17
PREDICT THE WINNER

Class 6A-Region 1 Quarterfinal

No. 3 #Escambia (7-2)
No. 6 #PineForest (4-5)#flhsfb

— Florida HS Football (@FlaHSFootball) November 8, 2017
Region 2
No. 8 Sebring (6-2) at No. 1 Armwood (10-0), Friday, 7:30 p.m. at Lyle Flagg Stadium, Seffner —What season it has been for Sebring given the fact the Blue Streaks missed two games due to Hurricane Irma. However, this is not the matchup they wanted to open the playoffs as the host Hawks are back in old form once again.
Joe Pinkos' Forecast: Armwood by 24
FloridaHSFootball.com Prediction: Armwood 42, Sebring 13
PREDICT THE WINNER

Class 6A-Region 2 Quarterfinal

No. 1 @Armwood_Hawks (10-0)
No. 8 #Sebring (6-2) #flhsfb

— Florida HS Football (@FlaHSFootball) November 8, 2017
No. 5 Hillsborough (7-3) at No. 4 Lake Gibson (6-3), Friday, 7:30 p.m. at Virgil Ramage Stadium, Lakeland — A good No. 4 vs. No. 5 matchup here to open the playoffs. However, the visiting Terriers have not struggled as much against a tough schedule whereas the host Braves have just barely squeaked by in games just to reach the playoffs. This one will be interesting.
Joe Pinkos' Forecast: Hillsborough by 1
FloridaHSFootball.com Prediction: Hillsborough 28, Lake Gibson 23
PREDICT THE WINNER

Class 6A-Region 2 Quarterfinal

No. 4 @LGBravesFB (6-3)
No. 5 @gohhsterriers (7-3)

— Florida HS Football (@FlaHSFootball) November 8, 2017
No. 7 Chamberlain (8-2) at No. 2 Mitchell (10-0), Friday, 7:30 p.m. at Mustang Stadium, New Port Richey — An undefeated season for the host Mustangs gives them the No. 2 seed and a solid path towards reaching the regional finals for the first time in school history. However, things start with a Chamberlain team who is in the playoff for the first time since 2008 at the visiting Chiefs look to make some noise.
Joe Pinkos' Forecast: Mitchell by 1
FloridaHSFootball.com Prediction: Mitchell 30, Chamberlain 21
PREDICT THE WINNER

Class 6A-Region 2 Quarterfinal

No. 2 @JWMHS (10-0)
No. 7 @CHSChiefsFB (8-2)#flhsfb

— Florida HS Football (@FlaHSFootball) November 8, 2017
Region 3
No. 8 Clearwater (6-4) at North Fort Myers (8-0), Friday, 7:30 p.m. at Moody Field, North Fort Myers — An okay season for the visiting Tornadoes is going to end here. The Red Knights have been very dominant during the season in their eight games and they are going to be the team to watch out for in this region during the playoffs.
Joe Pinkos' Forecast: North Fort Myers by 25
FloridaHSFootball.com Prediction: North Fort Myers 45, Clearwater 14
PREDICT THE WINNER

Class 6A-Region 3 Quarterfinal

No. 1 @NFMHSAthletics (8-0)
No. 8 @CHS_Tornadoes (6-4)#flhsfb

— Florida HS Football (@FlaHSFootball) November 8, 2017
No. 5 Palmetto Ridge (6-2) at No. 4 Fort Myers (5-3), Friday, 7:30 p.m. at Edison Stadium, Fort Myers — This is a toss-up of a matchup here and could go either way between the visiting Bears and the host Green Wave. Could be one of the best games in Class 6A potentially outside of the best three.
Joe Pinkos' Forecast: Fort Myers by 7
FloridaHSFootball.com Prediction: Fort Myers 28, Palmetto Ridge 20
PREDICT THE WINNER

Class 6A-Region 3 Quarterfinal

No. 4 @FMHSAthletics (5-3)
No. 5 @PalmettoRidgeHS (6-2)#flhsfb

— Florida HS Football (@FlaHSFootball) November 8, 2017
No. 6 Barron Collier (4-5) at No. 3 Largo (7-2), Friday 7:30 p.m. at Packer Stadium, Largo — The host Packers are back in the playoffs, but the host Cougars would love nothing more than getting an upset so they can get a possible rematch with Naples. However, Largo looks much stronger and should be able to control this game.
Joe Pinkos' Forecast: Largo by 3
FloridaHSFootball.com Prediction: Largo 31, Barron Collier 24
PREDICT THE WINNER

Class 6A-Region 3 Quarterfinal

No. 3 @LargoFootball (7-2)
No. 6 @BCCougarsFB (4-5)#flhsfb

— Florida HS Football (@FlaHSFootball) November 8, 2017
No. 7 Port Charlotte (7-2) at No. 2 Naples (7-1), Friday, 7:30 p.m. at Staver Field, Naples — The host Golden Eagles take on the visiting Pirates in a game that could show who has played a tougher schedule. But in the end, going up against a traditional power in Naples is no easy task for anyone.
Joe Pinkos' Forecast: Naples by 10
FloridaHSFootball.com Prediction: Naples 27, Port Charlotte 13
PREDICT THE WINNER

Class 6A-Region 3 Quarterfinal

No. 2 @naplesfootball (7-1)
No. 7 @PCHSPiratesFB (7-2)#flhsfb

— Florida HS Football (@FlaHSFootball) November 8, 2017
Region 4
No. 8 Matanzas (6-3) vs. No. 1 Miami Northwestern (7-2), Friday, 7:30 p.m. at Traz Powell, Stadium, Miami — If you are the visiting Pirates, this is the last team you wanted to face to start the playoffs. For the host Bulls, they will have to be careful to not get too relax against Matanzas or it could be a closer game than they will want it to be.
Joe Pinkos' Forecast: Miami Northwestern by 35
FloridaHSFootball.com Prediction: Miami Northwestern 45, Matanzas 8
PREDICT THE WINNER

Class 6A-Region 4 Quarterfinal

No. 1 @MNW_Bulls1955 (7-2)
No. 8 @MHSPirateNation (6-3)#flhsfb

— Florida HS Football (@FlaHSFootball) November 8, 2017
No. 5 Miami Central (8-2) at No. 4 Palm Bay Heritage (6-3), Friday, 7:30 p.m. at Panther Stadium, Palm Bay — The host Panthers are going to have their hands full with a visiting Rockets team that is highly determined to get back to Orlando this year. Good season for Heritage, but this game could have the potential makings of a runaway contest.
Joe Pinkos' Forecast: Miami Central by 28
FloridaHSFootball.com Prediction: Miami Central 38, Heritage 10
PREDICT THE WINNER

Class 6A-Region 4 Quarterfinal

No. 4 @SwarmGang (6-3)
No. 5 @Roc__Nation (8-2)#flhsfb

— Florida HS Football (@FlaHSFootball) November 8, 2017
No. 6 Miami Carol City (6-3) at No. 3 Dilliard (6-4), Friday, 7:30 p.m. at Otis Gray Jr. Memorial Stadium, Fort Lauderdale — Another Miami versus someone else matchup and this one is again a matchup that Dillard was not looking to have in the first round. With the visiting Chiefs looking to defend their Class 6A state championship, a win over the host Panthers will start that path back to Orlando.
Joe Pinkos' Forecast: Miami Carol City by 28
FloridaHSFootball.com Prediction: Miami Carol City 38, Dillard 17
PREDICT THE WINNER

Class 6A-Region 4 Quarterfinal

No. 3 #Dillard (6-4)
No. 6 @CarolCitySr1 (6-3)#flhsfb

— Florida HS Football (@FlaHSFootball) November 8, 2017