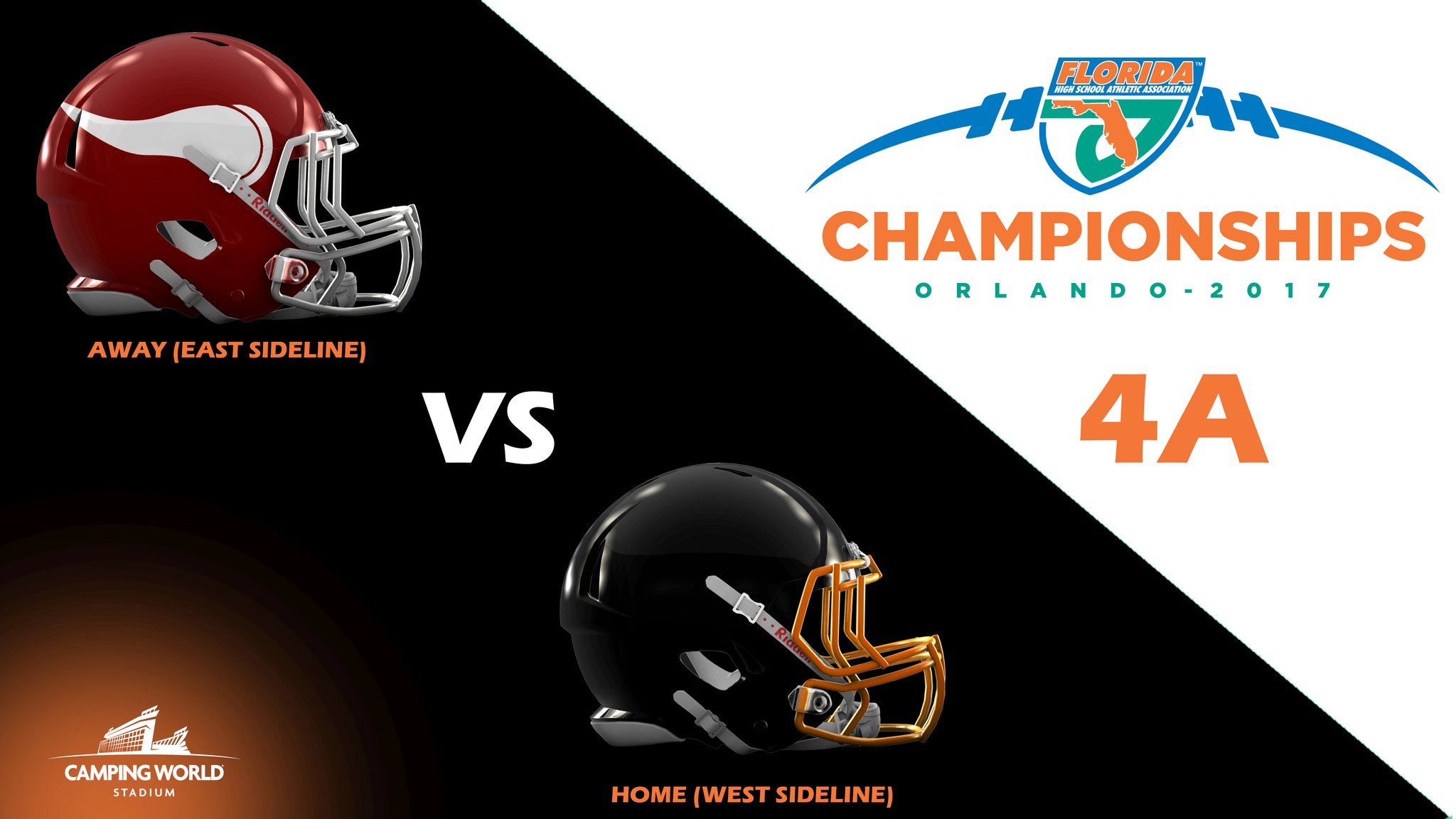 CLASS 4A STATE CHAMPIONSHIP
Raines Vikings (12-1) vs. Cocoa Tigers (11-1)
GAME TIME, LOCATION & TICKET INFO
When: Thursday, December 7
Where: Camping World Stadium, Orlando
Kickoff: 7:07 p.m. EST
Tickets: $12 General Admission, $17 Reserved Seating — purchase online at ticketmaster.com
RADIO, TELEVISION & ONLINE INFO
Pregame Show: Varsity Sports Network/NFHSNetwork.com (FREE) — LIVE at 12:00 p.m. EST
Game Broadcast: Spectrum Sports, Channel 1147 in Spectrum coverage areas
Online Stream: Boxcast TV via Spectrum Sports ($9.95 fee to watch)
Radio: Raines – WJXL-AM 1010 AM & 1010XL.com
Social Media Updates: @FlaHSFootball on Twitter — Entire game
Halftime Recap: Florida HS Football Facebook Page — LIVE at Half
Postgame Recap: Florida HS Football Facebook Page — LIVE following the game
Postgame Show: Varsity Sports Network/NFHSNetwork.com (FREE) — LIVE at 30 minutes following the Class 4A State Championship Game
ABOUT RAINES
Head Coach: Deran Wiley
Road To Orlando: d. North Bay Haven, 43-0 (Regional Semifinals); d. West Nassau, 57-15 (Regional Finals); d. Bradford, 53-13 (State Semifinals)
Last State Championship Game Appearance: 2015 (Class 4A)
Playoff History: Raines is 26-31 in playoff games including one state championship finish in 1997 (Class 4A) and two runner-up finishes in 1973 (Class 4A) and 2015 (Class 4A)
Rankings: No. 2 in final Associated Press Florida high school football poll; No. 2 in Joe Pinkos' end of regular season rankings
Top Players To Watch: QB Ivory Durham IV, Sr.; RB Brandon Marshall, Sr.; WR/DB George Webb, Sr.; WR Kamaree Noble, Sr.; LB Elijah Spivey, Sr.; SS Diop Kee, Sr.; LB Javon Bonsell, Jr.
The Skinny: Air game is the name of the game for the Vikings, something they have done all year long in every game. To prove the point the passing game is the big thing, 36 total passing touchdowns have been thrown all season … However, the run game is just as effective for the Vikings with 39 total rushing touchdowns having been produced … Overall, 5,437 total yards of offense has been produced by the Vikings splitting almost evenly between the run game and the passing game … leading the offense is Ivory Durham IV (154-218, 2,875 yards, 34 TDs, 6 INTs) with his top targets George Webb (27 receptions, 707 yards, 10 TDs) and Kamaree Noble (40 receptions, 628 yards, 8 TDs) as the leading receivers … Running back Brandon Marshall is a beast on the ground, carrying the ball 163 times for 1,570 yards and 21 touchdowns so far … Looking at the defense, get ready to watch a team that has gone off on sacks, with 55 total sacks on the season … Defensively speaking Raines has collected 55 sacks on the season through last week … Leaders of the defense include Elijah Spivey (70 tackles, 1 TFL, 6 sacks, 3 FR), Diop Kee (56 tackles, 5 TFL, 1 sack, 5 INTs, 2 FR) and Javon Bonsell (71 tackles, 1 TFL, 11 sacks, 1 INT, 1 FR, 1 blocked field goal)
ABOUT COCOA
Head Coach: John Wilkinson
Road To Orlando: d. Lake Placid, 63-0 (Regional Semifinals); d. Avon Park, 62-7 (Regional Finals); d. University School, 49-14 (State Semifinals)
Last State Championship Game Appearance: 2016 (Class 4A)
Playoff History: Cocoa is 37-14 in playoff games including four state championship finishes in 2008 (Class 3A), 2009 (Class 2A), 2010 (Class 2A), and 2016 (Class 4A)
Rankings: No. 1 in final Associated Press Florida high school football poll; No. 1 in Joe Pinkos' end of regular season rankings  
Top Players To Watch: RB Javaian Hawkins, Sr.; RB Willie Gaines, Jr.; OL Josh Padrick, Sr.; DL Howard Stewart, Sr.; LB John Smith, Sr.; LB Zach Beagle, Sr.; DB Tri-marea Charles, Sr.
The Skinny: It is no surprise ever that Cocoa is more of a ground and pound type team than it is passing. In fact, the Tigers have thrown just over 1,000 yards this season which is not saying much. Instead, the ground game makes most of the yardage with 3,764 of 4,783 total yards of offense this season … Leaders on the offense include Javaian Hawkins (176 carries, 1,737 yards, 20 TDs) and Willie Gaines (147 carries, 1,312 yards, 14 TDs) with offensive lineman Josh Padrick opening the holes up along the way on the line … Defensively speaking the Tigers are lead by several veteran players including Howard Stewart (52 total tackles, 2 TFL, 7 sacks, 1 FF, 1 FR), John Smith (68 total tackles, 1 sack, 1 INT, 2 FR), Zach Beagle (76 total tackles, 1 FF), Tri-marea Charles (56 total tackles, 5 sacks) … The team has totaled just 19.5 sacks through last week's state semifinal game.
GAME OUTLOOK
At first look, you might think that Raines has an advantage here when looking at the stats, but the quality of competition that the Vikings has faced this season has not been as top quality as the competition that Cocoa has faced. For the Tigers, they have played several quality playoff teams including Mainland, Bartram Trail — a team which is playing for the Class 7A state championship — and Jacksonville Trinity Christian, the former defending Class 3A state champion. When looking at the combined opponents record of the two teams it shows. While Raines hasn't lost a game since Week 1 of the season, Cocoa lost their regular season game which may have humbled them. Grant it that neither team has played strong teams in the playoffs could get them both on the up and up in feeling good about this game, it really comes down to experience and the schedule and that advantage will go to Cocoa in this one once again.
WHO THE COMPUTERS PREDICT
We take a look at the computers and their predictions for the 2017 FHSAA State Championship games:
Joe Pinkos' Forecast: Cocoa by 10
USA TODAY High School Sports Score Predictor: Cocoa 35, Raines 24
THE EXPERT PICKS
We gave our media pickers the biggest challenge of the year by not only predicting the winner of each state championship game but the actual score of each game as well. Here are their picks:
Joshua Wilson, FloridaHSFootball.com:

Cocoa 38, Raines 27

Will Turner, FloridaHSFootball.com:

Cocoa 42, Raines 30

Bill Hammel, Irish Bill's Twist On Sports:

Cocoa 31, Raines 21

Mike Ridaught, The Prep Zone:

Cocoa 24, Raines 20

Marty Pallman, The Prep Zone:

Cocoa 30, Raines 27

Larry Savage, Gainesville Sun:

Cocoa 28, Raines 20

Corey Davis, DuvalSports.com:

Cocoa 24, Raines 17

Doug Pugh, Big County Preps:

Cocoa 30, Raines 27

Jake Perper, Prep Sports Scouting:

Cocoa 35, Raines 27

Joel Hillsman, Total Sports Coverage:

Cocoa 27, Raines 20

Sign Up For Our Newsletters