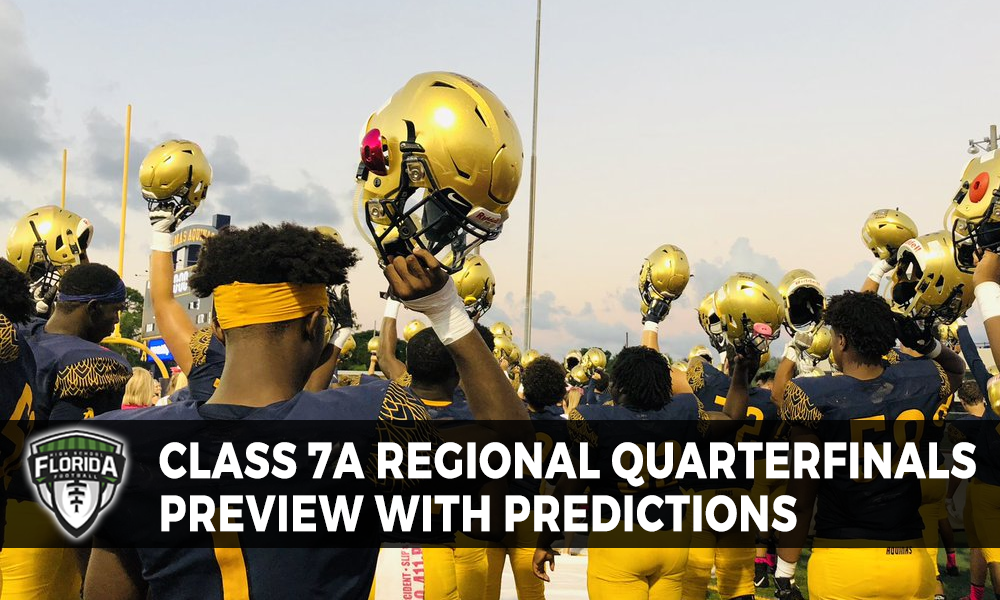 The Drive To December starts Thursday night with one playoff game in Class 7A. Here is a preview of some of the top games to watch with predictions for all 16 games in the Class 7A Regional Quarterfinals.
All game scheduled for Friday, November 9 with a 7:30 p.m. Eastern kickoff unless noted.
THREE TO WATCH
7A-REGION 1: No. 8 Fletcher (7-3) at No. 1 Columbia (9-1): A rematch of Week Nine's District 7A-2 matchup between the visiting Senators and the host Tigers, Fletcher is very hungry to get revenge on a game they came very close to winning if it were not for a failed two-point conversion. The Senators, who upset Mandarin last week in overtime to close out the regular season, feels they have it all to be able to go up against Columbia here once again. Keep an eye on running back Latravious Johnson (129 carries, 837 yards, 14 TDs) o lead things on offense for the Senators. Meanwhile for the Tigers, keep an eye on quarterback Jordan Smith (169-272, 2,620 yards passing, 29 TDs, 9 INTs) and his favorite target Marquez Bell (48 rec., 948 yards, 12 TDs), one of the big key reasons the Tigers have won nine of their 10 games in the regular season. The only loss for the Tigers was a 31-30 loss to the hands of Jacksonville Trinity Christian. But as far as this game goes, it could be whoever commits the fewest mistakes possible that will advance with a possible rematch against district foe Robert E. Lee on the line if they win at Hagerty.
Prediction: Columbia 28, Fletcher 21
POLL: Who wins on Friday night?

CLASS 7A-REGION 1 QUARTERFINAL
#8 Fletcher (7-3) at #1 Columbia (9-1)@FHSBeachrats @TigerTownCHS @sports_CHSLC

CLASS 7A BRACKET: https://t.co/oCQMScX8kX#flhsfb

— FloridaHSFootball.com (@FlaHSFootball) November 7, 2018
7A-REGION 2: No. 5 Kathleen (5-4) at No. 4 Harmony (9-1): Throw the records out here on this game. They mean absolutely nothing in terms of what this matchup could bring. Kathleen has played by far what was one of the toughest nine-game schedules in the state that includes district foe and state-ranked Lakeland in that mix. Harmony's only loss on the season was to the hands of Space Coast in Week 1, which just missed out on a playoff berth in Class 5A-Region 4. Ever since then the host Longhorns have been on a roll having won nine straight. With both teams having bye weeks in Week 11, there will be no excuses here as to who is rested up. For the visiting Red Devils keep an eye on running back Dominque Walker who has been one of the team's leading rushers this season. For Harmony keep an eye on quarterback Nathan Herstich (111-206 passing, 1,506 yards, 22 TDs, 7 INTs) and running back Justin Gleason (154 carries, 936 yards, 11 TDs). Don't be surprised if this game enters barnburner territory.
Prediction: Kathleen 35, Harmony 34
POLL: Who wins on Friday night?

CLASS 7A-REGION 2 QUARTERFINAL
#5 Kathleen (5-4) at #4 Harmony (9-1)@KHS_Football @longhorns_fb

CLASS 7A BRACKET: https://t.co/oCQMScX8kX#flhsfb

— FloridaHSFootball.com (@FlaHSFootball) November 7, 2018
7A-REGION 3: No. 6 Bloomingdale (9-1) at No. 3 Riverdale (10-0): One of the best matchups of all the regional quarterfinal teams this week, both teams are evenly matched and evenly athletic. Both programs have young, energetic head coaches who have put these teams on the playoff map when just a few years ago, they would not have ever been in the mention for a district championship or let alone playoff berth. For the visiting Bulls, watch out for quarterback Lance Alderson (58-121 passing, 1,214 yards, 8 TDs, 6 INTs) and a triple-headed rushing attack from Levi Williams (45 carries, 607 yards, 7 TDs), Charles Montgomery (67 carries, 467 yards, 9 TDs), and Dominic Gonnella (64 carries, 616 yards, 11 TDs). For the host Raiders watch out for the explosiveness of running back Quantavious Brown (113 carries, 1,481 yards, 16 TDs) along with sidekick Adarian Robinson (89 carries, 919 yards, 12 TDs) as the biggest threats to opening things up against Bloomingdale that could make this a potential game with barnburner implications if neither teams defense shows up ready to contain the rushing attacks each have.
Prediction: Riverdale 38, Bloomingdale 34
POLL: Who wins on Friday night?

CLASS 7A-REGION 3 QUARTERFINAL
#6 Bloomingdale (9-1) at #3 Riverdale (10-0)@Bdale_Football @BdaleathleticBC @RiverdaleCoach @CoachDelgado61

CLASS 7A BRACKET: https://t.co/oCQMScX8kX #flhsfb

— FloridaHSFootball.com (@FlaHSFootball) November 7, 2018
THE REST OF THE SLATE
Region 1
No. 5 Robert E. Lee (8-1) at No. 4 Hagerty (6-4): Usually four-five matchups are some of the best in the regional quarterfinals, but this one has blowout written all over it and it likely won't be pretty with the Generals marching on. Prediction: Robert E. Lee 38, Hagerty 14
POLL: Who wins on Friday night?

CLASS 7A-REGION 1 QUARTERFINAL
#5 Robert E. Lee (8-1) at #4 Hagerty (6-4)@JaxLeeAthletics @realhhsfootball

CLASS 7A BRACKET: https://t.co/oCQMScX8kX#flhsfb

— FloridaHSFootball.com (@FlaHSFootball) November 7, 2018
No. 6 Oakleaf (5-5) at No. 4 Lincoln (6-4) at Gene Cox Stadium, Thursday, 7:00 p.m. ET: Both teams are very comparable having played a tough schedule along the way. However, Oakleaf has put up some high numbers on offense this season and that could a difference here depending what the host Trojans are ready for. Prediction: Lincoln 35, Oakleaf 31
TAKE 2

POLL: Who wins on Thursday night?

CLASS 7A-REGION 1 QUARTERFINAL
#6 Oakleaf (5-5) at #3 Lincoln (6-4)@OakleafFootball @OHSKnightSports @Linc_TrojansFB @LHSTrojanNation @CoachQGray @BSmooth48

CLASS 7A BRACKET: https://t.co/H8IDc2jtk8#flhsfb

— FloridaHSFootball.com (@FlaHSFootball) November 7, 2018
No. 7 Edgewater (9-1) at No. 2 Buchholz at Citizens Field: Edgewater should have been a district champion, but instead one loss to Hagerty sent them on the road. Buchholz looks better talent-wise and being much more battle tested than the visiting Eagles. However, expect it to be a good game no matter what. Prediction: Buchholz 28, Edgewater 17
POLL: Who wins on Friday night?

CLASS 7A-REGION 1 QUARTERFINAL
#7 Edgewater (9-1) at #2 Buchholz (7-3)@GoEHSEagles @EdgewaterFBall @BuchholzFB @CoachMash_

CLASS 7A BRACKET: https://t.co/oCQMScX8kX#flhsfb

— FloridaHSFootball.com (@FlaHSFootball) November 7, 2018
Region 2
No. 8 Wiregrass Ranch (7-3) at No. 1 Lakeland (10-0): For the second time in three years, the visiting Bulls open up with the host Dreadnaughts in the regional quarterfinals. Lakeland has been on a roll this season and no one has been able to come close to stopping them. Don't see it here. Prediction: Lakeland 35, Wiregrass Ranch 13
POLL: Who wins on Friday night?

CLASS 7A-REGION 2 QUARTERFINAL
#8 Wiregrass Ranch (7-3) at #1 Lakeland (10-0)@WRHSBULLSFBALL @hdcoach_mark @LHSDreadnaughts

CLASS 7A BRACKET: https://t.co/oCQMScX8kX#flhsfb

— FloridaHSFootball.com (@FlaHSFootball) November 7, 2018
No. 6 Gaither (7-3) at No. 3 Plant (9-1): Plant just missed out on having the two-seed in their region and will instead settle for a District 7A-8 rematch with Gaither, who they bested in earlier in the season 44-34. Can another shootout with the visiting Cowboys happen? That scenario is very likely yes given the results of Gaither games this season. Prediction: Plant 45, Gaither 38
POLL: Who wins on Friday night?

CLASS 7A-REGION 2 QUARTERFINAL
#6 Gaither (7-3) at #3 Plant (9-1)@GaitherFootball @PlantFootball @PlantHighSchool @bopuckett

CLASS 7A BRACKET: https://t.co/oCQMScX8kX#flhsfb

— FloridaHSFootball.com (@FlaHSFootball) November 7, 2018
No. 7 Sickles (7-3) at No. 2 Viera (7-3): Line the schedules up and you will see clearly why a 7-3 Viera team is the two-seed in this region. That is also playing a factor to who will win this game as well as Viera has shown they can play with just about anyone. Prediction: Viera 34, Sickles 21
POLL: Who wins on Friday night?

CLASS 7A-REGION 2 QUARTERFINAL
#7 Sickles (7-3) at #2 Viera (7-3)@SHS_Gryphons @VieraHawks @VHSHawkAthetics

CLASS 7A BRACKET: https://t.co/oCQMScX8kX#flhsfb

— FloridaHSFootball.com (@FlaHSFootball) November 7, 2018
Region 3
No. 8 Tampa Bay Tech (7-3) at No. 1 Venice (9-1): The visiting Titans are on a two-game losing skid entering this playoff game while Venice has been on a nine-game win streak since dropping a Week 1 game to Vero Beach. The host Indians should be able to start their title defense without too much issue here. Prediction: Venice 35, Tampa Bay Tech 20
POLL: Who wins on Friday night?

CLASS 7A-REGION 3 QUARTERFINAL
#8 Tampa Bay Tech (7-3) at #1 Venice (9-1)@TBTFootball @tech813coach @VeniceIndianFB @VHSIndianSports

CLASS 7A BRACKET: https://t.co/oCQMScX8kX#flhsfb

— FloridaHSFootball.com (@FlaHSFootball) November 7, 2018
No. 5 Braden River (8-2) at No. 4 Plant City (9-1): A very great four-five matchup here, but what is going to favor the visiting Pirates over the host Raiders is the schedule played. While both have had some tough games, Braden River was competitive with some state-ranked competition throughout the season. Prediction: Braden River 31, Plant City 24
POLL: Who wins on Friday night?

CLASS 7A-REGION 3 QUARTERFINAL
#8 Tampa Bay Tech (7-3) at #1 Venice (9-1)@TBTFootball @tech813coach @VeniceIndianFB @VHSIndianSports

CLASS 7A BRACKET: https://t.co/oCQMScX8kX#flhsfb

— FloridaHSFootball.com (@FlaHSFootball) November 7, 2018
No. 7 Palmetto (7-3) at No. 2 Pinellas Park (10-0): All ten of Pinellas Park's wins are from teams in Pinellas County, a lot of against inferior competition. There is a lot of question if the host Patriots can handle a challenge from a team from outside the county that has played a tougher schedule. That is why this game favors the visiting Tigers more than most two-seven matchups would at any point. Prediction: Palmetto 30, Pinellas Park 24
POLL: Who wins on Friday night?

CLASS 7A-REGION 3 QUARTERFINAL
#7 Palmetto (7-3) at #2 Pinellas Park (10-0)@PalmettoHigh @CoachDaveMarino

CLASS 7A BRACKET: https://t.co/oCQMScX8kX #flhsfb

— FloridaHSFootball.com (@FlaHSFootball) November 7, 2018
Region 4
No. 8 South Miami (8-2) at No. 1 St. Thomas Aquinas (9-1): For the second straight year, South Miami gets the first-round draw with national powerhouse St. Thomas Aquinas. Just don't see much for the Cobras to get out of this one closely between talent and the scheduled play that clearly favor the host Raiders. Prediction: St. Thomas Aquinas 45, South Miami 10
POLL: Who wins on Friday night?

CLASS 7A-REGION 4 QUARTERFINAL
#8 South MIami (8-2) at #1 St. Thomas Aquinas@SMCobraFB @STA_Football @STA_Raiders

CLASS 7A BRACKET: https://t.co/oCQMScX8kX #flhsfb

— FloridaHSFootball.com (@FlaHSFootball) November 7, 2018
No. 5 Fort Lauderdale (8-2) at No. 4 Doral Academy (8-2): A great four-five matchup for both teams. The host Firebirds did flex two higher-quality matchups in the two slots they had for non-district games, but I feel that the Flying L's did a better job with their schedule this season with their only two losses coming to Vero Beach and St. Thomas Aquinas. That is going to be the difference here. Prediction: Fort Lauderdale 28, Doral Academy 21
POLL: Who wins on Friday night?

CLASS 7A-REGION 4 QUARTERFINAL
#5 Fort Lauderdale (8-2) at #4 Doral Academy (8-2)@FlyinglsFB @FlyingLsAthlete @CoachDunbar49 @DoralFirebirdFB

CLASS 7A BRACKET: https://t.co/oCQMScX8kX #flhsfb

— FloridaHSFootball.com (@FlaHSFootball) November 7, 2018
No. 6 Palm Beach Lakes (7-3) at No. 3 McArthur (9-1): McArthur is back in the playoffs after missing out last year after being in the dance in 2016. Palm Beach Lakes is here after missing out last year as well. This matchup is much more even than the records would tell as both have played some tough teams on their schedule. This one could go either way. Prediction: McArthur 30, Palm Beach Lakes 24
POLL: Who wins on Friday night?

CLASS 7A-REGION 4 QUARTERFINAL
#6 Palm Beach Lakes (7-3) at #3 McArthur (9-1)@PblakesF @McArthur_HS @Mcarthur_FB @LifeCoachPierre

CLASS 7A BRACKET: https://t.co/oCQMScX8kX #flhsfb

— FloridaHSFootball.com (@FlaHSFootball) November 7, 2018
No. 7 West Broward (7-3) at No. 2 Dwyer (9-1): This is a tough draw for the visiting Bobcats who have shown playoff success under Monte Dillworth. However, drawing a team that has drawn comparisons to St. Thomas Aquinas at times over the years is probably not the draw you wanted for the first round. Dwyer has shown they are much improved compared to last year's squad which also made the playoffs. Prediction: Dwyer 30, West Broward 17
POLL: Who wins on Friday night?

CLASS 7A-REGION 4 QUARTERFINAL
#7 West Broward (7-3) at #2 Dwyer (9-1)@jetsweep33 @DwyerHS @DwyerHS

CLASS 7A BRACKET: https://t.co/oCQMScX8kX #flhsfb

— FloridaHSFootball.com (@FlaHSFootball) November 7, 2018