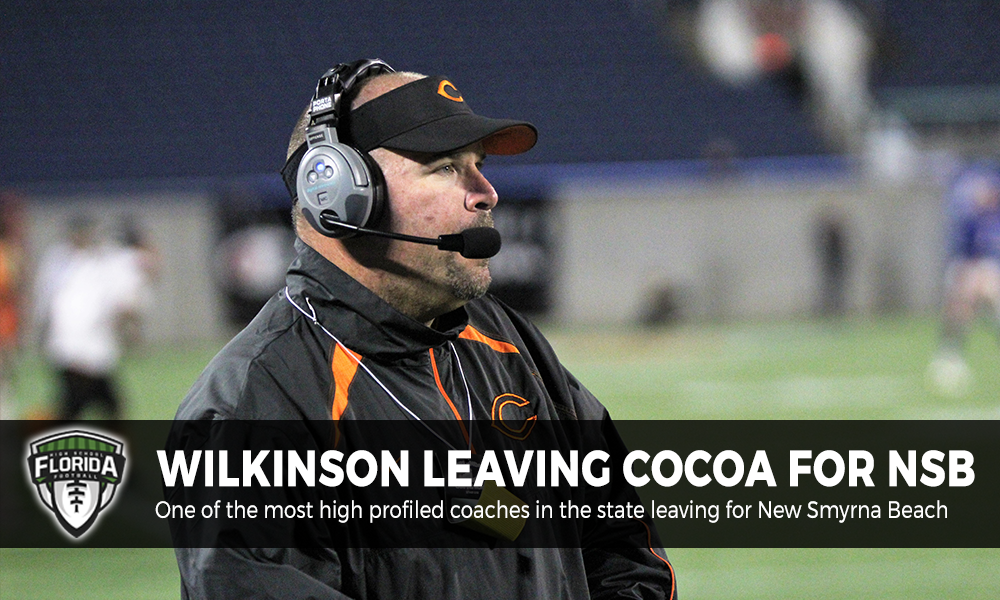 Help support the No. 1 Independent high school sports website in the State of Florida by becoming a FRIEND of FloridaHSFootball.com for as little as $3.00 per month by clicking here.
With two recent openings at programs that John Wilkinson is familiar with in Merritt Island, where he went to school at and at New Smyrna Beach, the area in which he lives in, there were many rumors that Wilkinson could leave Cocoa for one of those.
After Merritt Island announced that longtime college coach and Mustang alum Hurlie Brown was taking over the position, all eyes became on New Smyrna Beach potentially luring Wilkinson away from Cocoa.
That luring became official today, as first reported by the Florida Today in Melbourne, and later further confirmed by the Daytona Beach News-Journal with New Smyrna Beach AD Gerald Fuller confirming the hire.
Wilkinson replaces Kevin Hubbard who stepped down back at the end of January who has since taken a college coaching job in South Dakota.
In 13 seasons at Cocoa, Wilkinson led the Tigers to five state championship games including four state championship wins, including guiding Cocoa to a state record 11 straight state semifinal appearances from 2007 until this past season.
Wilkinson leaves behind a legacy that will be forever cemented in the history of Tigers football dealing some of the toughest times including seeing the high school become a middle/senior high school combination when nearby Clearlake Middle School was closed by Brevard County Public Schools in 2013.
However with family things and living in the New Smyrna Beach-area, Wilkinson felt the time was right to make a move.
"The timing is just right. I don't want to go through life coaching kids and not coach my own kids," Wilkinson told Florida Today.
John Wilkinson has been making the daily drive for a longtime from New Smyrna Beach to coach at Cocoa. He will now be coaching where he lives and with his kids soon. Huge get for New Smyrna Beach to land Wilkinson's services. #flhsfb

— FloridaHSFootball.com (@FlaHSFootball) March 7, 2018
One of the biggest accomplishments Wilkinson lead Cocoa to during his time as head coach was one of the longest win streaks in Florida by winning 38 straight games between 2008 and 2010 which included three state championships. Cocoa's fourth state championship came in 2016 which would turn out to be the last game to be coached by the legendary Corky Rogers of Bolles (Jacksonville) before falling to Raines (Jacksonville) in the 2017 Class 4A state championship game, 19-13.
Wilkinson leaves Cocoa with a record 143-27 earning Coach of the Year honors in 2011 by the National Federation of State High School Associations while receiving several classification Coach of the Year Awards from the Florida Dairy Farmers and was inducted into the FACA Hall of Fame in 2013.
Read more at Florida Today here
Read more at Daytona Beach News-Journal here
QUICK THOUGHT: Don't be surprised if John Wilkinson turns New Smyrna Beach around quickly & make them into a state contender in a few seasons. Would also make District 6A-13 even more highly competitive district (if the district remains the same after 2019 reclassification).

— FloridaHSFootball.com (@FlaHSFootball) March 7, 2018