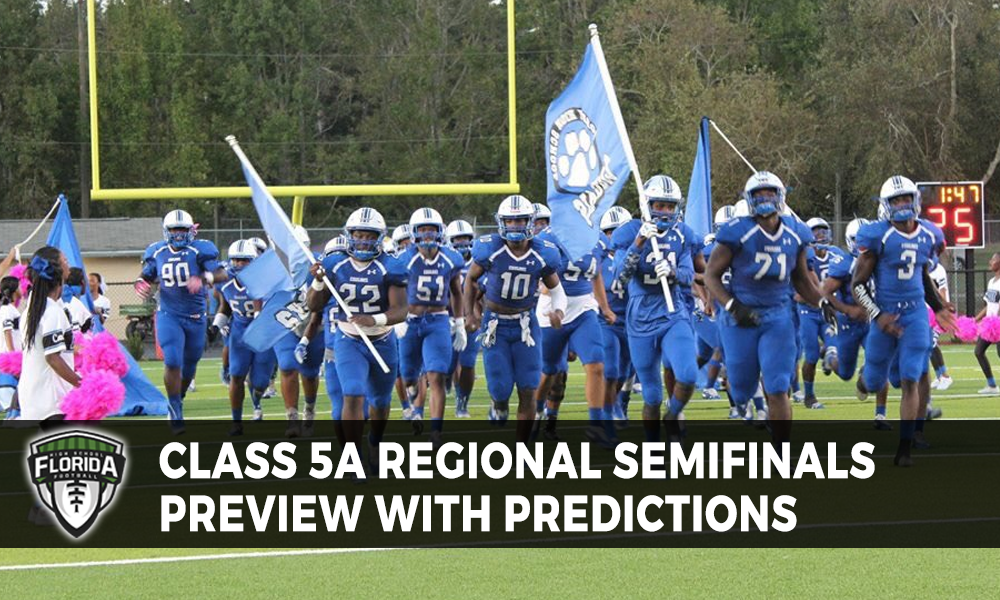 In Class 5A the playoff bracket saw some shakes ups last week after the only No. 1 seed in any bracket went down last week when No. 8 Jefferson stunned No. 1 Hardee in Class 5A-Region 3. As such the matchups look a little odd, but there are some decent games nonetheless.
All games are scheduled for Friday, November 16 with a 7:30 p.m. ET kickoff unless noted
THE ONE TO WATCH
REGION 2
No. 3 North Marion (8-2) at No. 2 Zephyrhills (11-0)
Bulldog Stadium, Zephyrhills
This will be the first meeting between North Marion and Zephyrhills since 1972, per Florida high school football historian, Richard Burton … North Marion has also not beaten an undefeated team in the playoffs since 2006, when they bested Bishop Moore that year in Orlando, also according to Burton … Last week North Marion defeated No. 6 seed Menendez, 27-22 … Zephyrhills defeated No. 7 seed Crystal River, 35-0 … The visiting Colts will rely on the legs of Joleeco Gaskin II to help them carry the offense against the tough Bulldogs. Gaskin had 122 yards rushing on 21 carries last week … The host Bulldogs will feature the arm strength of quarterback Doug Crawford who had 223 yards passing on 9-of-16 passes with three touchdowns.
Prediction: Zephyrhills 35, North Marion 27
POLL: Who wins Friday night?

CLASS 5A-REGION 2 SEMIFINAL
No. 3 North Marion (8-2) at No. 2 Zephyrhills (11-0)@NMColts @WillieOfford @_CoachCarroll_ @ZHSBulldogs

— FloridaHSFootball.com (@FlaHSFootball) November 14, 2018
THE REST OF THE SLATE
REGION 1
No. 5 Wakulla (9-2) at No. 1 Jacksonville Trinity Christian (11-0)
Conqueror Field, Jacksonville
This is the first playoff meeting between the two programs … Last week Wakulla defeated No. 4 seed Ribault, 17-8 … Trinity Christian defeated No. 8 seed Suwannee, 65-12 … The visiting War Eagles will be relying on its defense to try to win this game over the top-ranked in Class 5A … For the host Conquerors, they have a combination of speed on both sides of the ball but keep an eye on running back Marcus Crowley who has rushed over 1,550 yards on the season with nearly two touchdowns. Prediction: Trinity Christian 42, Wakulla 17
POLL: Who wins Friday night?

CLASS 5A-REGION 1 SEMIFINAL
No. 5 Wakulla (9-2) at No. 1 Jacksonville Trinity Christian (11-0)@WakullaFootball @AthleticsTca @TC_Jax_Football @TCAJAX @Mr_Anderson_C

— FloridaHSFootball.com (@FlaHSFootball) November 14, 2018
No. 6 Bolles (7-4) vs. No. 2 Godby (11-0), Thursday, 7:30 p.m.
Gene Cox Stadium, Tallahassee
This will be the second playoff meeting between the two teams … Bolles won the first meeting in Jacksonville in 2003, 41-14 behind the coaching of legendary Coach Corky Rogers and the 267 yards of rushing with a stout rushing defense, according to Florida high school football historian, Richard Burton … Last week the visiting Bulldogs bested No. 3 seed West Florida in Pensacola, 30-27 … The host Cougars defeated No. 7 seed Ponte Vedra, 34-23, in a sluggish performance … For Bolles, keep an eye on quarterback Ben Netting who has been an instrumental leader for the Bulldogs … Keep an eye on Godby quarterback Trey Fisher to do a lot of damage for the Cougars, as he went 14-of-19 for 249 yards and three touchdowns in last week's game. Prediction: Godby 35, Bolles 20
POLL: Who wins Thursday night?

CLASS 5A-REGION 1 SEMIFINAL
No. 6 Bolles (7-4) vs. No. 2 Godby (11-0) at Gene Cox@1BollesFootball @BollesSchool @GodbyFootball @GodbyAthletics @Coreyfuller4 @CoachHufty11

— FloridaHSFootball.com (@FlaHSFootball) November 14, 2018
REGION 2
No. 4 Baker County (7-4) at No. 1 Nature Coast (10-1)
Shark Tank Stadium, Brooksville
This will be the second playoff meeting between the two teams … Baker County won last year's matchup in the regional quarterfinals, 34-7 … Last week Baker County came from behind to defeat No. 5 seed Hernando, 28-14 … Nature Coast defeated No. 8 Eastside in a shootout, 57-26 … The visiting Wildcats will rely on the strengths of Kelton Knabb on both sides of the ball where here recorded two rushing touchdowns and a sack on defense … For the host Sharks, keep an eye on the running back workhorse of Mike Weston who rushed for 240 yards and four touchdowns last week. Prediction: Nature Coast 38, Baker County 14
POLL: Who wins Friday night?

CLASS 5A-REGION 2 SEMIFINAL
No. 4 Baker County (7-4) at No. 1 Nature Coast (10-1)@BCWildcatFB @Jrod2245 @coast_fb @MFCJ13

— FloridaHSFootball.com (@FlaHSFootball) November 14, 2018
REGION 3
No. 8 Jefferson (6-5) at No. 4 Lakewood (6-5)
Lakewood Stadium, St. Petersburg
This will be the third meeting between the teams in the playoffs … Jefferson leads the playoff series record, 2-0 … Last week the visiting Dragons, stunned the No. 1 seed Hardee, 19-16 in Wauchula … The host Spartans bested No. 5 seed Booker, 10-6 … Keep an eye on quarterback Tyler Thomas who was responsible for all three of Jefferson's scores (two passing, one rushing) last week … For Lakewood keep an eye on Shamar Hill who scored the game-winning touchdown last week for the Spartans. Prediction: Lakewood 17, Jefferson 10
POLL: Who wins Friday night?

CLASS 5A-REGION 3 SEMIFINAL
No. 8 Jefferson (6-5) at No. 4 Lakewood (6-5)@my_lakewoodhigh

— FloridaHSFootball.com (@FlaHSFootball) November 14, 2018
No. 6 Immokalee (6-5) at No. 2 Jesuit (10-1)
Alumni Field at Corral Memorial Stadium, Tampa
It will be the second playoff meeting between Immokalee and Jesuit on Friday … Jesuit won the first meeting in 2016 by a score of 56-29 in Tampa … Immokalee took down No. 3 seed Dunbar in a district rematch, 45-21 … In shutout fashion, Jesuit defeated No. 7 seed DeSoto County, 44-0 … For the visiting Indians keep an eye on quarterback R.J. Rosales who was responsible for five of Immokalee's touchdowns last week (two passing, three rushing) … On the Jesuit, sideline watch out for the legs of running back Rick Parks who scored two touchdowns for the host Tigers. Prediction: Jesuit 35, Immokalee 21
POLL: Who wins Friday night?

CLASS 5A-REGION 3 SEMIFINAL
No. 6 Immokalee (6-5) at No. 2 Jesuit (10-1)@ImmokaleeFB @CoachRAnthony @JesuitTampaFL

— FloridaHSFootball.com (@FlaHSFootball) November 14, 2018
REGION 4
No. 5 Plantation American Heritage (9-1) at No. 1 Rockledge (10-1)
McLarty Stadium, Rockledge
This is the first meeting in the playoff between the two schools … the visiting Patriots defeated No. 4 seed Fort Pierce Westwood, 37-14 last week … for the host Raiders, they easily defeated No. 8 seed Coconut Creek, 35-13 … American Heritage is 22-1 in the last 23 playoff games dating back to 2013 … For the Patriots keep an eye on running back Lavelton Williams who scored twice in last week's game … On the Rockledge sideline, keep an eye out for both Avery Smith and Jalen Mitchell who had a combined four rushing touchdowns last week. Prediction: Rockledge 30, American Heritage 27
POLL: Who wins Friday night?

CLASS 5A-REGION 4 SEMIFINAL
No. 5 Plantation American Heritage (9-1) at No. 1 Rockledge @AH__Athletics @psurtain23 @RockFootball1 @CoachYounger14 @coachkd15

— FloridaHSFootball.com (@FlaHSFootball) November 14, 2018
No. 3 Jones (10-1) at No. 2 Cardinal Gibbons (8-2)
Dr. Bud Tight Field, Fort Lauderdale
This is the third playoff meeting between Jones and Cardinal Gibbons … Cardinal Gibbons leads the series, 2-0 and won last year's meeting in Orlando, 14-7 … Last week, the visiting Tigers defeated district rival and No. 6 seed Bishop Moore, 14-7 … Cardinal Gibbons ran past No. 7 seed Merritt Island, 49-14 … Avarius Sparrow will be the key guy that Jones will call on as he scored both touchdowns in last week's win … For Cardinal Gibbons, Nik Scalzo is the guy to watch as he has been leading the offense all season and threw for at least two touchdowns in last week's game. Prediction: Cardinal Gibbons 38, Jones 21
POLL: Who wins Friday night?

CLASS 5A-REGION 4 SEMIFINAL
No. 3 Jones (10-1) at No. 2 Cardinal Gibbons (9-2)@Jones_OCPS @GibbonsFootball @CGHSChiefs @CGHSFL @Redskins32

— FloridaHSFootball.com (@FlaHSFootball) November 14, 2018
Last Week's 5A picks record: 11 correct picks, 5 boos out of the stadium