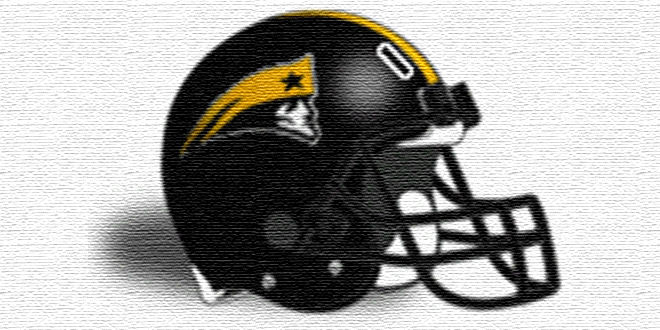 Team: Plantation American Heritage Patriots
Sunshine State 25 Preseason Ranking: No. 8
Head Coach: Mike Rumph
2014 Record: 12-3
Join The Discussion: Sign up for a FREE user account | Discuss on our message boards here
Look Back On 2014
The Patriots were able to capture their second straight state championship last season as they defeated Godby in the Class 5A State Championship game by a score of 38-0.
Players To Watch
RB Kyshuan Bryan, Jr.; OT T.J. Slaton, Jr.; DE Brian Burns, Sr; TE Nick Eubanks, Sr.; WR Brandon Johnson, Sr.; LB Bradley clement, Sr.; K/P Oren Milstein, Sr.; S/RB Shadderick Lowery, Sr.; Khalil Herbert, Sr.; OL Kai-Leon Herbert, Jr.; DT George Ellis, Jr.; DT Lamonte McDougle, Jr.; QB Jason Brown, Jr.; LB James Houston, Jr.
The Outlook
After winning their second straight championship, the American Heritage Patriots know the standard of what success brings clearly. Could that change this year? Depends who you ask in South Florida.
Gone are athletes like wide receiver Dedrick Snelson (Flanagan) and Louie Berkowitz (St. Thomas Aquinas) who have transferred out. Also gone, due to graduation, are the likes Torrance Gibson, Noah Bringas, Travis Jacskon and Nick Peart to name a few.
Despite the losses, there is still a lot to be focused on for the Patriots as some key play makers from last year are back. This will include T.J. Slaton anchoring the offensive line, while Brian Burns will help anchor the defensive line. Slaton will be a third-year starter and has already proven to be a great protector of the quarterback while opening up holes for the running backs to run through. Burns has 75 tackles last year including 12 sacks.
There will be some new faces in the starting lineup, but the most important new face will likely be Jason Brown at Quarterback. Brown who waited his turn behind Gibson last season, will get to take the reins and show what he is able to do. If he can take control of the position nicely, he should have no issue taking the team as far as it can go. His primary targets will be wide receiver Brandon Johnson who had 19 catches for 430 yards receiving and 7 touchdowns last season as well as Nick Eubanks who had 26 catches for 408 yards receiving and 4 touchdowns.
The schedule is tough for the Patriots, but it is something they are used to and something that will help them have a successful 2015 season.
The District
District 5A-16 landscape gets shuffled up a bit this season. Along with foes like Cardinal Gibbons and Miami Jackson still in the district while Hallandale, Coconut Creek and Stranahan all move down from Class 6A. The district itself is going to be tough for all the teams and while five of them could be playoff contenders, only two are going to make it to the playoffs this year. However, we still see American Heritage being one of those two teams that reaches the playoffs this year.
Three Games To Watch
Friday 9/11 vs. DeMatha Catholic, MD – Getting to host a major national powerhouse team at home is big. It is bigger when another foe from Florida gets to play them the week before, so for American Heritage, they will know what DeMatha will look like after they play Miami Central Week 1. If the Patriots can get a win at Stephenson, GA in Week 1, they could have a great chance to win this game at home. However, they will need to play a great game to come away with the victory.
Friday 9/18 vs. Coconut Creek – Coconut Creek is one of two teams in the district that some feel may have a chance to overthrow the Patriots. The Cougars are surrounded by a lot of great talent, but will be the running on all four cylinders at that point? It will be hard to tell, but experience favors American Heritage and they should be to win this game at this point.
Friday 10/30 vs. Hallandale – This game is huge. This game has the entire season on the line. Hallandale is the team that came close last season to knocking of eventual Class 6A state champion, Miami Central. Hallandale is the second of the two teams some feel could overthrow American Heritage and some feel Hallandale could win the district this year. Overall, expect this game to decided the District 5A-16 champion.
Join The Discussion: Sign up for a FREE user account | Discuss on our message boards here
Previous Sunshine State 25 Countdown Stories
No. 9: Apopka
N0. 10: Kissimmee Osceola
No. 11: Columbus
No. 12: Oakleaf
No. 13: Dr. Phillips
No. 14: Manatee
No. 15: Armwood
No. 16: Lakeland
No. 17: Niceville
No. 18: Delray American Heritage
No. 19: Dwyer
No. 20: Wakulla
No. 21: Naples
No. 22: Lake Gibson
No. 23: North Marion
No. 24: Palm Bay Heritage
No. 25: Bishop Moore